To all who come to this photo trivia game, welcome! Along the way, the photos can make us relive memories and see details that Walt's Imagineers put into everything we love in Walt Disney World!
Happy Holy Week!

Happy Holi!

This week in the US, we have April Fool's Day! Why? I have no idea!

I heard I'm missing people's answers. I'll check it out!
And now: Challenge #681:
And here's the answer:
Soarin! I shouldn't have used the golf ball as a hint since the ride is now Soarin Over the World, but it didn't throw off anyone thankfully.
Josh Weiss was the first to send in the correct answer! Congratulations to Josh and all our winners this week!  Michelle Fure, Kim Juday, Tony Bivens, Tracy Luzzi, Janet T Thorn, Joseph Michael Zafia, Meody ODonnell, Barbara Hicks, The Nufranick Family, Brooksbunch, Monica, Dave Gray, Ward Conolly, Vera and Izzy Williams, Ken Maikowski, Barry Gruber, Carolyn Kelley, Emily hudson, The Wolfe Family, Jim Finley, Lou Bodofsky, Mark Hardy, David Benjamini, Beth Wolf, Marlene Barron, Jim Wieczorek, Heather Gonzalez, F Williams, Matt Verl, Sherry Knoster, and David Gardner!
______________________________________________________
Challenge #682 for March 28th, 2021 Where in the world is this?
A nice easy one. What is the name of this section? Example: if we were in Animal Kingdom's Everest, you would answer Asia. No hint this week; you don't need it. 🙂
Where in the World #682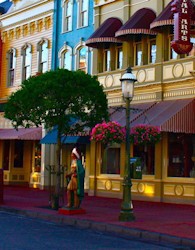 Do you know? Do you have a guess? Send in your answer before the end of the day on Thursday, April 2nd by clicking on the blue box below. Please do not post your answers on this blog post.
See you soon, Players!

_____________________________________________________________________
Everyone who sends in a correct answer to a Where in the World Challenge this month will be entered in a drawing at the end of the month for some special AllEars® goodies!
Be sure to follow @allearsnet on Instagram and Twitter!
Check out our YouTube Channel for reviews, news, information, and more!
Click below to subscribe to the AllEars® Newsletter so you don't miss any of the latest Disney news!