To all who come to this photo trivia game, welcome! Along the way, the photos can make us relive memories and see details that Walt's Imagineers put into everything we love in Walt Disney World!
Thank you, Sherry Knoster, for your wonderful note!

And now: Challenge #655: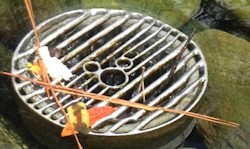 And here's the answer: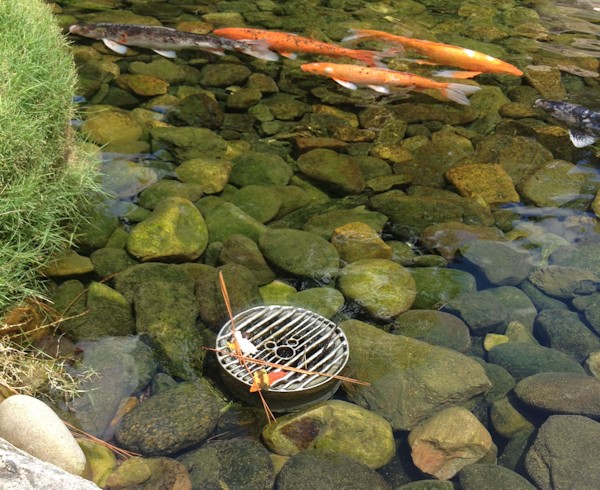 A water grate in the koi pond in the Japan Pavilion in Epcot!
Cheryl Costello, Dr. Steve Barrett is a wonderful man. So friendly and genuine!
Brian Gallant was the first to send in the correct answer! Congratulations to Brian and all our winners this week!  Andreas Beer, Jim Wieczorek, Theresa Rucando, Jim & Lorie Sonnen, Team Hill, Adolph And Kimberly Timm, Claire Gregory, Karen Fichter, Joann Albrecht, Aljaneen Curtis, Grumpys Groupies, Janet T Thorn, Bonnie Jean, Ken Savage, Robert Hicks, Beau Harrison, Theresa Maradei, Deb Ragno, Debby Stailey, Jim Finley, Martha And Justin Collins, Scott C., Janet T Thorn, Belicia, Sandie Albrecht, Vera And Izzy Williams, The Kuroly Family, Fred Terluin, Les Whitten, Laurie Walker, Sherry Knoster, Judy Simonsen, Sands Family, Nikki And Troy Parker, Robert Wescovich, Tom Patton, Paul And Kelli Grundman, Shawn Mcgovern, Nikki And Troy Parker, Mis Jamie Marie, Glenn And Nancy Motson, Ward Conolly, She And Ed Adams, Holly Baxter, Ronnie Reese, The Kertes Family, David Crockett, Barclay Bakkum, Joseph M. Zafia, Kristi Jack, Blake Schmidt, Cheryl Costello, The Patterson Family, Sue Bridges, John Debow, Sandra Debow, Shannon Benton, Edith Labelle, The Wolf Family, Jodie Schall, Barry Sklenar, Barclay Bakkum, Donald Purney, Steve Knapp, Chris Kelly, Emily Hudson, Jeremy Reichelt, Emily Hudson, The Gunnels Gang, Jamie Poynton, and Andy Hickey!
______________________________________________________
Challenge #656 Where in the world is this?
The last challenge of September! We're switching parks!
Need a hint? This has been part of Walt Disney World almost from the beginning (1975). It's part of a ride and it's tied to Walt.
Do you know? Do you have a guess? Send in your answer before the end of the day on Thursday, October 1st by clicking on the blue box below. Please do not post your answers on this blog post.
See you soon, Players!

_____________________________________________________________________
Everyone who sends in a correct answer to a Where in the World Challenge this month will be entered in a drawing at the end of the month for some special AllEars® goodies!
Be sure to follow @allearsnet on Instagram and Twitter!
Check out our YouTube Channel for reviews, news, information, and more!
Click below to subscribe to the AllEars® Newsletter so you don't miss any of the latest Disney news!