To all who come to this photo trivia game, welcome! Along the way, the photos can make us relive memories and see details that Walt's Imagineers put into everything we love in Walt Disney World!
I hope this is fixed. I'm so sorry for all the problems, Players. I'm honestly trying to get this back to working.

This week is Thanksgiving in the US!

Laurie Walker, could you email me at [email protected]? I've been trying to reach you but it keeps coming back.
Claire Gregory, thanks again for everything!
Now for Challenge #613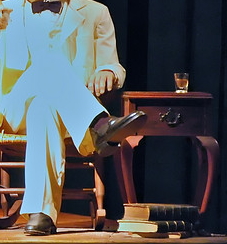 And here's the answer: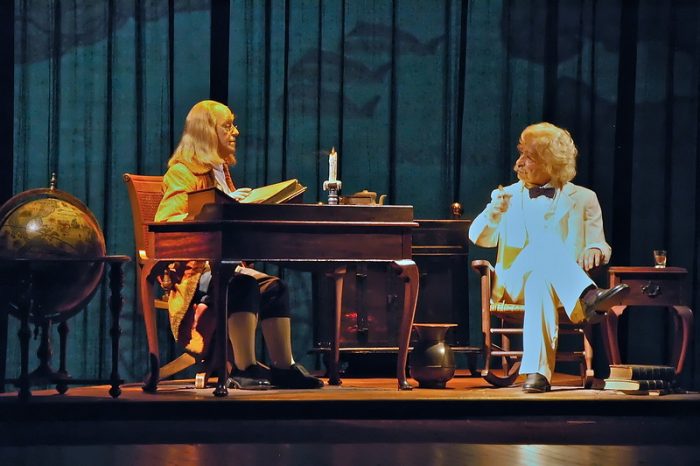 Mark Twain and Benjamin Franklin in The American Adventure
Theresa Maradei was the first to send in the correct answer! Congratulations to Theresa and to all our winners this week! Team Hill, Barbara Hicks, Paul And Kelli Grundman, Sue And Ed Adams, Edith Labelle, Emily Hudson, Glenn And Nancy Motson, Richard Mckillop, Tim Burr, Claire Gregory, Krista Connolly, Ronnie Alvarado, Laura Sponaugle, Robert Hicks, Stacy Sanders, Andy Hickey, Joann Albrecht, Martha And Justin Collins, Theresa Rucando, Beth Mcmeekin, Mike Haeberle, Jeff Blank, Beau Harrison, The Kuroly Family, Steve Knapp, Tony Jack, Dean Stockwell, Bob Patterson, Kristi Jack, Wayne Chadourne, Vincent Degasperis, David Burk, Ward Conolly, Melissa Littman, Deanna, Linda Hoffman, Andreas Beer, John Debow, Sandra Debow, Sue Bridges, Jeff Bridges, Vera Williams, Leach Family, Anabelle Mcginley, Maddie Inman, Tammy Warmouth, Vicki Britt, Richard Long, Fred Terluin, Joanne Walsh, Matt Earl, Gloria Martin, Kara Schibanoff, Dena Sedlak, Lori Rienhardt, Donald J Purney, Al & Kerry Ganter, Matthew Cofone, Vickie Barca, Debby Stailey, Tammy Cronin, Dee Dee Kenney, Mis Jamie Marie, Becky Hosinger, Jodie S., Ken Maikowski, Kristi Ingram, Phyllis, John Garrity, Jim Wieczorek, Shannon Benton, George Mundy Jr, Maureen And Warren Handy, Linda Ranatza, Jim Finley, Jodi Cook, Karen Henny, Robert Wescovich, Caroline Burmester, Karen, Karrie Rodriguez, Sherry Knoster, Stacy D Lehman, Ted Flory, Peter Prendergast, Brian Martsolf, John Thompson, Ken Daube, Bobby Laird, Tina Fait, Debby Stailey, Dennis Christensen, Ken Maikowski, Michael P. Weeman, Tom Giannone, Terry Gengler, Richard Jeff Clark, Tony Bivens, Oswald Hampton, Beau Harrison, Rich, Peggy Gourley, Rinabeth, Karen Fichter, Jennifer, Rebekkah Lamberth, Julie Bozeman, Michelle Powers, Joseph M. Zafia, Marc Merchiore, J Max Bryan, Kenneth Jackson, Linda Wilham, David Yarbrough, Gary L. Strieter, Cheryl Weinand, Dan Brantner, The Kertes Family, Ralph Lehman, Scott C., Belicia, Deb Ragno, Sandra Gempp, Tim Haggerty, Holly Baxter, Alan Gates, Elaine Prosecky, Hope, Linda Grau, Heather Ciampi, Misty M Gibson, Wickware Family, Erin Hammer, Phil Vickers, Anita Goodcase, Ken Savage, Smitty, Janet T Thorn, Jim & Lorie Sonnen, Adolph And Kimberly Timm, The Nufranick Family, Laurie Walker, Josh Weiss, Tammy Warmouth, Ashley C., Kris Nixon, Erin Hammer, Michelle Fure, Sue And Ed Adams, Bruce Hinterleitner, Herb Miller, Arlene Vicek, Brian Mcwithey, David Crockett, Susan Higginbotham, Linda Ranatza, Terry Blair, Jose Caballero, Heather Bear, Cathy Connors, Cathy Fleming, Rebecca Keenan, Nancy Cole, Shelly Borella, The Patterson Family, Mark Hardy, Monica, Douglas E Molstad, Mark Potosky, Martha & Justin Collins, Karen Ramirez, Bob Nelson, Caroline Burmester, John Grosz, Chris Gretchen And Katie Barnes, Sandy Ceplecha, Glenn And Nancy Motson, Lori Rienhardt, Luis Rodriguez, Bob Henriksen, Sydney Mckensie And Hanna, Robert Flaherty, Christopher P Thomas, George Mundy Jr, Grumpy Groupies, Grumpy Groupies, Scott Sangston, Matt Earl, Sue Jennings, The Parker Family, Jo Ann Bailey, Jackie Graebel, Bob Heaton, Donald Purney, Tom Higbee, Jane Johnson, Sheila Bagg, Maryann Daly, Sherry Trapp, Sherri Pell, Barclay Bakkum, Cheryl Costello, Victoria L Finnegan, and Maryan Eckenrode!
______________________________________________________
Challenge #614 Where in the world is this?
Switching parks!
Do you know? Do you have a guess? Send in your answer before the end of the day on Thursday, November 28th, by clicking on the blue box below. Please do not post your answers on this blog post.
See you soon, Players!

_____________________________________________________________________
Everyone who sends in a correct answer to a Where in the World Challenge this month will be entered in a drawing at the end of the month for some special AllEars® goodies!
Be sure to follow @allearsnet on Instagram and Twitter!
Check out our YouTube Channel for reviews, news, information, and more!
Click below to subscribe to the AllEars® Newsletter so you don't miss any of the latest Disney news!