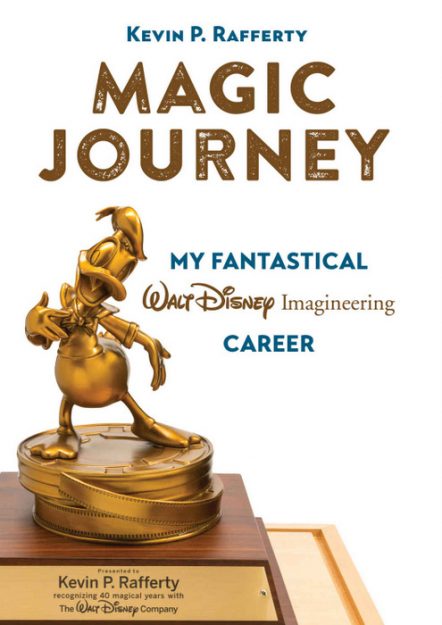 Magic Journey:  My Fantastical Walt Disney Imagineering Career
Authors:  Kevin P. Rafferty
Hardcover, 320 pages, Disney Editions, List Price: $24.99
[An advance copy of this book was provided by Disney for review purposes without restriction on thoughts or opinions.]
"Let's be driven by the idea and the story because if we allow ourselves to be driven by anything else, our products will reflect compromise and our guests will respond accordingly."      –Kevin Rafferty
In Magic Journey: My Fantastical Walt Disney Imagineering Career  Kevin Rafferty recounts the story of his life in the Disney Magic Factory, from his days as a seminarian, studying to be a Roman Catholic Priest, to his earliest hiring as a dishwasher, to his goals of being an artist, to a brief stint in ad writing, to his current position as Imagineer.  Along the way, he falls in love, marries, has children and generally barrels a merry way through life with a seemingly inexhaustible supply of energy and good humor.
In the forty years he's spent at WDI, Rafferty has worked on an impressive number of projects including It's Tough to be a Bug, Twilight Zone Tower of Terror, Test Track, Toy Story Midway Mania (maybe he really likes "t"s?), and his current attraction, Mickey & Minnie's Runaway Railway. His largest project was when he was the creative lead on what would eventually become Cars Land.  Each milestone in his career is told in the same affable and anecdotal fashion familiar to anyone who has attended one of his talks in person, full of jokes and fond memories.  Much like the routes in his rides, his stories may sometime take a circuitous route but they generally get back to where they were going by the end.
What I found impressive was that beyond the rapid-fire comic delivery and the unapologetic emotional investment Rafferty displays in his work, there's also a sense of honesty as well about the few projects he ultimately found flawed, such as his redo of WDW's Tiki Room, The Enchanted Tiki Room — Under New Management! and the original development of Disney California Adventure, which he considered uninspiring enough to avoid working on altogether.  Although never negative, the lessons he learned make the attractions into teaching points and give the book a more balanced feeling than it would have presenting everything as a home run.  As producer Don Hahn said of his 2003 film "Haunted Mansion, " "sometimes you win, sometimes you win less."
By the end of the book, readers are left with a better knowledge of how Imagineering works, how attractions are pitched and approved and constructed, and the kind of exhaustive work that goes into the entire process.  They are also shown a picture of Rafferty as someone who is genuinely devoted to his work and its purpose of making guests happy.  While his constant wisecracking and almost vaudevillian love of performance and The Show gives the impression that he is more or less the Morey Amsterdam of Imagineering, he shows a little of the steel required to steer these large enterprises to completion when he counsels future Imagineers to always prize their position to bring guests joy, or get out if they cannot.  Whether Runaway Railway is Rafferty's swan song at Imagineering or not, he has certainly left an indelible mark on the physical landscape of Disney parks around the world and given many guests their best day ever.  And that's not just "shoulder high waste."
To purchase a copy of this book, click here.
Questions?  Comments?  Suggestions?  Drop us a line below.
Be sure to follow @allearsnet on Facebook, Instagram and Twitter!
Check out our YouTube Channel for reviews, news, information and more!
Click below to subscribe to the AllEars® newsletter so you don't miss any of the latest Disney news!