The D23 Expo may be over but we still have many great experiences to tell you about! One of the many draws of D23 Expo is the performances — stars from stage and screen, present and past, make appearances to recreate some of the musical magic of Disney classics, and 2019 was no exception.
"The Musical Journey of Disney's Aladdin" showcased performers and musical numbers from every incarnation of the story — from the 1992 animated classic to the live-action version from this year.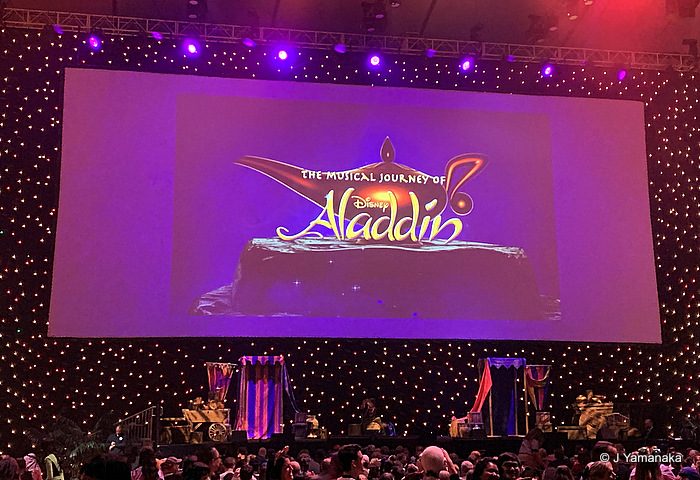 The panel started off with Scott Weinger (Aladdin's speaking voice), and the Aladdin count quickly piled up as he was joined in turn by Brad Kane (Aladdin's singing voice), Clinton Greenspan (Aladdin recently in the national touring production and now on Broadway), and Mena Massoud (your current live-action Aladdin).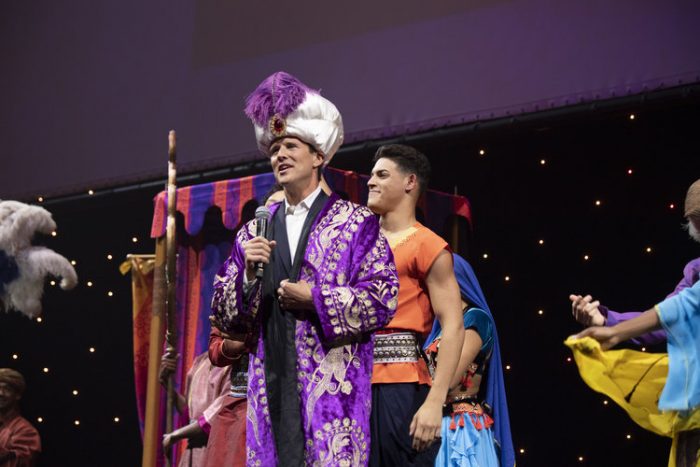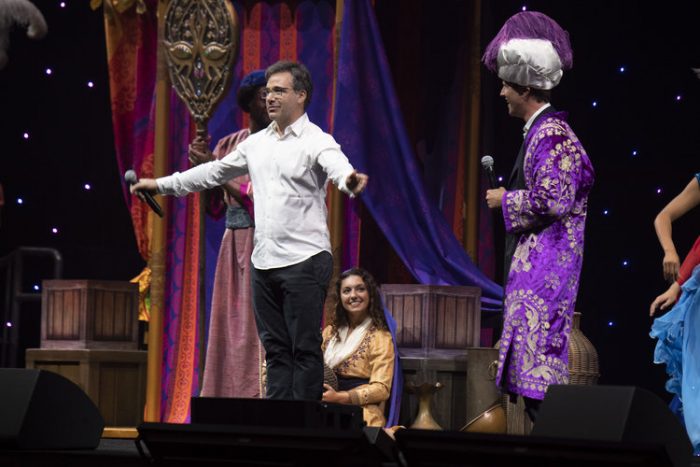 Kane and Greenspan both performed numbers from their respective shows, Kane doing a spirited "One Jump," and Greenspan knocking out "Proud of Your Boy."
While Massoud didn't sing on stage, he did bring a clip of a number he sang with Naomi Scott that was ultimately cut from the film, "Desert Moon."
Jasmine was also well-represented as Disney Legend Linda Larkin (the voice of Jasmine in the animated film) joined Weinger to host the remainder of the show, bringing with her a clip of her original recording sessions for the character.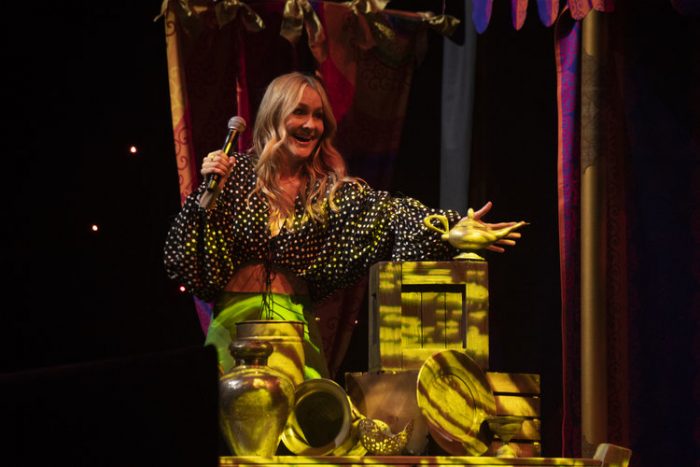 Deedee Magno Hall, who was the first Jasmine in Aladdin—A Musical Spectacular at Disney California Adventure performed the song she introduced there "To Be Free," while Lillias White (head Muse in Hercules) sang "Speechless" from the live-action Aladdin.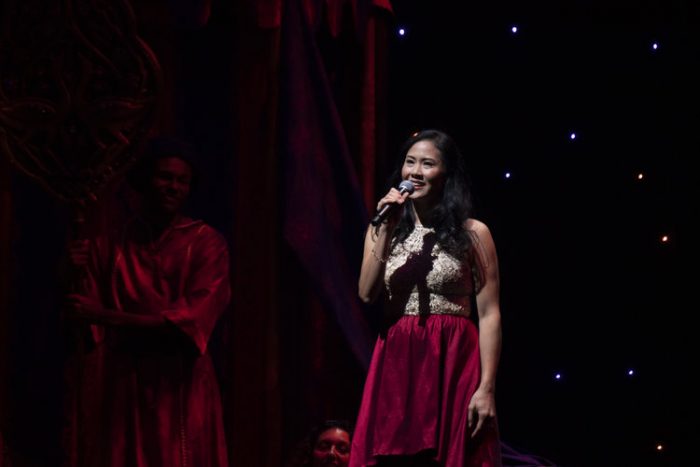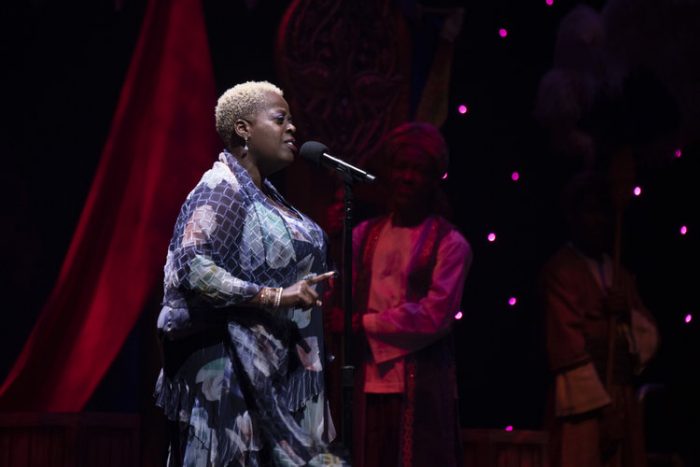 Although Will Smith couldn't be there, he sent in a video message and introduced choreographer Jamal Sims who danced up a storm with his troupe in "Friend Like Me."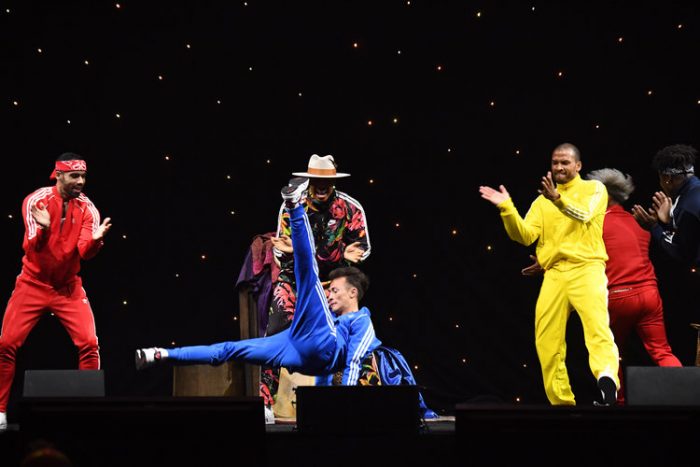 The final number was a fantastic rendition of "A Whole New World," sung by Regina Belle who won a 1993 Grammy for her duet on it with Peabo Bryson.  Joining her on stage was Norm Lewis, who originated the role of King Triton in Little Mermaid on Broadway.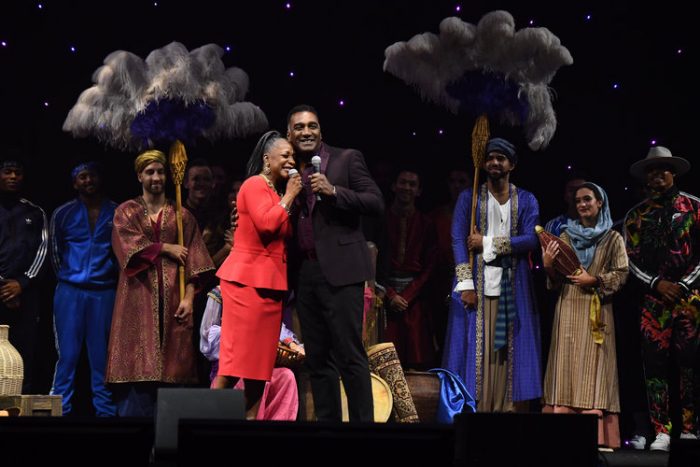 Some of the clips shown during the presentation and more will be present as bonus features on the live-action film's upcoming Digital & Blu-ray release.  The live-action film Aladdin and Walt Disney Animation Studios' Aladdin Walt Disney Signature Collection are now available on Digital and Blu-ray on September 10.
The other big performance presentation I saw was "Two Worlds, One Family:  The Making of Tarzan," which celebrated the 20th anniversary of Tarzan and closed out D23 Expo on Sunday evening.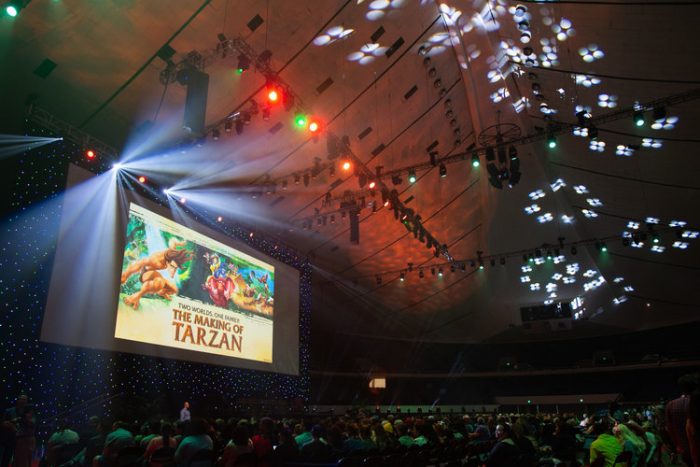 Host Wayne (Tantor the Elephant) Knight interviewed directors Chris Buck and Kevin Lima on the gestation and production of Tarzan.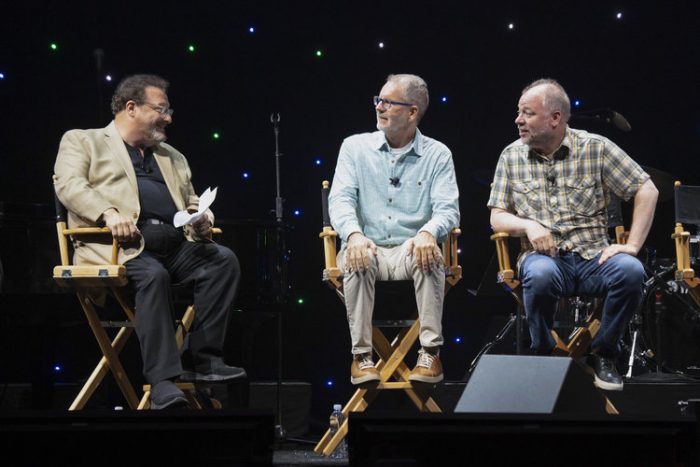 Some of the benefits to doing Tarzan as an animated film:  You can bring viewers into the world of the apes, where they are a family and Tarzan is a story of adoption; and the animation allows for the animalization of Tarzan where he more closely mimics the gait and physicality of the apes.
The ending of the book has Tarzan leaving the jungle for America where he starts over–the filmmakers decided to have him stay in the jungle to preserve their theme of family with the animal characters who otherwise could not come with him.
Producer Bonnie Arnold had just come off of Toy Story, where the use of Randy Newman for the score had opened everyone up to different ways to do the music.
Phil Collins was initially reticent about doing a Disney film, saying that he didn't write songs where characters break out into an "I want" song.  The filmmakers assured him that they didn't want that either, unable to imagine a naked man, standing on a branch, singing an "I want" song.
The Studio initially did not want to use the traditional "Tarzan Yell" and wanted them to come up with a Disney version but eventually was convinced that everyone wanted to hear the original yell.
Minnie Driver brought more of a comedic feel to Jane than they had initially envisioned.
Buck finally puts to rest the rumor that Anna and Elsa's parents are Tarzan's parents (it was a joke.)
They had wanted Glen Keane to animate Tarzan, but he was on sabbatical at the time and would only work on it if he could do it in Paris, so he worked remotely from a studio there.
Keane was unable to attend as he was recovering from a surgery, but sent in a video greeting and a drawing demonstration.
Animators Bruce W. Smith and Ken Duncan joined the panel to talk about the difficulties animating animals, innovating and integrating computer animation into the film, and the influence of Tony Hawk on Tarzan's movement.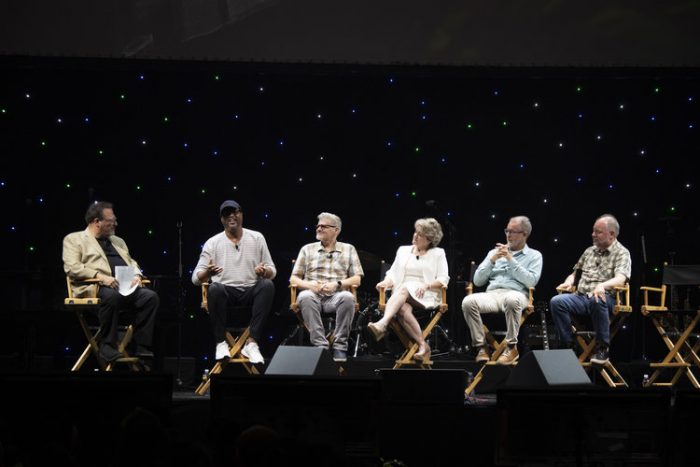 The evening (and the Expo) ended with Matthew (Finding Neverland, Glee) Morrison performing a concert of Disney tunes from his upcoming album with Walt Disney Records, "Disney Dreamin'."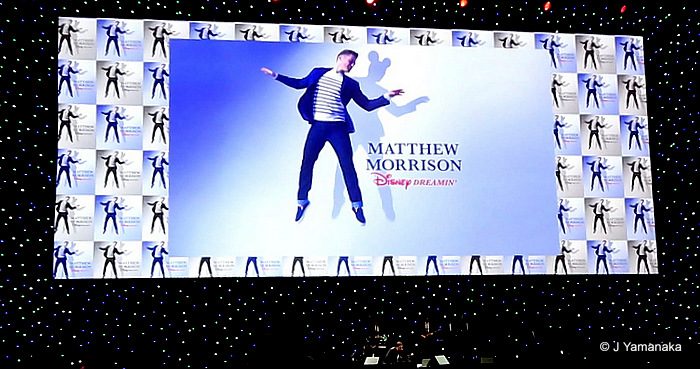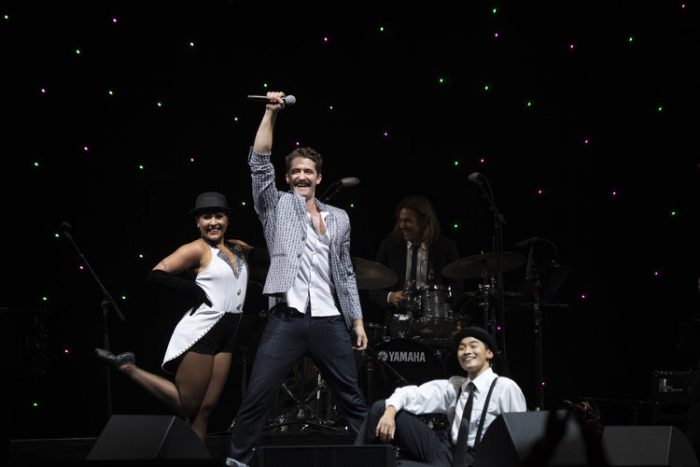 Questions?  Comments?  Suggestions?  Drop us a line below.
Be sure to follow @allearsnet on Facebook, Instagram and Twitter!
Check out our YouTube Channel for reviews, news, information and more!
Click below to subscribe to the AllEars® newsletter so you don't miss any of the latest Disney news!