Last month I detailed how I photographed the Bab Boujeloud, the main gate to the ancient City of Fez, in Epcot's World Showcase Morocco pavilion. Then, I went over how I would redo the image as I was not satisfied with how it came out.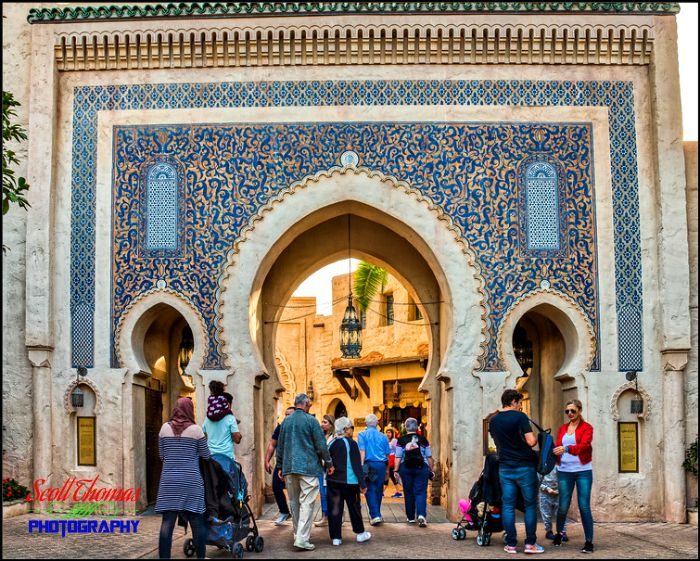 I promised the next time I was in Epcot, I would retake the photo with improving it. The "next time" was this week.
One of things I did not do last time was turn off Auto ISO to get a cleaner set of bracketed photos to start with. The image below, as created from five images with this set:
-2 EV, ISO 100, 1/125s
-1 EV, ISO 100, 1/60s
0 EV, ISO 100, 1/30s
+1 EV, ISO 100, 1/15s
+2 EV, ISO 100, 1/8s
Using Skylum's Aurora 2019 HDR software as before, I present you with this improved version of the Bab Boujeloud.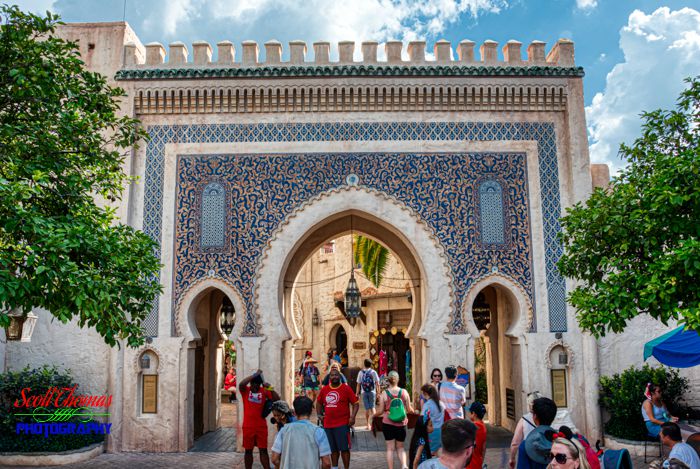 As you can see, I did move back farther to allow more room around the gate. The light was again in behind the gate so a bracketed set of photos was the best way to create a well exposed image via HDR processing. I was not able to outwait the crowds so I still have people being cut off at the bottom. That photo will have to wait.
You may notice the angle is different. Much higher than the one I showed you the last time. The reason is I had to get behind the water fountain to get the space surrounding the gate I needed. Which meant standing on the second tier of the fountain you see below.
The things we "safely" do for a good photo at Walt Disney World.
What photographic problems do you have that you would like to see discussed? Drop us a comment below!
Want to Read More of Scott's Photography Tips? Check out these posts!
Be sure to follow @allearsnet on Instagram and Twitter!
Check out our YouTube Channel for reviews, news, information and more!
Click below to subscribe to the AllEars® newsletter so you don't miss any of the latest Disney news!