As we have said time and again, and as you yourself have probably noticed, Disney World is filled with interesting details — from those cleverly placed hidden images of Mickey (AKA Hidden Mickeys) to trash cans and restrooms themed to blend seamlessly into the area.
These details are even included in the making and backstory of some of the places where you sit and rest your weary bones as you're touring the parks! Here's where you'll find what we think are five of the most interesting benches in Walt Disney World.
Magic Kingdom: Town Square
Disney Legend Blaine Gibson is known as the sculptor responsible for creating so many Disney figures, including some of the presidents in the Magic Kingdom's Hall of Presidents and the pirates in Pirates of the Caribbean. But after he retired in 1983, Gibson contributed some of his best-known works.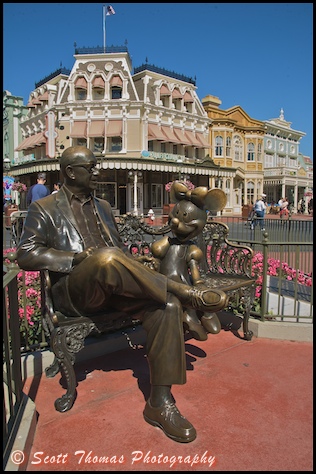 His "Partners" statue with Walt Disney and Mickey Mouse graces Disneyland and Walt Disney World, and in 1999, at the age of 81, Gibson sculpted "Sharing the Magic" featuring Roy O. Disney and Minnie Mouse. This bench sits in the Magic Kingdom's Town Square.
Disney's Animal Kingdom: Discovery Island
You've probably walked past these benches in Disney's Animal Kingdom a hundred times and thought, "Oh, how cute…" and then kept walking.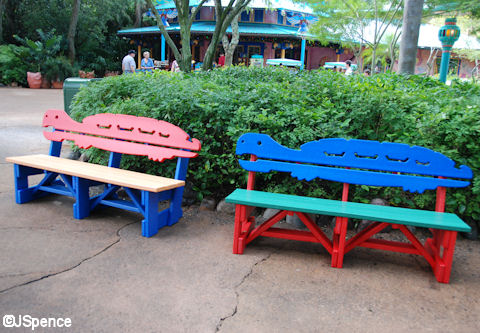 Well, yes, they are cute, and I love that Disney took the trouble to give the benches various animal character themes. But what's really interesting about these brightly colored benches is that they are made out of recycled plastic milk jugs. Totally in keeping with the theme park's conservation theme!
Disney's Animal Kingdom: Dinoland USA
Animal Kingdom is also home to a unique bench that has embedded ceramic dinosaurs. Why?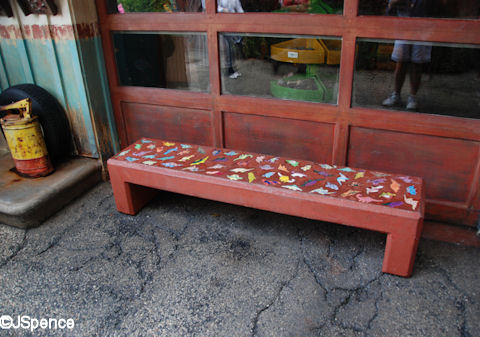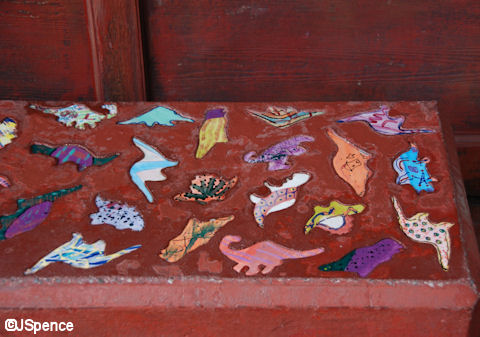 You can spot this one just outside Chester and Hester's Dinosaur Treasures, in Dinoland USA. It makes perfect sense, because, as the story goes, Chester and Hester ran a old-time gas station where dinosaur fossils were discovered.  They decided to sell tacky, dino-themed souvenirs as well as gas. Guess this bench is a symbol of that! This is just another one of those Disney details that are so easy to overlook.
Epcot: Morocco Pavilion
Take a look around the Morocco pavilion and you'll find some amazing craftsmanship — inlay and intricate carvings are everywhere.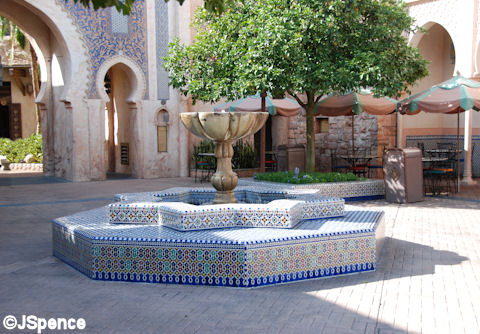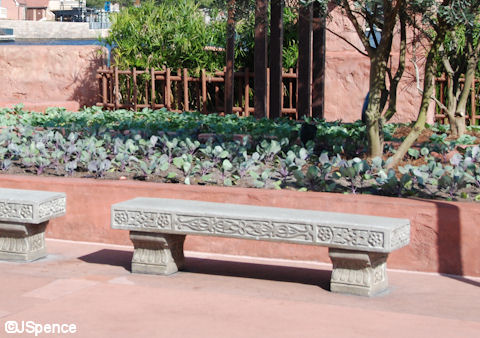 The Moroccan government sponsored the development of this pavilion, so much of the tile work, mosaics and other artwork in the pavilion were done by highly skilled Moroccan craftsmen and artists commissioned by the Moroccan king at the time.
Because Islamic religion prohibits artistic depictions of live objects, the decorations throughout the pavilion are primarily geometric patterns. You can see this on the benches placed throughout the pavilion. They may not be the most comfortable to sit on, but they are really lovely to look at!
Disney Springs: Raglan Road Irish Pub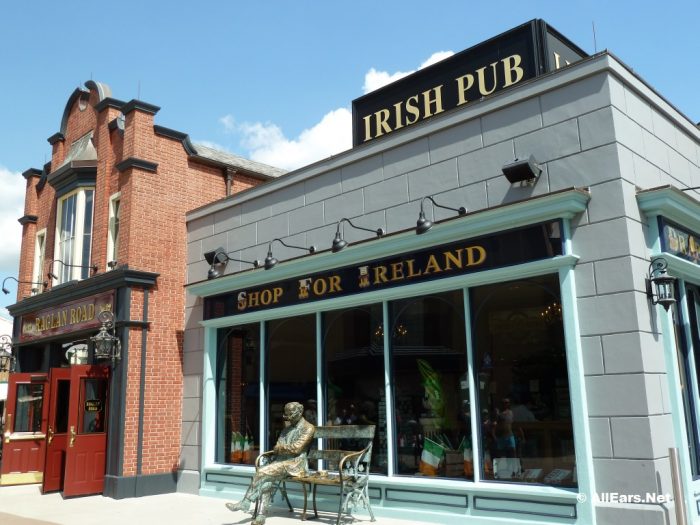 The bronze gent sitting on the bench outside Raglan Road Irish Pub's Shop for Ireland at Disney Springs is Irish poet/novelist Patrick Kavanagh. Actually, the bench is a replica of Irish sculptor John Coll's statue that now resides in Dublin along the bank of its Grand Canal on Mespil Road. Among Kavanagh's best-known works is the poem "On Raglan Road"— so I think you can see the sculpture's relevance.
We're sure there are other benches in and around the parks that might be just as interesting, with stories to tell. Next time you feel like you need to have a seat while you're in the World, remember to look down first — your bench just might be one of the most interesting you'll ever see!
Be sure to follow @allearsnet on Instagram and Twitter!
Check out our YouTube Channel for reviews, news, information and more!
Click below to subscribe to the AllEars® newsletter so you don't miss any of the latest Disney news!