You love Disney. Your love can't get enough of it, either. Then, boom! You have the ideal place to ask your significant other to marry you, right? The issue is that you don't want to be cliche… so where to pop the question?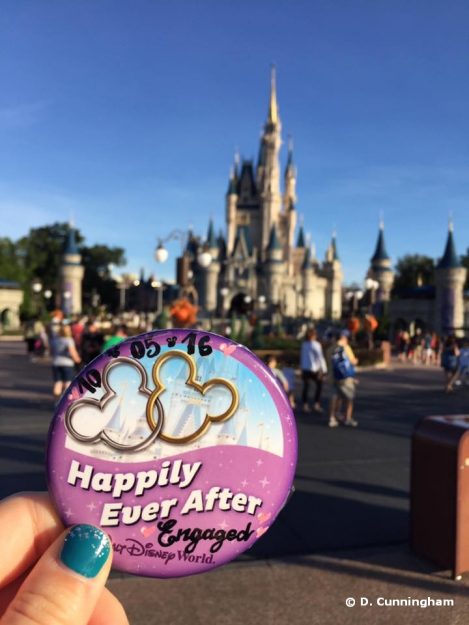 SO many people get engaged in front of a Disney castle. In fact, we've written about it before. And honestly it makes total sense. It is such a perfect backdrop for that big moment. But, if you are wanting to do things a little differently, grab a photographer, PhotoPass if you can, and head to these other Disney locations.
If you want to get a little more exotic, consider a trip to Disney's Aulani Resort. This hotel is located on Oahu in Hawaii and is seriously the most gorgeous background for a proposal.
It is such a nice mix of Disney and Hawaii, familiar and foreign at the same time. It's so beautiful there, and the weather is just about always perfect!
You could do the proposal right on the beach there at Aulani. Or there are a few large rocks nearby that are easy to climb and walk up. They allow you to look right over the water and the photos would be absolutely stunning! The rocks might not be too cozy for your knee when you get down on it, but that's besides the point!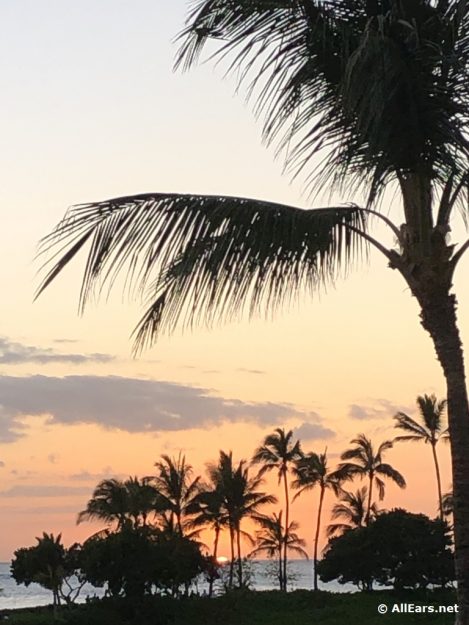 I'm a little partial to this option because this is where my man proposed to me back in October! And I honestly felt like it was a perfect, totally romantic spot. We are both Disney lovers and wanted a location that involved Disney. But, we didn't want it to scream, "Hey we got engaged at Disney!" You know?
Another great, rather exotic location would be Castaway Cay. Castaway Cay is Disney's private island, reserved exclusively for Disney Cruise Line guests, so that means you'd have to take a Disney cruise to get there.  But let's face it, this is another beautiful beach option. The insanely blue water and palm trees would make a stunning backdrop for your special moment! Just think how pretty the photos would be.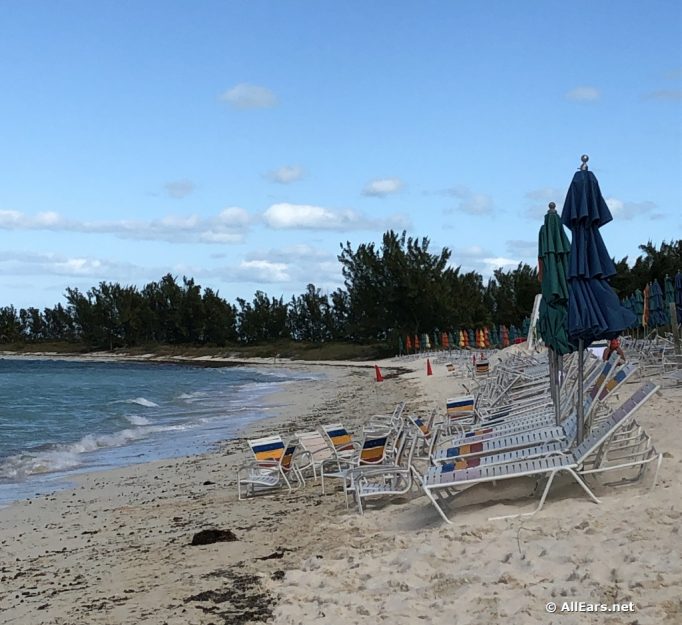 Just imagine strolling on the quiet adults-only Serenity Bay and then having a quiet moment to pop the question. It's a perfect setting.
Or, if you'd rather, maybe just have a romantic evening during the cruise itself — dinner at the beautiful Palo, with its lovely Venetian decor. If you're on the Disney Dream or Fantasy, you can go even more upscale and splurge on an evening at the special restaurant Remy.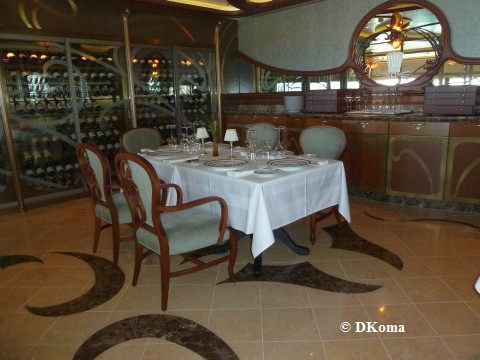 Another great option would be to propose at one of Disney's other international parks. You might opt to propose in front of one of the Asian or European castles, because they do look different from those in Disneyland and Disney World. No one would blame you — I think the Sleeping Beauty castle in Disneyland Paris is just gorgeous.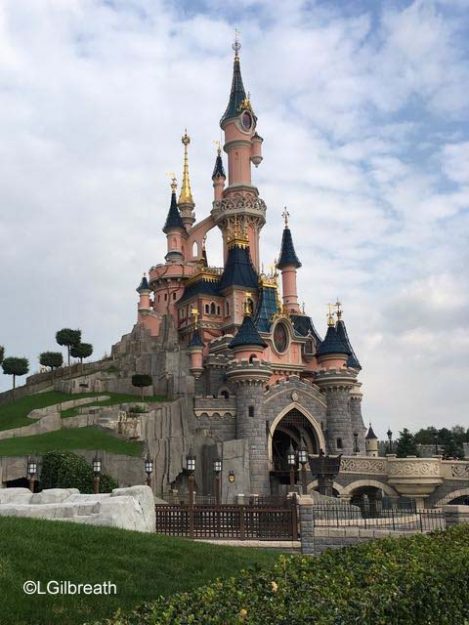 But there are more than a few cute places at Disneyland Paris that you should consider. For instance, INSIDE the upper portion of the castle. The stained glass is so intricate, it would make a great backdrop for the ultimate romantic moment.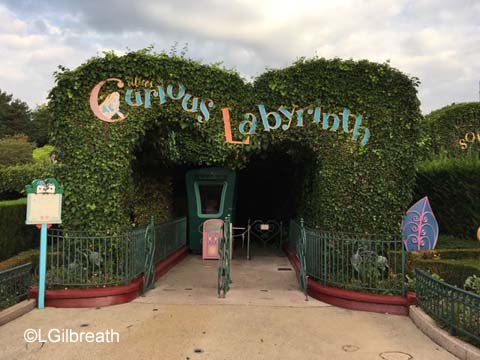 Another fun place would be inside or near the Alice's Curious Labyrinth maze. It is so green and lush. And if you are an Alice lover like me, this would be such a perfect location.
If you're staying stateside, Snow White's Wishing Well at Disneyland would make a nice setting. You could have your love close their eyes to make a wish, and while they are wishing, get down on one knee! When they open their eyes — well, I'm sure it would be such a sweet and special moment.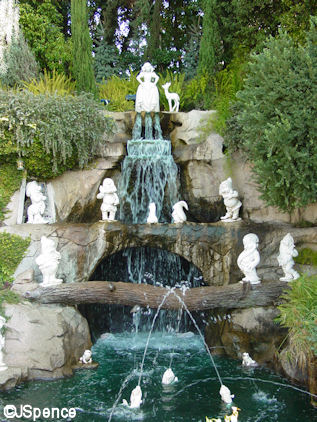 Another great place is Cinderella's Wishing Well at Walt Disney World. This wishing well is located on the side of the castle near Tomorrowland. The spot is usually not very crowded and the well is perfect for Cinderella lovers who don't want a castle proposal. Another pretty Cinderella location to think about is Cinderella's Fountain. This is located on the backside of the castle near the Castle Couture shop.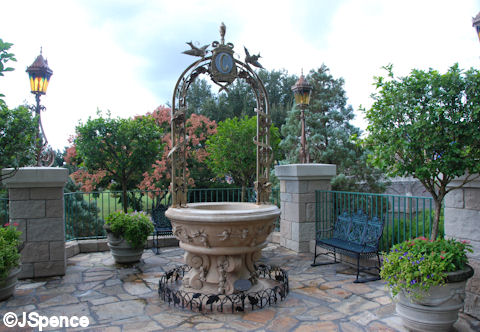 The Fairytale Wedding Pavilion at The Grand Floridian makes a lovely place for a romantic walk — and maybe hints at the event to come.
We also think that Rapunzel's Tower would make a nice background for engagement photos. We know, we know! It's right smack dab in the middle of the restrooms in Fantasyland at the Magic Kingdom. So maybe you don't want to propose in front of potties. Or maybe you do? I mean, to each their own. But if you can find a quiet time, with few people around, and the love of your life is a big Rapunzel fan — I say, go for it!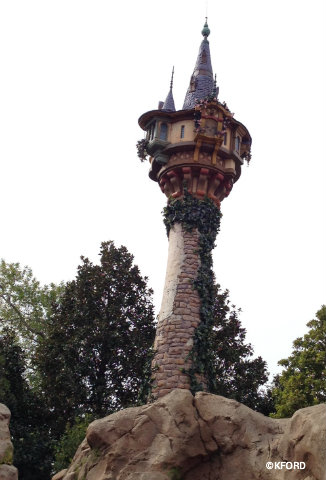 For some reason, it seems that I think water features equal good proposal locations, because another one of my suggestions is the fountain at the France Pavilion in Epcot. But seriously, it's the next best thing to actually being in Paris, with the Eiffel Tower peaking through in the background.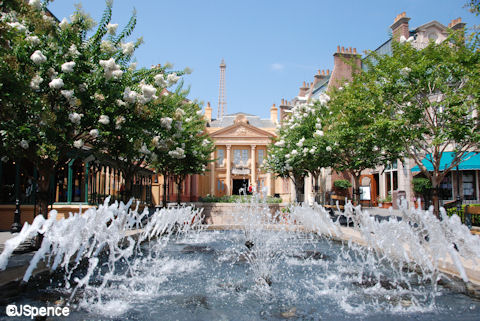 Another good idea would be to propose in front of other iconic Disney spots. Pixar Pier in Disney California Adventure, Spaceship Earth in Epcot, the Tree of Life in Disney's Animal Kingdom all come to mind.
There are so many character locations throughout the parks. Think about proposing in a location that pertains to your significant other's favorite character. Do they LOVE Belle? Then propose while eating dinner at Be Our Guest restaurant at Magic Kingdom. Are they crazy for the Mad Hatter? Then, pop the question in front of the Mad Tea Party tea cups or maybe at the character breakfast at 1900 Park Fare at the Grand Floridian. With any luck, the Mad Hatter there might even get in some photos with you and make the proposal even more magical!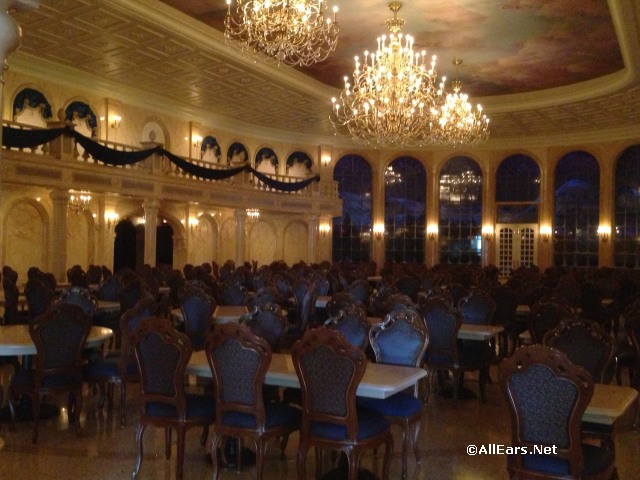 Are you looking to have a more private moment? You can always rent a boat and take a private cruise during Happily Ever After! Disney's prices are not too outrageous when it comes to renting a motorized boat. This will give you the ability to have that special firework moment without the crowds. Read more about motorized boat rentals here. 
Are the two of you artsy and fun? Do you want to have a memento of the moment to keep forever? If so, another fun way to propose is by getting a caricature made. You could talk to the artist beforehand and have them draw you on your knee asking the big question! As the artist reveals the photo, you could propose for real! This is such a fun surprise. And then you have captured the special moment in a truly different way!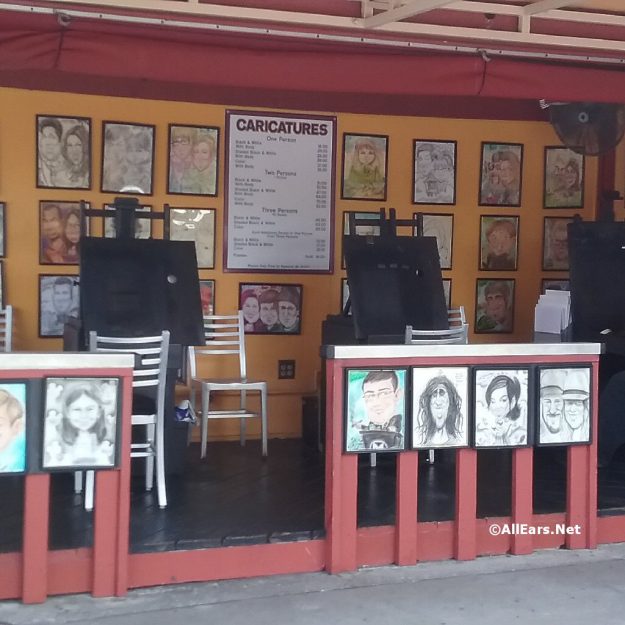 Another fun way is to propose on a ride. It is always a really funny and surprising moment when someone holds up a proposal sign during an attraction, like on Splash Mountain. You can make a sign and hold it up during the photo moment on the ride. Your partner would likely be too distracted to realize what was happening. Afterwards, when viewing the photo, your love would see the question in the photo and would have the shock of his or her life! Then you can actually ask the question for real. So cute and you'll have the photo to keep as well!
Wow, looking back over all of this makes me want to get engaged again! What about you?
Have you proposed, or were you proposed to, at a Disney theme park? If so, tell us all about it in the comments below! 
Thinking About Getting Engaged or Married at Disney? Check Out:
Be sure to follow @allearsnet on Instagram and Twitter!
Click below to subscribe to the AllEars® newsletter so you don't miss any of the latest Disney news!