While you can get snacks at a few of the stalls scattered around Star Wars: Galaxy's Edge, if you need something a little more substantial to eat there are two places you can stop: Ronto Roasters and Docking Bay 7 Food and Cargo.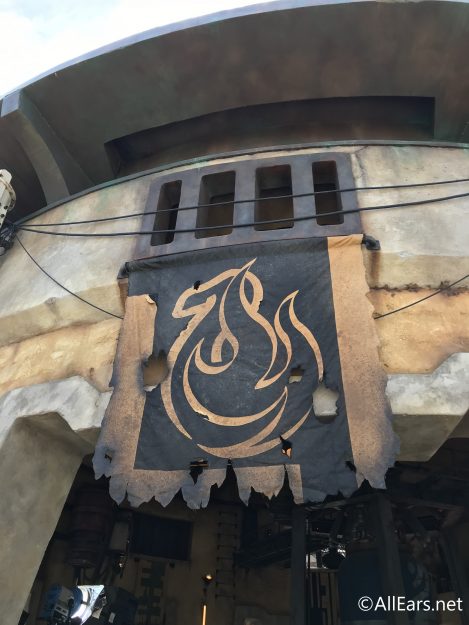 Ronto Roasters is located at the end of the marketplace area. The focal point for the space is undoubtedly the podracer engine that is used to roast the meat. There are sound effects to complete the atmosphere — the hum of the engine, the crackle of the fire — as a former smelter droid by the name of 8D-J8 turns the spit, roasting the ronto meat.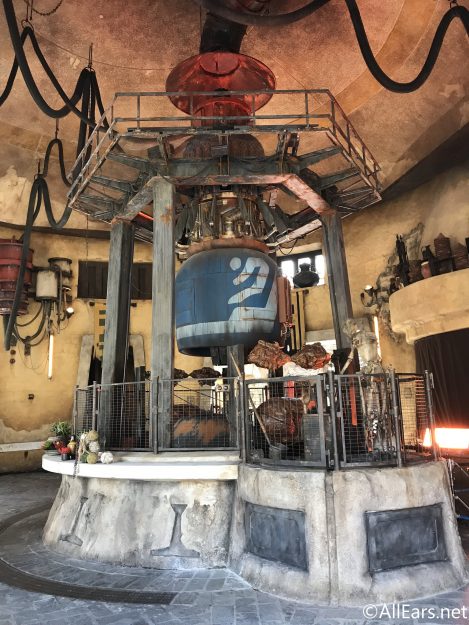 The eatery has no walls — it's an open-air space that resembles many fast-food places here on Earth, with a counter you can stand at if you want to eat on the spot. Most of the menu items, however, are designed to eat on the run. There were a few tables in the vicinity, though, if you decide you want to sit and soak up the atmosphere while you eat.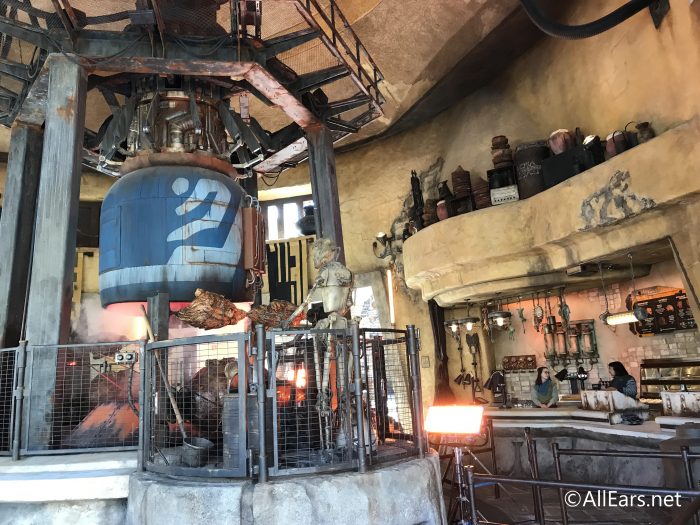 Ronto Roasters is serving up breakfast, as well as lunch/dinner items, which is good to know, as Galaxy's Edge will be opening EARLY to accommodate the expected crowds.
We had the chance to try the following items: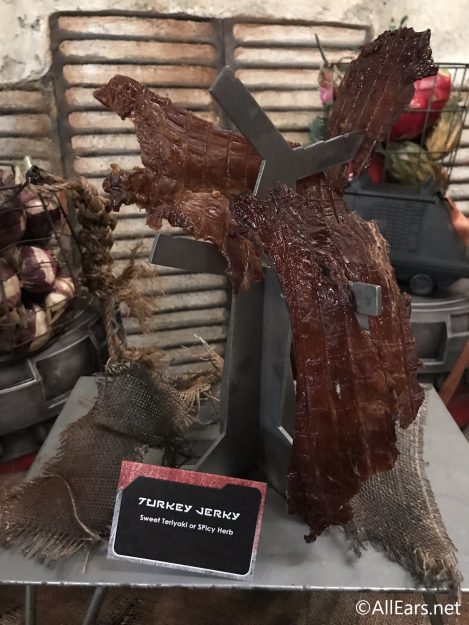 — Nuna Turkey Jerky: This comes in either spicy herb or sweet teriyaki, but the sweet option is still rather savory and surprisingly salty. This would be a good choice for someone doing a keto (as in no carbs, lots of protein) diet.
— Ronto Wrap: This pita wrap comes with roasted pork and grilled sausage with peppercorn sauce and tangy slaw. It was very good!
We didn't get to try any of the breakfast items yet, but will certainly report back to you when we do later this week!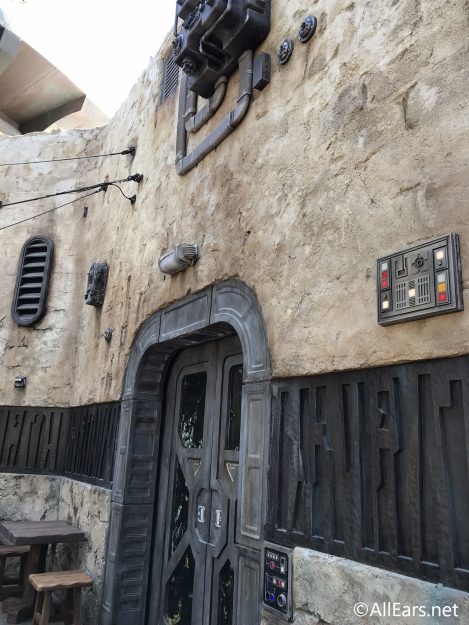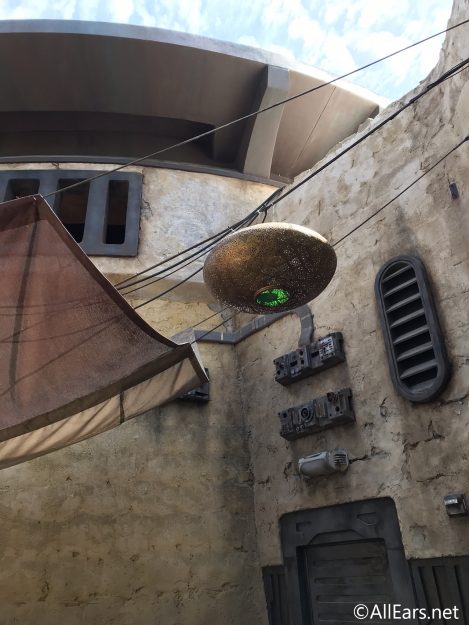 For even more "chew and swallow" type food, you'll want to make a stop at Docking Bay 7 Food and Cargo, which is located to the left of the entrance of Millennium Falcon: Smugglers Run. You'll have to look closely for the entrance, because there's no signage indicating the restaurant. You'll know you're in the right place when you see the multi-transport shuttle on the roof.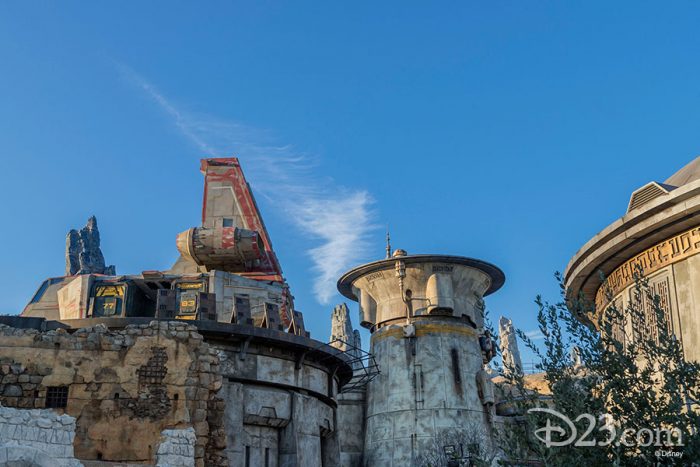 You'll notice that the roof also has three gray cargo pods with the numbers 77, 80, and 83 printed in yellow. Those numbers correspond to the years that the films in the original Star Wars trilogy were released. (Star Wars A New Hope in 1977, Empire Strikes back in 1980, and Return of the Jedi in 1983.) There may be a Photopass photographer positioned in the area, too.
Unlike Ronto Roasters, Docking Bay 7 is in a fully enclosed, dome-shaped building. The design is very post-modern industrial, with exposed ceiling and pipes, reminiscent of Pandora – The World of Avatar at Disney's Animal Kingdom.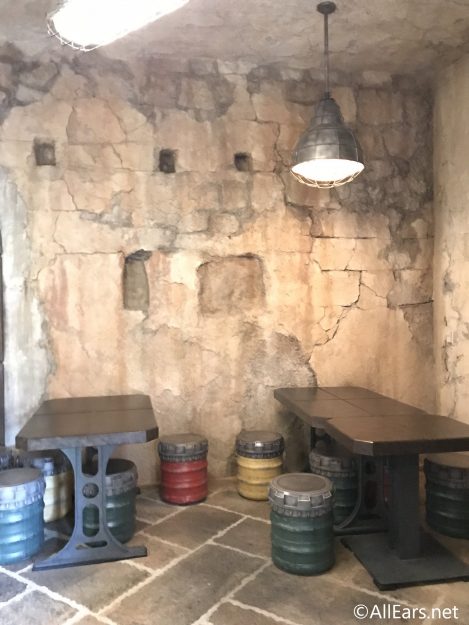 Seating is utilitarian — metal and wooden-look tables and chairs, some stone-looking long benches, and a few short stools. Some tables are built into shipping cargo pods with the doors held open and the sides cut out. Most tables are regular height, but there's some high-top seating, too. There's also some outdoor seating — maybe 12 tables in a gated-in, almost private area.
Hanging from the rafters are alien critters that we might guess are some of the ingredients in the food. Some are even on ice, like fish at a seafood restaurant might be.
Proprietor and chef here is Strono "Cookie" Tuggs, but we don't see him at all.
The Docking Bay's ordering area is on the right side of the restaurant, while seating is to the left and outside. There are just four cast members taking orders and of course all greet you with the Outpost's standard hello: "Bright Suns!"
Once you order and pay you go up to the counter to collect your tray of food just like any other counter service spot.
Again, we didn't get to sample everything on the menu, but here's a quick rundown of what we did try: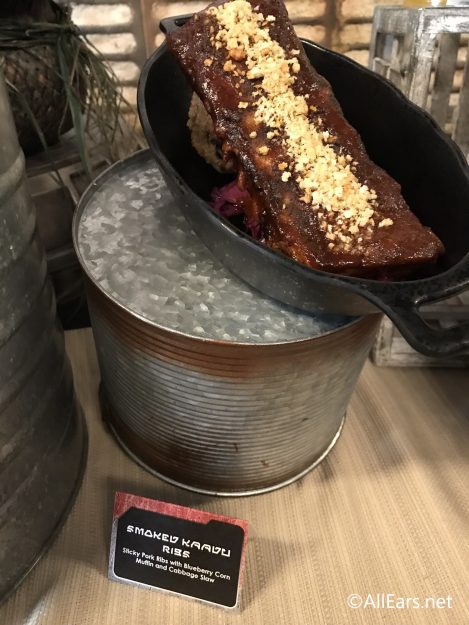 — Smoked Kaadu Ribs: The ribs were a little dry, and the sauce a little tart. Not really to our liking.
— Braised Shaak Roast (which is served at dinnertime only): Basically, it's pot roast, and it's very good. Nice gravy, veggies that weren't overcooked. A real winner!
— Fried Endorian Tip Yip: After the pot roast, this was our second-favorite menu item. Guess what Tip Yip tastes like? Chicken! Yes, it's just a chicken tender with mashed potatoes, but it was tasty enough. The children's version of the dish comes with macaroni and cheese, which would probably be my preference.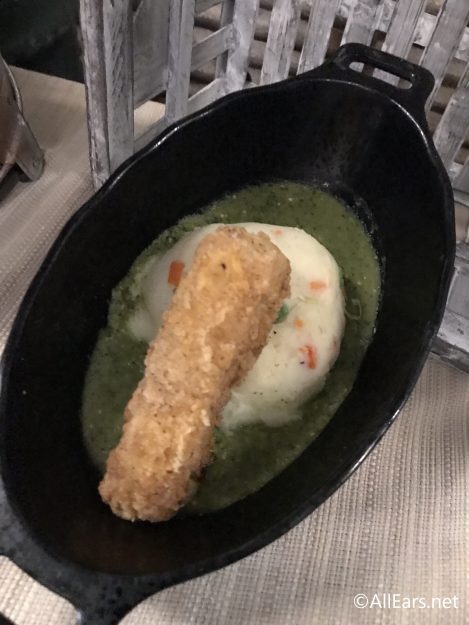 — Roasted Endorian Tip-Yip Salad: According to the menu this is Marinated Chicken, Mixed Greens, Roasted Seasonal Vegetables, Quinoa, and Pumpkin Seeds, tossed in Green Curry Ranch. It was OK, not great.
— Yobshrimp Noodle Salad — Chilled shrimp, marinated noodles, vegetables, cilantro. There dressing was too tart for these taste buds.
— Ithorian Garden Loaf (only served at dinnertime): This plant-based "Meatloaf" had Roasted Vegetable Potato Mash, Seasonal Vegetables, and Mushroom Sauce. It wasn't bad.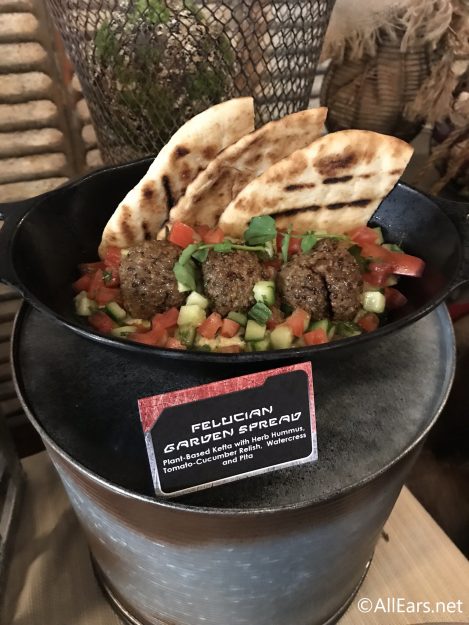 At lunchtime only, the restaurant will be serving up Felucian Garden Spread. This vegetarian dish is plant-based "Kefta", Herb Hummus, Tomato-Cucumber Relish, and Pita. It's one of several vegetarian dishes on the menu here, by the way.
Also of note — Docking Bay 7 has a number of allergy-friendly offerings. Check out the full breakfast and lunch/dinner menus to see what special accommodations are made for those with sensitivity to nuts, gluten and wheat, dairy and more!
The main drawback to the menu here is that the children's offerings are very limited — and probably not things that most kids will eat. The "Tip Yip" chicken tender, which, as stated above comes with mac and cheese, may be good for some, but unless your kids are really adventurous we're not sure that they will like the shrimp salad or "A Taste of Takodana," which is Black Bean Hummus, Edible Soil with Nuts, Chilled Dipping Vegetables, Multigrain Crisps served with choice of Small Lowfat Milk or Small Dasani® Water.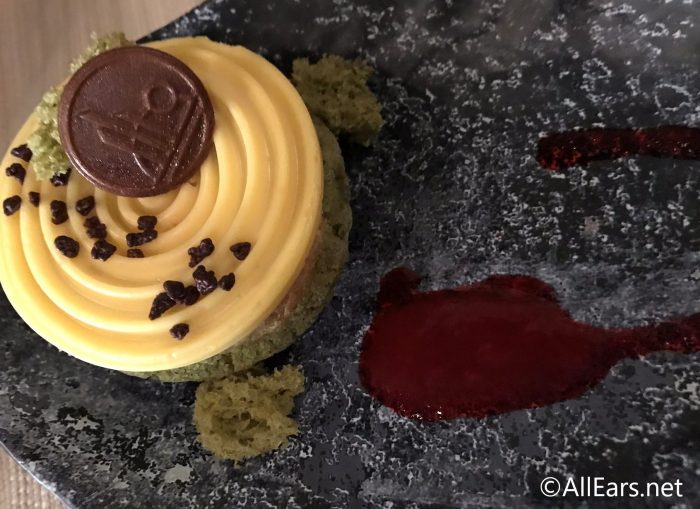 Desserts here include the Oi-oi Puff (Raspberry Cream Puff), with a sweet/tart raspberry mousse filling, topped with passion fruit mousse. We liked it! There's also a Batuu-bon (chocolate cake), topped with a white chocolate mousse dome and filled with a dollop of coffee mousse. This was dense and rich, but just OK.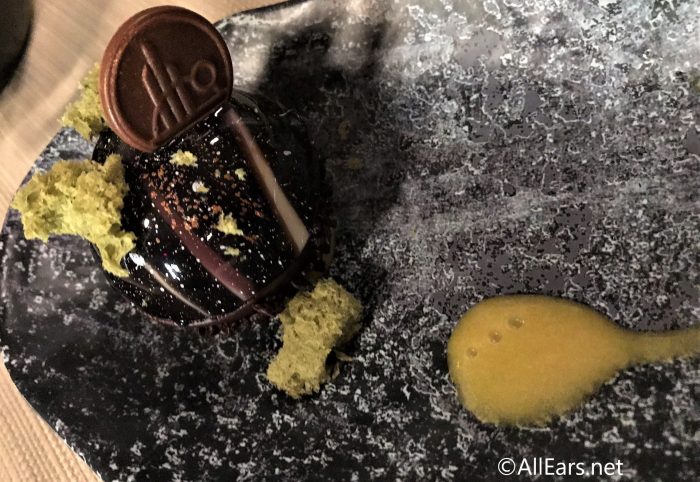 Of the beverages, Phattro Juice (Gold Peak® Unsweetened Tea, Odwalla® Lemonade, Desert Pear) tasted like fruity iced tea, while Moof Juice (Simply Fruit Punch®, Simply Orange® with Pineapple, Chipotle-Pineapple) was fantastic, not spicy at all. Finally, we tried the Batuubucha Tea (Suja® Pineapple Passionfruit Kombucha™), which is the drink for you if you love  kombucha, otherwise, maybe not so much.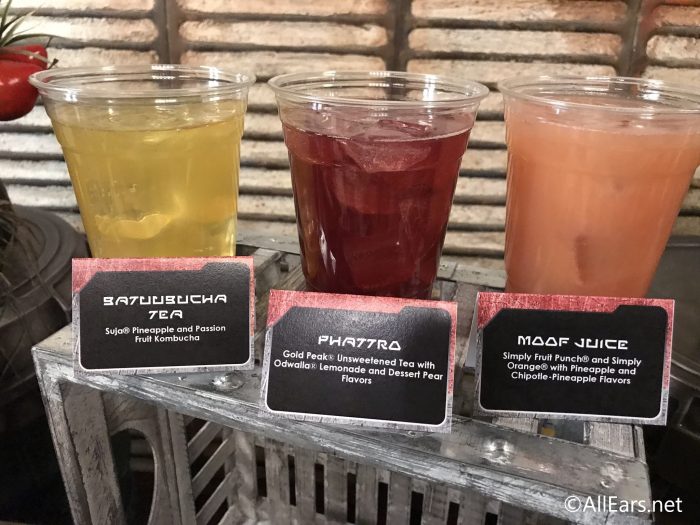 And Docking Bay 7 is also selling the specially packaged Coke products. Remember, just three per customer!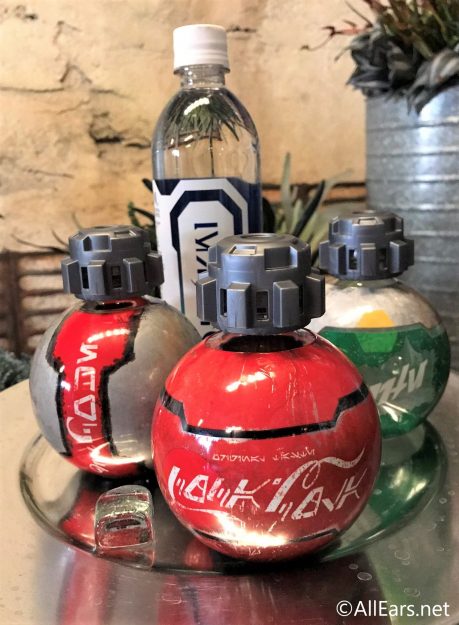 Note: Ronto Roasters and Docking Bay 7 both offer Disneyland Annual Pass discounts.
Now that you have a better idea of what's on the menu at Star Wars: Galaxy's Edge, what do you think? Will you be trying Tip Yip? Or is Ronto more your style?  Let us know with a comment below!
Disclaimer: AllEars.Net was an invited media guest of Disney at the debut of Star Wars: Galaxy's Edge, but this did not affect our opinions. Our opinions are our own!
Star Wars: Galaxy's Edge at Disneyland is NOW OPEN! Don't miss these posts about the new land:
Be sure to follow @allearsnet on Instagram and Twitter!
Check out our YouTube Channel for reviews, news, information and more!
Click below to subscribe to the AllEars® newsletter so you don't miss any of the latest Disney news!