The highly anticipated live-action remake of Disney's "Aladdin" will be flying into theaters on its magic carpet this weekend!
I was lucky enough to see the full movie last week, and am excited to share my review with you all! This review will contain NO spoilers for the film — unless of course you haven't seen the 1992 animated version. In which case, I insist you stop what you're doing immediately and go watch it. It's truly a classic.
Honestly, I went into this movie with no expectations — I prefer to be pleasantly surprised rather than disappointed. Unlike Beauty and the Beast (which had big names like Emma Watson, Josh Gad, Emma Thompson, and Sir Ian McKellan, to name a few), the only high-profile actor is Will Smith. The biggest question going into Beauty and the Beast was can Emma Watson sing (answer: no), but that isn't a concern with Will Smith. Thanks to his poppin' '90s music career, everyone already knows he can sing (or at least rap-sing).
The biggest concern with Will Smith (and the movie in general) was, "How is he going to live up to Robin Williams' legendary performance as the genie?" I personally think Will Smith was a great choice by Disney — but he's got a gigantic lamp to fill.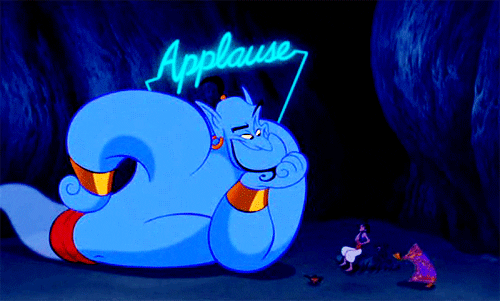 In the end, Will Smith does an excellent job as the Genie. As with the original, the Genie is still the star of the show and the comedic relief, along with Abu. But not Iago — he's basically just a parrot now. (Sorry, Gilbert Gottfried.)
Guy Ritchie (director and co-writer) and Will Smith did a great job making Genie memorable and reminiscent of the OG Genie, while also giving him his own flair. If I were to describe the it, it's basically like Hitch and The Fresh Prince had a beautiful baby named the Genie. Unlike the animated feature, Will Smith does not remain blue the entire time, which allows his personality and comedy to really shine (this is not a spoiler, it's in the trailer!). He also uses his own style of singing, which is more his '90s rap style that I mentioned. I quite enjoyed him, and laughed out loud several times.
And speaking of the music, of course Alan Menken's original songs are featured in the soundtrack — with a few lyrical updates here and there. The movie also features a brand-new song (and reprise) sung by Naomi Scott (Jasmine), which is a wonderful addition to the soundtrack. Her voice is incredible, and the song is beautiful.
The new songs and lyric updates were written by Benj Pasek and Justin Paul, whose names you may recognize as the writing duo behind La La Land and The Greatest Showman. These new additions live up to their songwriting legacy.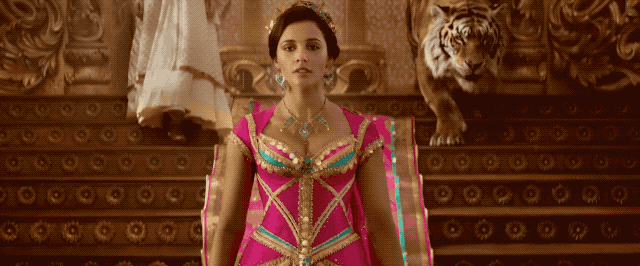 The movie is also visually gorgeous, with stunning colors, costumes, and scenery. There is a fair amount of CGI (pet monkeys and tigers, and the Genie), but for the most part it's well done, as you'd expect from Disney.
The live-action version introduces a few new minor characters, with Jasmine's handmaid Dalia being a hilarious addition. They have also cut out a few small (and one iconic) moments from the original, but beyond these changes, it's very similar in plot and doesn't offer much story expansion (unlike Beauty and the Beast or Cinderella).
I think casting an all-Middle Eastern cast, most of whom were relatively unknown (with the exception of Will Smith on both accounts), was an excellent choice by Disney. Especially considering they selected people that can act AND sing.
Overall, I enjoyed the film. But is it better than the original? No, of course not. I would still rather see the original animated versions of the Disney classics, or new animated winners (such as Frozen or Wreck-It Ralph).
If you love the animated classic, you'll enjoy the remake — but don't expect it to be the best movie you've ever seen. Simply go in and enjoy being taken to a Whole New World, and you won't be disappointed.
Are you headed to see Aladdin in theaters? Let us know in the comments!
Check out our YouTube Channel for reviews, news, information and more!
Click below to subscribe to the AllEars® newsletter so you don't miss any of the latest Disney news!