To celebrate Marvel's 80th Anniversary Marvel is releasing a special Facsimile edition of the 1977 STAR WARS #50.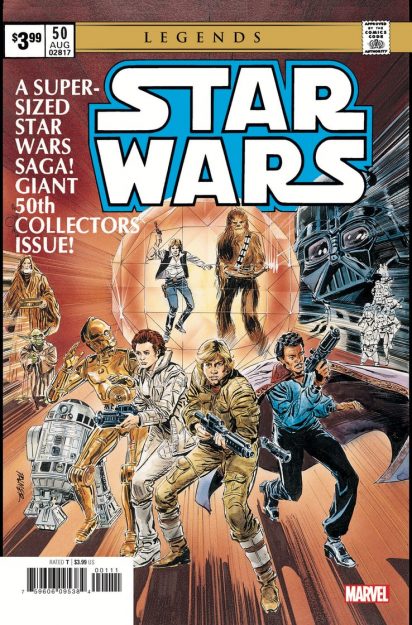 The Facsimile will feature a full reprint of the issue's classic story – ads and all! – from writer Archie Williams and artists Al Williamson, Tom Palmer and Walter Simonson!
The release coincides with May's upcoming STAR WARS #108 one-shot from Matthew Rosenberg and artists Giuseppe Camuncoli, Luke Ross, Kerry Gammill, and Andrea Broccardo. With new stories of original series characters such as Jaxxon, Amaiza, Domina Tagge, Valance the Hunter, and more, STAR WARS #108 acts as a direct sequel to Star Wars #50.
"So many true comic legends worked on those books- Archie Goodwin, Roy Thomas, Walt Simonson, Howard Chaykin, Al Williamson, David Michelinie, Klaus Janson, Jo Duffy, and so many more. It's pretty overwhelming to think about, actually. What they made was the product of a very different time in comics, and it's something modern audiences aren't really accustomed to. So while it would be fun, if a little humbling, to try and just impersonate them, we wanted to do something a bit different, something that would appeal to classic and modern fans alike," Matt Rosenberg told Comicbook.com of writing STAR WARS #108.
Look for STAR WARS #108 in comic shops this May.
Will you be adding STAR WARS #50 and #108 to your comic book collection? Let us know in the comments below!
Need Star Wars: Galaxy's Edge info? We've got it ALL!
Are you ready for Star Wars: Galaxy's Edge? Let us know in the comments below!
Be sure to subscribe to the AllEars® newsletter so you don't miss any exciting Star Wars: Galaxy's Edge news!