When a place is as magical and mysterious as Walt Disney World, it's bound to attract some crazy comments.
From silly rumors to unbelievable observations, here are 13 of the craziest things we've ever heard in Disney World!
1. "Where are the rides?"
Believe it or not, when some people enter Magic Kingdom and smell the fresh popcorn and gaze upon the gorgeous Cinderella Castle, their first thought is, "Where are the rides?"
To be fair, if you're used to amusement parks and carnivals, then the rides are everywhere in plain sight. But at Disney, they are well themed and appropriately placed, and dare we say, more fun. So if you are strolling down Main Street USA and are concerned that you haven't seen a roller coaster yet — hang tight. I promise there's one (more than one!) just a few minutes away.
2. "Can't they stop the rain?"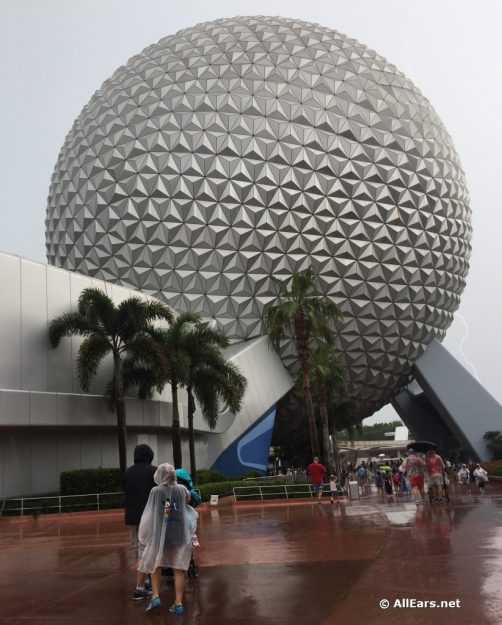 Disney is good, but not THAT good. It's Florida and it rains, and unfortunately, not even Disney magic can control the weather.
Some visitors to the parks think there's a giant bubble surrounding Walt Disney World, or that a retractable cover can be put in place at the sight of the first raindrops. In Walt's original designs for Epcot, it WAS climate-controlled, so perhaps that's where the idea came from? No matter what, the answer is sadly no, they cannot stop the rain.
3. "How many Mickeys are there?"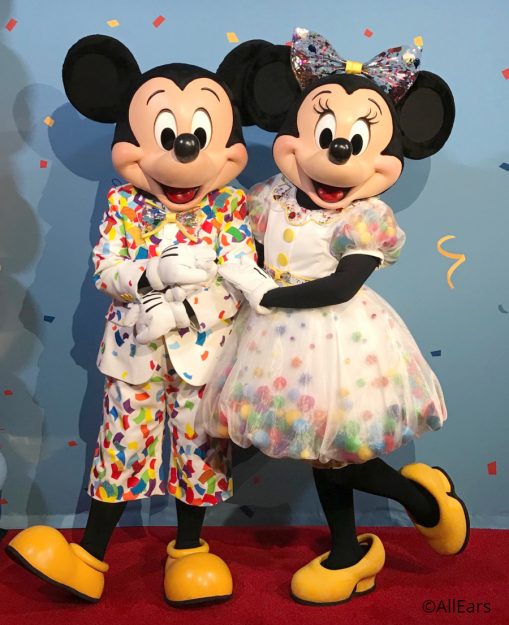 One. There is only one Mickey, there has always been only one Mickey, and there will only be one Mickey forever. How many of you are there?
Now, Mickey does have a lot of friends that help him throughout the day. And there are dozens and dozens — Mickey is a popular guy! Grown-ups, we all know how the Magic behind this particular situation, so can we all agree to stop asking this in front of characters and kids?
4. "What time is the 3 o'clock parade?"
You're probably thinking, "No way someone said that!?" Yes way.
But what we think they mean is, "What is the best spot to see the parade at 3 p.m.?," or "What time will the parade get to the spot I'm at?" For example, the Festival of Fantasy parade starts in Frontierland so if you're sitting at the Train  Station, you won't see the parade until closer to 3:30. So this isn't a completely crazy thing to ask, just maybe not worded the least crazy way possible.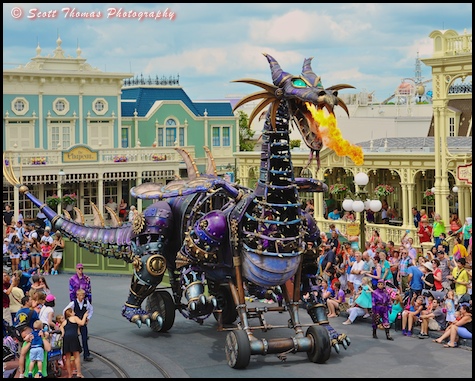 5. "It is soooooo crowded!"
Yes. It's probably the most popular vacation destination in the world, so of course it is busy. Typically, if schools are out, Disney World is in. Think Christmas vacation, spring break, and summer — these are the busiest times to visit.
If the crowds are a deal-breaker for and your plans are flexible, check out the new date-based ticketing system on Disney's website. This new system assigns a value to each day based on time of year and attendance projections, which you can then see on their calendar when you're buying your tickets. With this new system, Monday could be cheaper than Friday on the same trip.
So yes, it can be crowded, but that doesn't mean the magic is gone! If you're there with the crowds — make the most of it! Enjoy your pool, make the FastPasses you REALLY want, and simply embrace being at Walt Disney World.
6. "It's impossible to eat healthy here!"
Ten years ago, this was probably true — at least at most of the quick-service spots. Let's just say that there were a lot of chicken nuggets. And while you can still get nuggets around Walt Disney World, the quick-service options have improved immensely — in both variety and healthiness (if you're into that). There are even some great vegetarian and vegan choices out there now! Check out our guide to eating healthy in the parks and eating healthy at Disney Springs for our suggestions for tasty, lighter bites.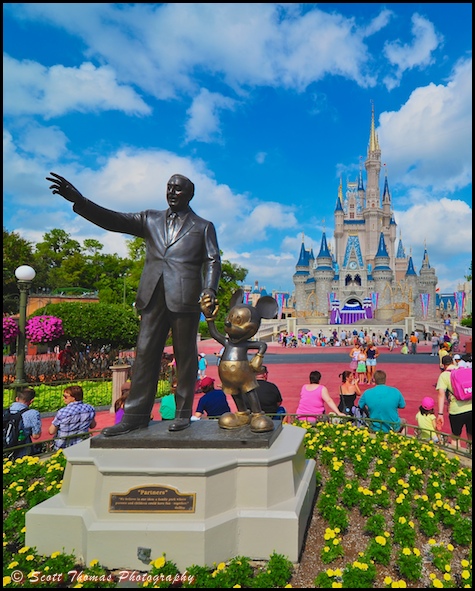 7. "Walt Disney is frozen and his body is in the Partners statue."
Or under the castle. Or in Spaceship Earth. Or… you name it. It is a widespread rumor that Uncle Walt was cryogenically frozen after his passing, and his body is somewhere in a Disney park. But rest assured this is impossible — Walt was cremated and his ashes were buried in California.
8. "There's no one around to answer my questions!"
This is a true story and a question I heard several times during my tenure in Disney Guest Relations. Some people assume that the only knowledgeable people in the park are at the front for some reason. It doesn't dawn on them to ask a merchandise or custodial Cast Member what time Fantasmic! starts or where to find Cinderella. I suppose they assume Cast Members are only trained in the specific role they work in. This couldn't be farther from the truth! All Cast Members take orientation and are very knowledgeable about the parks. And if they don't know — I promise they will ask and help you figure it out.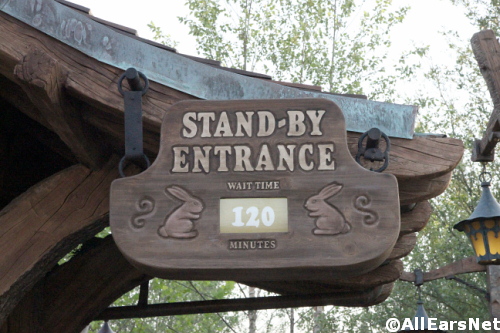 9. "They inflate the wait times. It really isn't 120 minutes."
Wouldn't that be great if it was true? But… it's not. While the wait times posted outside the attractions are estimates, there are systems in place to try and get them as accurate as possible. In fact you may have helped with this before! Has a Cast Member ever handed you a red card on a lanyard and told you to give it to the last Cast Member you see before boarding the vehicle? This is one of the ways they get an accurate read on the wait times.
So, while a 120-minute wait time might end up being a little shorter (or longer), the times posted aren't inflated.
10. "If you come to the park after 4 p.m., you can buy a half-day ticket."
Sadly, false. Other parks in Florida have been known to offer half-day tickets after a certain time, but Walt Disney World is not one of them. It's the same price whether you arrive at rope drop, or one hour before the park closes. Keep this in mind when planning your trip. If you're not going to get to the park until 6 p.m. on your arrival day, do you really need a ticket? With so much to do at the resorts and Disney Springs, you may be able to save some money and wait until you have a full day to enjoy the parks.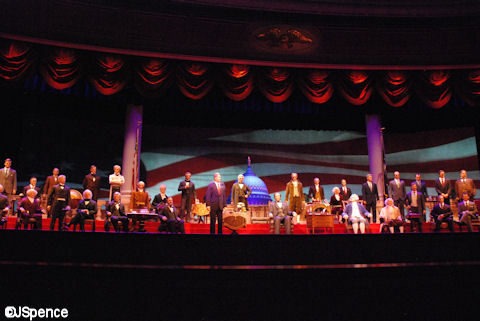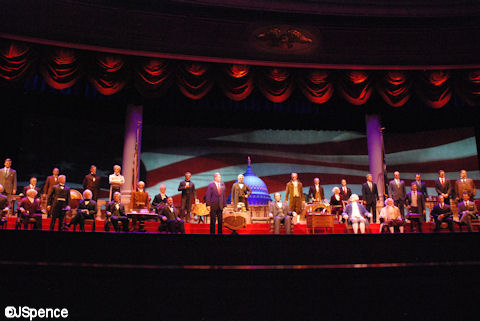 11. "Why are there no women in the Hall of Presidents?"
This is not a joke. Whether unfamiliar with American history, or perhaps a firm believer that the First Ladies should be represented with their husbands, this is seriously a comment overheard at Walt Disney World. But the Imagineers don't get to choose who is added into the attraction — America does. When a new president is elected, a new animatronic is made. Simple as that.
12. "Can I just sign something so my kid can ride Expedition Everest, even though he doesn't reach the height requirement?"
OK, this one is really crazy. Some people don't realize the height requirement is there for safety and safety alone — it's not there to indicate the scariness of a ride or anything else. If you don't meet the height requirement, that means the safety restraints won't fit properly and you could get seriously injured. So no, you can't sign a waiver or anything to let your child ride if he or she isn't tall enough. And don't stuff their shoes, either! Again, this is all for their safety — no attraction is worth getting hurt.
We recommend measuring your little ones at home, and doing some research on what they will not be able to ride. We have a list of the ride restrictions right here! This way you can avoid these attractions altogether, and have fun on all of the awesome rides with shorter (or no) height requirements!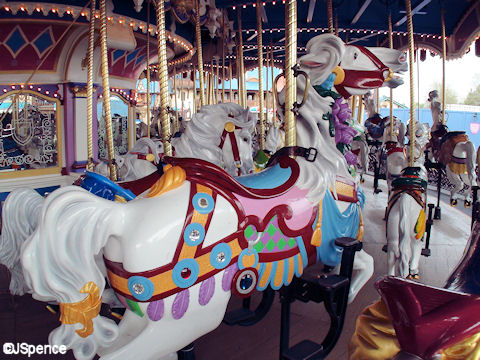 13. "Fantasyland is just for kids."
First of all, how dare you! Fantasyland is for kids and kids at heart! Many of the quintessential Disney attractions are there — Dumbo, Peter Pan's Flight, "it's a small world." These are things every Disney guest must do at least once — no matter their age. And, while it is certainly family friendly, it isn't JUST for kids. You're in the Magic Kingdom after all, so let go of reality and embrace your inner child. Spin as fast as you can on a teapot, bounce with Tigger, and fly over Neverland. After all, I think it was Walt Disney who once said "Growing old is mandatory, but growing up is optional."
What are the craziest things you've heard in the Disney Parks? Let us know in the comments!
Remember! When you're in Disney tag @allearsnet in your photos!
Be sure to check out our YouTube Channel for reviews, news, information and more! 
Subscribe to the AllEars® newsletter so you don't miss any of the latest Disney news!