The 2019 Epcot International Flower and Garden Festival starts next week, March 6, and AllEars.Net had the chance to get an early look at everything that will be on offer as part of a Disney Media Preview!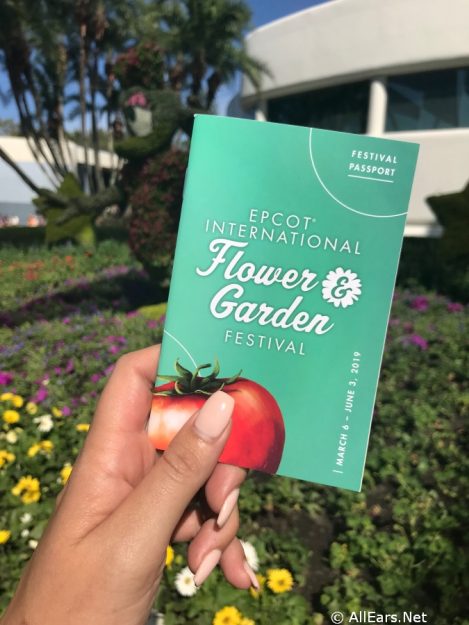 It's the festival's 26th year and they are showing no signs of age as they have designed more than 70 topiaries to go along with all the gorgeous gardens and blooms that adorn the park. AND they have an expanded list of Garden Rocks concerts (every single night of the festival this year!) and more Outdoor Kitchens than ever before. Yes, there are 17 of these food booths this year, with four new locations, all serving up a wide variety of freshly prepared food and beverage offerings.
Where should we start? How about with the flowers and the gardens?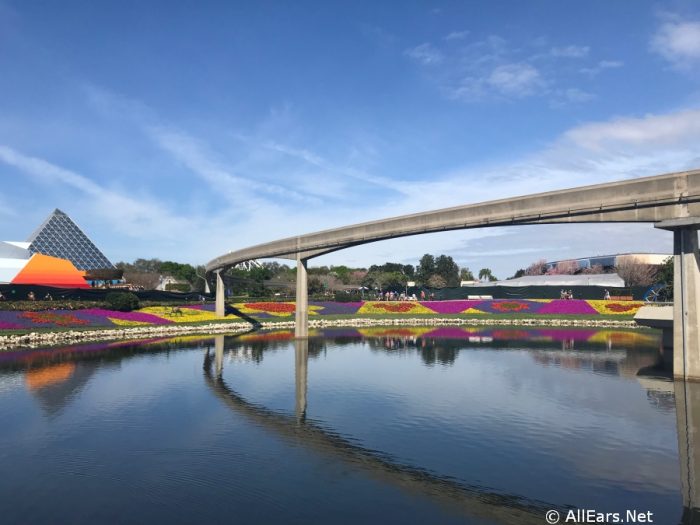 New Bo Peep and Sheep Topiary and More!

In anticipation of Toy Story 4, which debuts on June 21, 2019, the festival has added a new Bo Peep topiary. Located in Future World East, Bo Peep's Playtime Training Grounds (sponsored by Toy Story 4) will not only have topiaries of Bo and her sheep, but fellow Toy Story stars Buzz Lightyear and Woody will also be featured.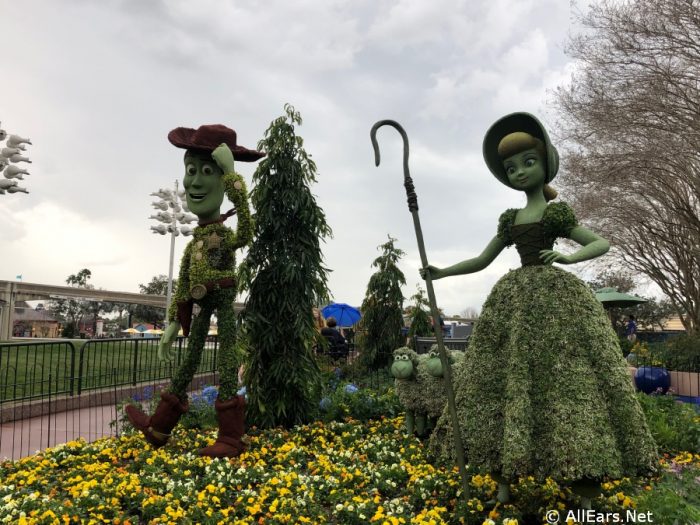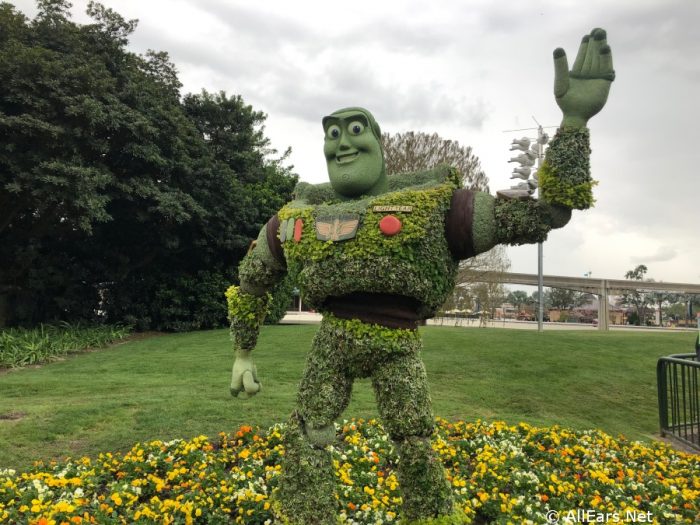 Sporting a new look this year is Kermit — you'll find him in the France pavilion this year, astride a bicycle, delivering fresh baguettes to… maybe Miss Piggy?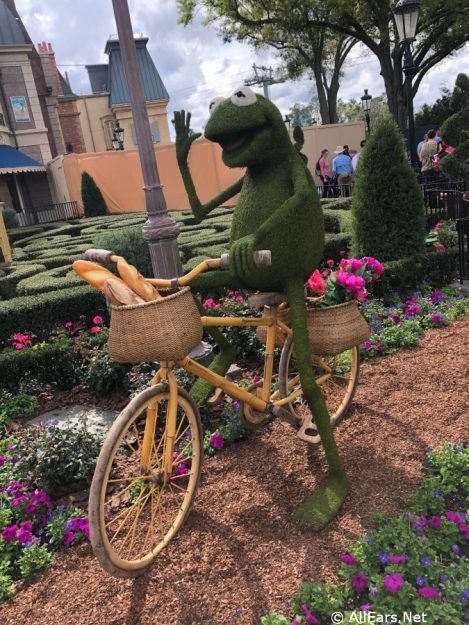 We had spotted some of the other topiaries already out a few days ago, like Anna and Elsa over in the Norway pavilion, and Winnie the Pooh and friends in the UK pavilion.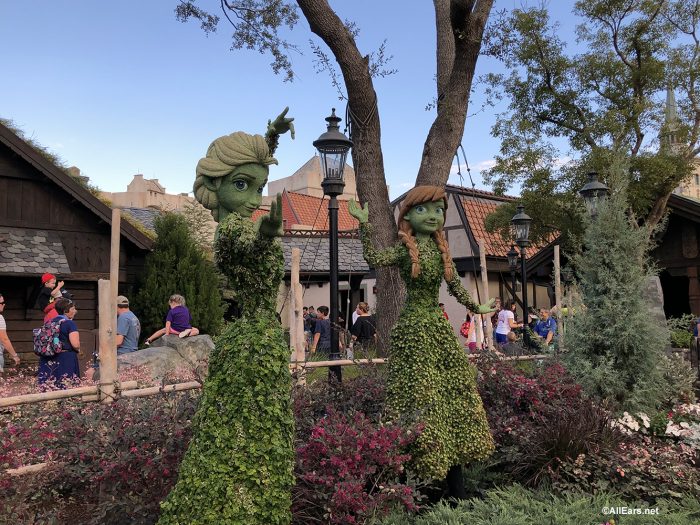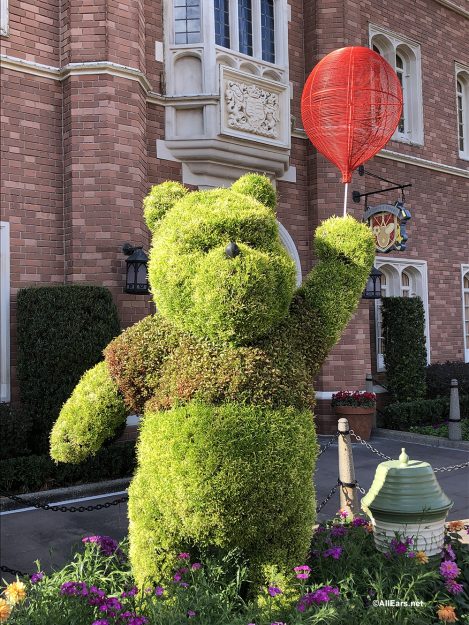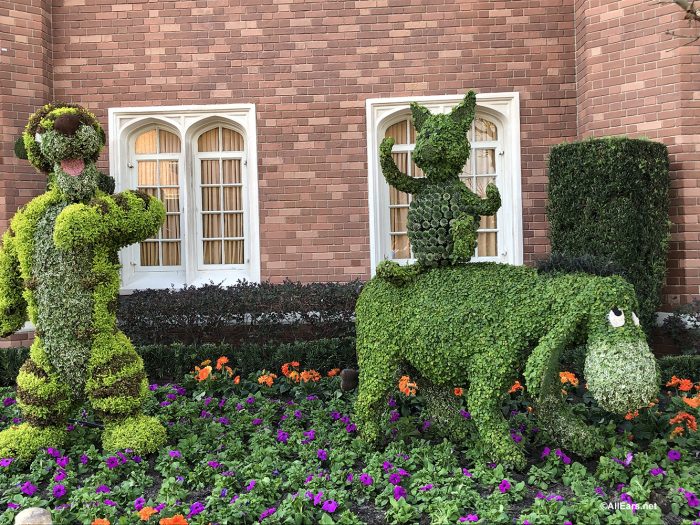 But it was great to see that they had been joined by so many other familiar faces, even if they've been placed in new locations.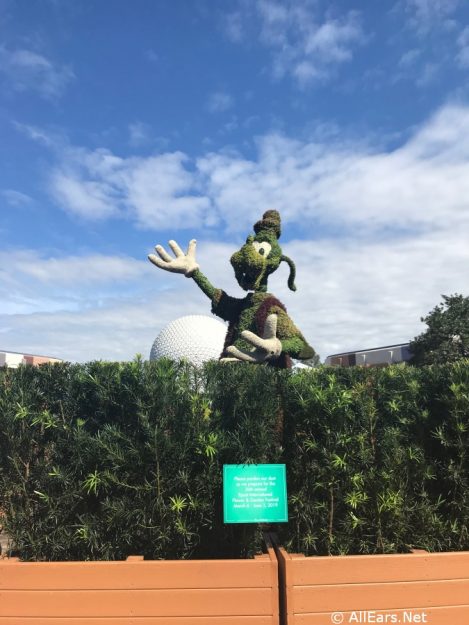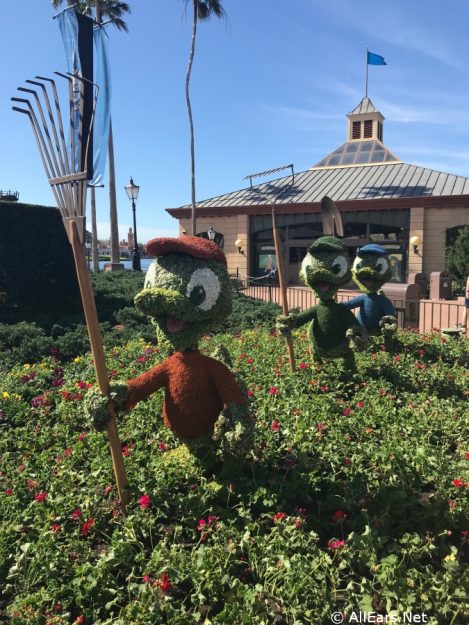 Donald's nephews Huey, Dewey and Louie are in a new locale this year — you'll find them in World Showcase Plaza. Nearby are Bambi and friends, Thumper and Flower.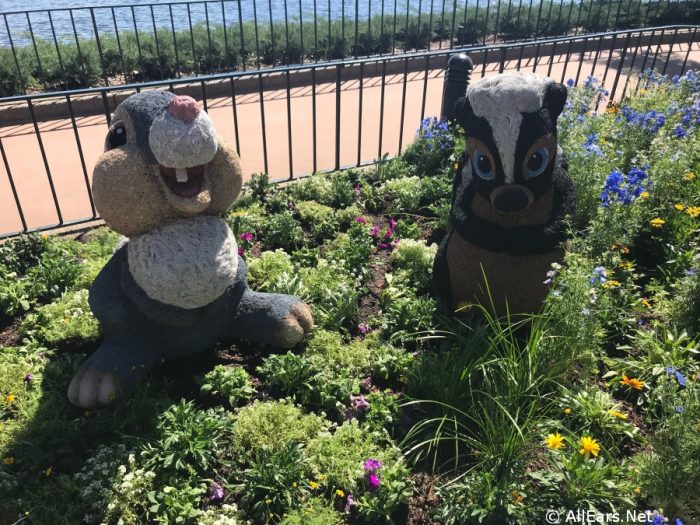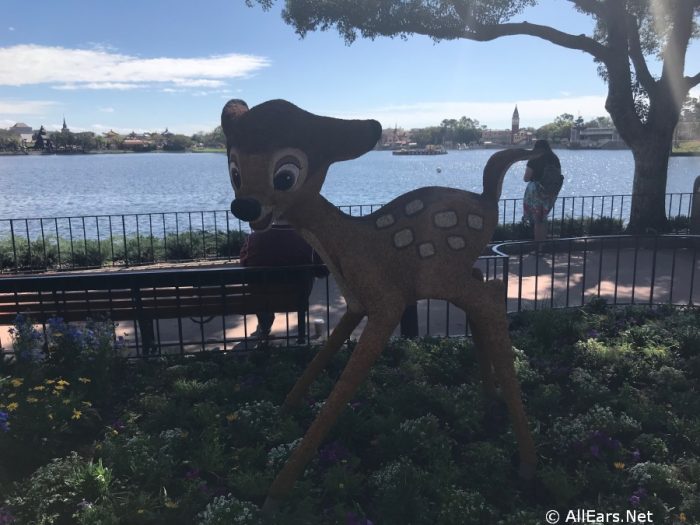 We're anxious to see what the main entrance display looks like — but no peeks of that until the festival's opening day!
Marvelous Merchandise!
If you're at a special event at Disney World you come to expect that there's going to be special merchandise to go along with it!
This year's Flower and Garden Festival has several new and unusual collections.
There's a Figment "Let Your Imagination Grow Wild" collection that we didn't get to preview, as well as this whimsical Violet Lemonade collection that pairs beautifully with, what else? Violet lemonade, which is being served up over at the Pineapple Promenade Outdoor Kitchen.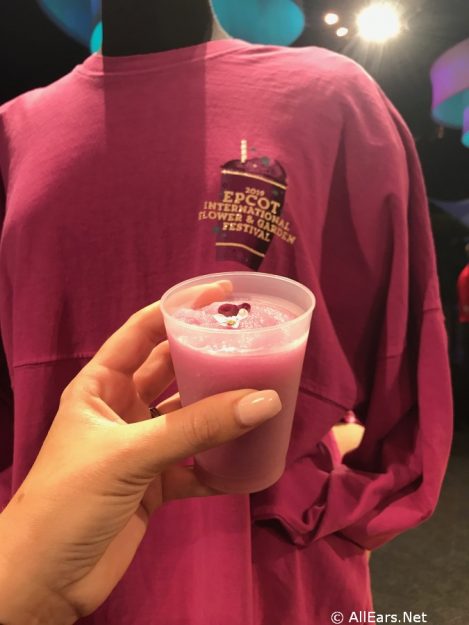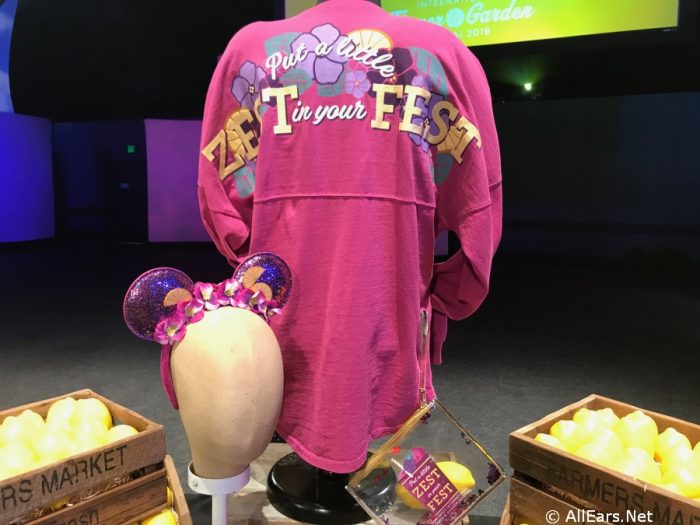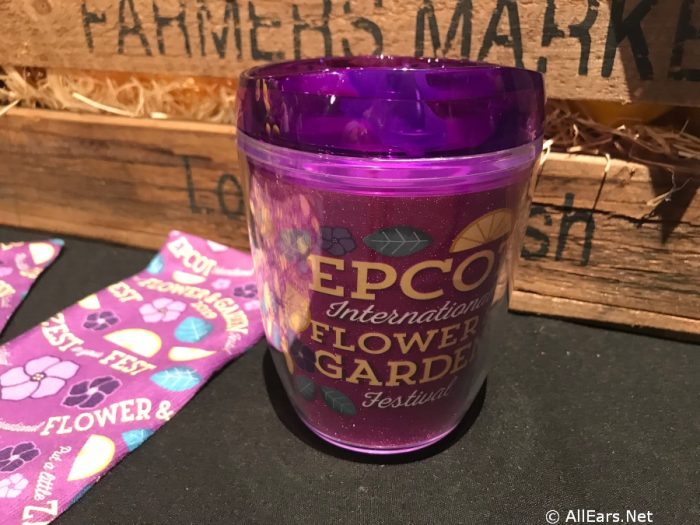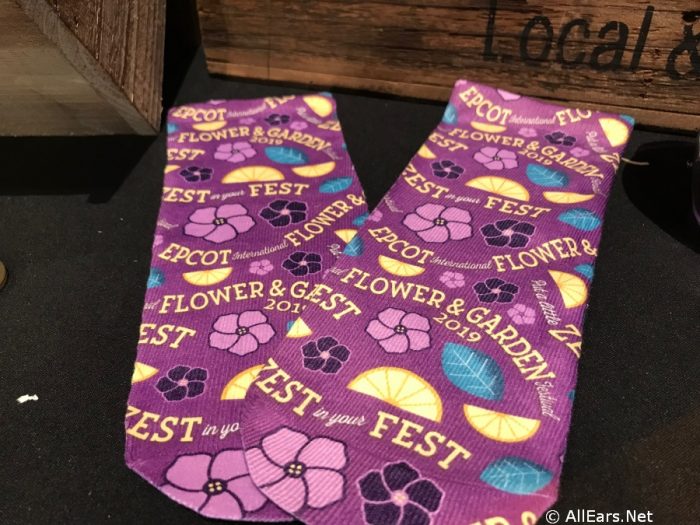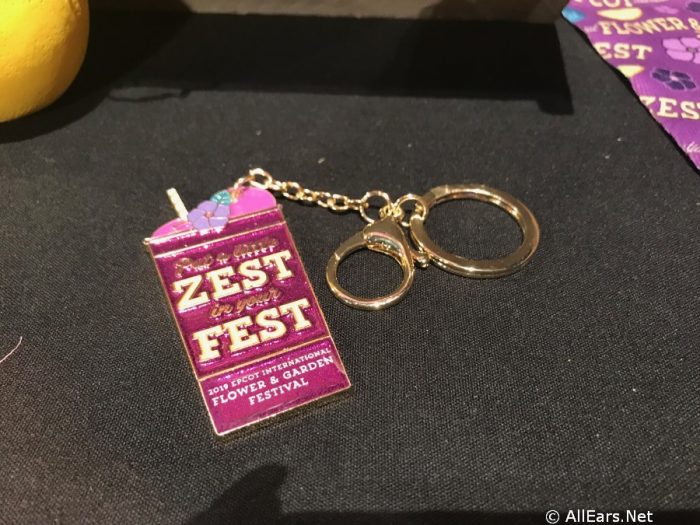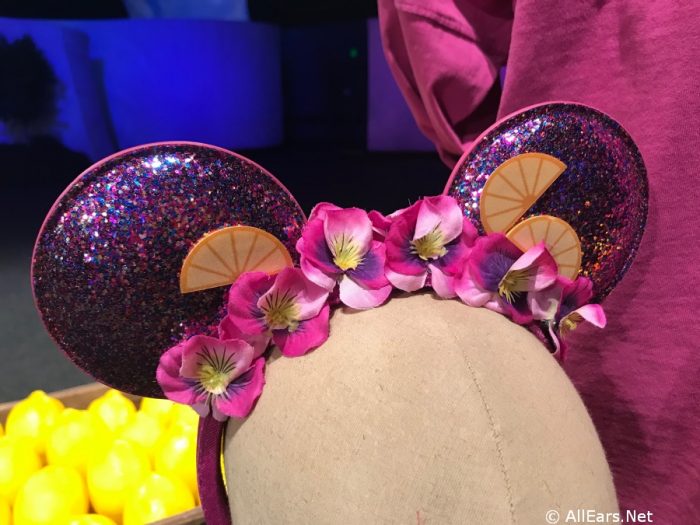 These Violet Lemonade ears are already extremely popular. You can pick up your own pair for $29.99!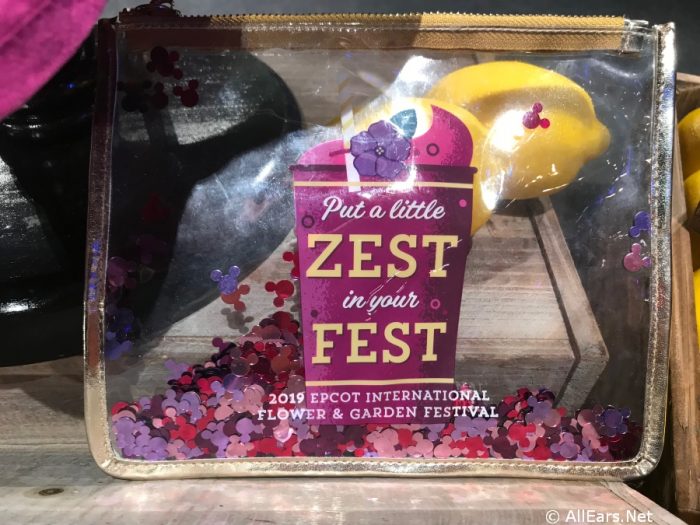 Mickey and Minnie each have their own line of merchandise at this year's festival.
Mickey's Garden Shed collection features our Main Mouse hard at work, with practical ball caps, long-sleeved baseball shirts, totes, mugs and more.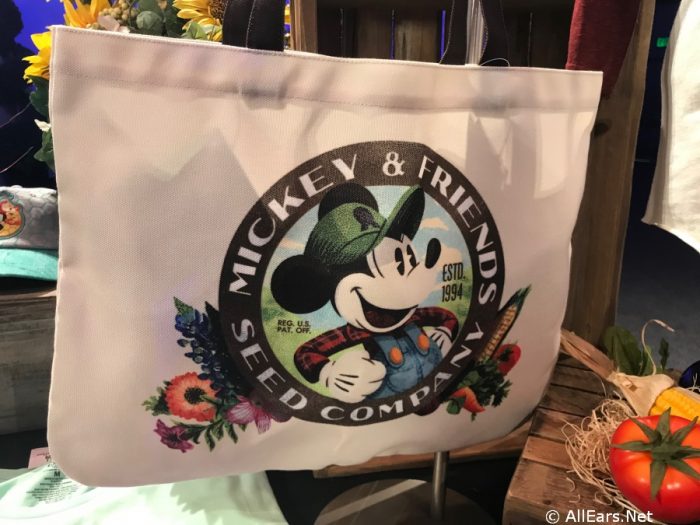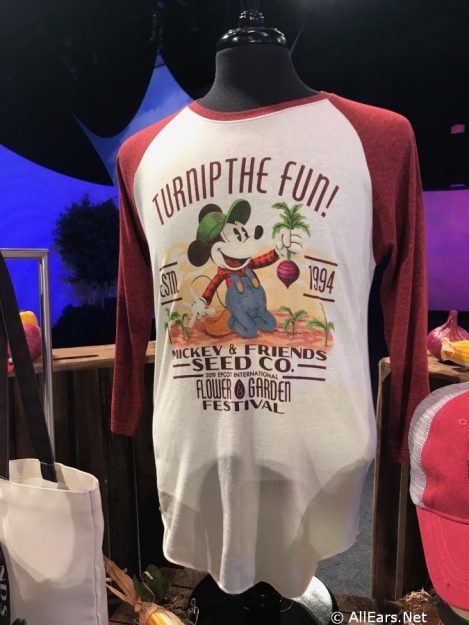 On the festival's opening day (March 6), this line will release a special, limited edition MagicBand (LE 2000) sporting the Mickey & Friends Seed Co. logo.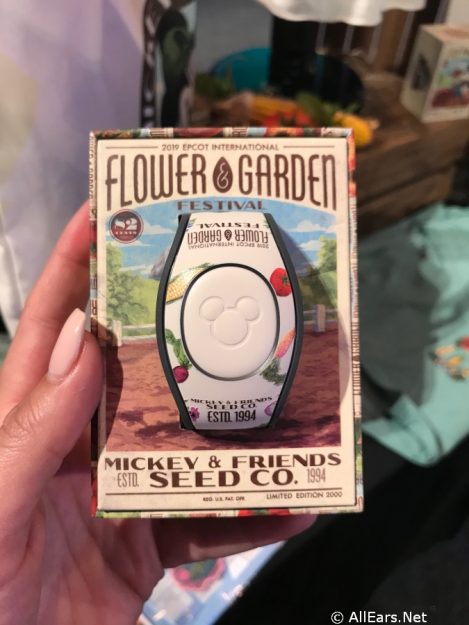 Minnie's festival collection, called Minnie's Garden Party, is decidedly more PINK than Mickey's and features the lovely Miss M on a soft pink spirit jersey, floppy gardening hat, travel and ceramic mugs, journals, throws and other apparel.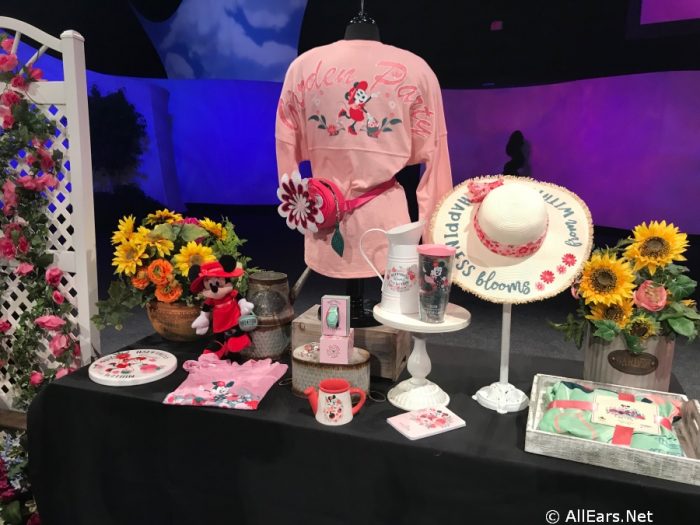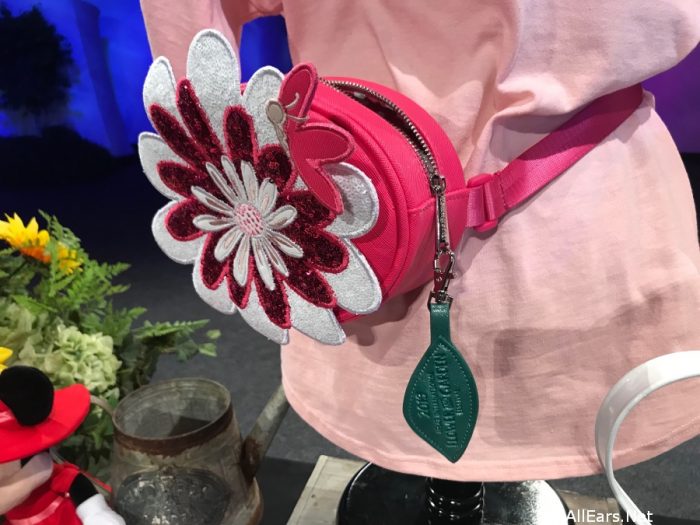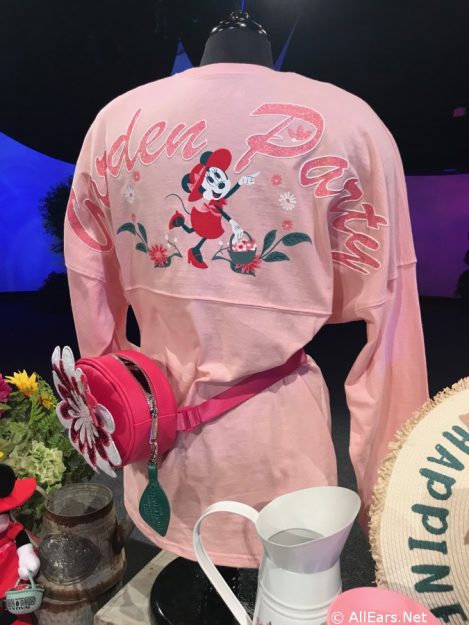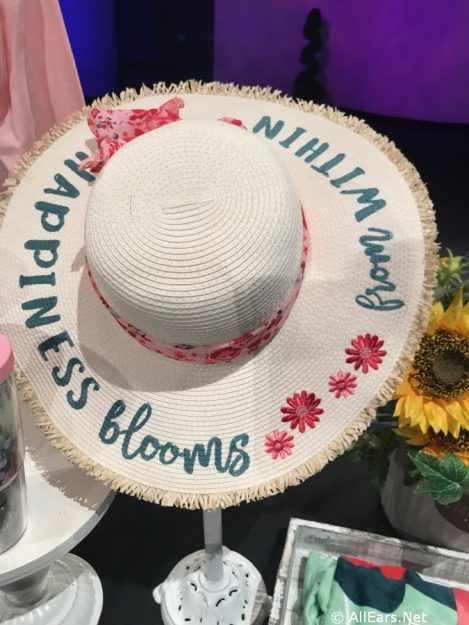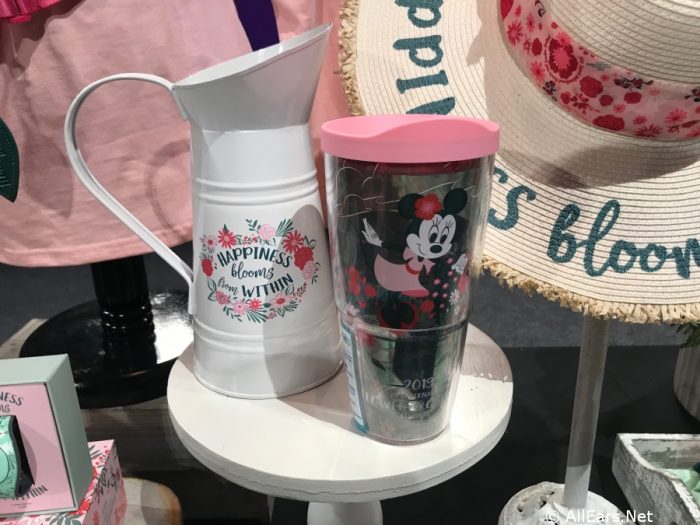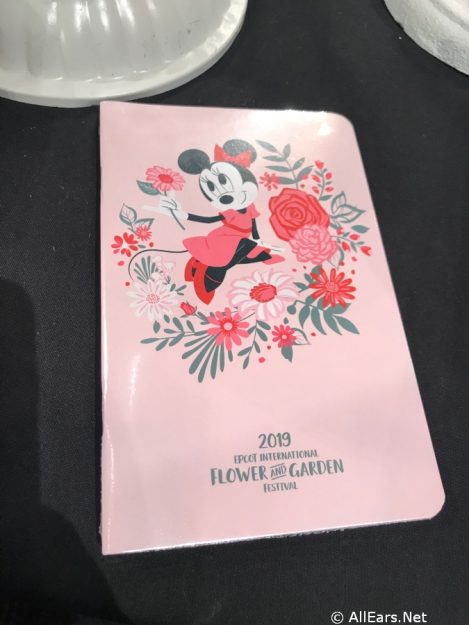 Not to be outdone by Mickey, Minnie's Garden Party will have its own special MagicBand release (also LE 2000) on April 11.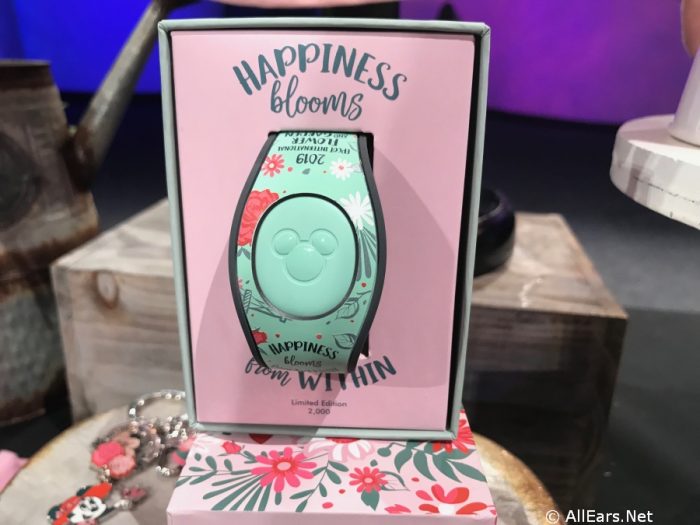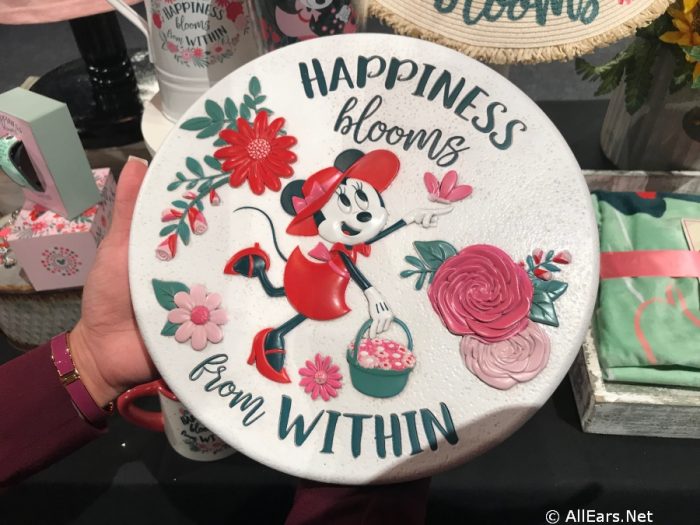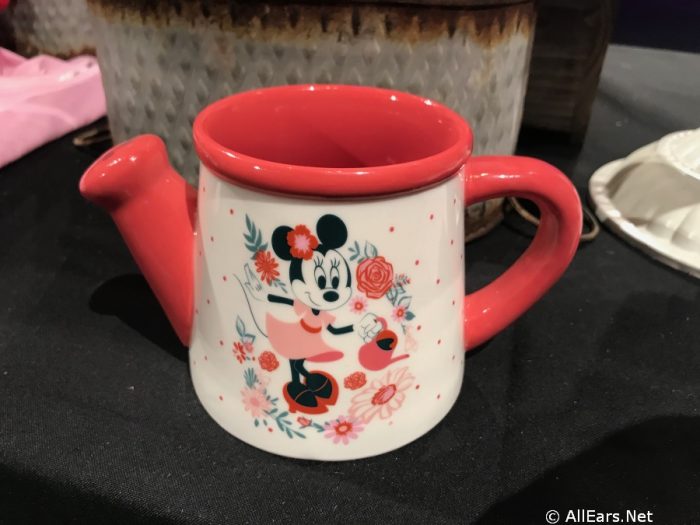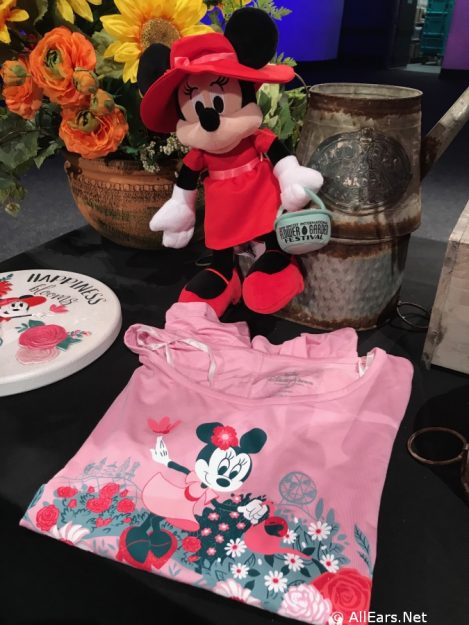 Your kids will be glad to learn that the popular Spike's Pollen-Nation Scavenger Hunt is returning to the festival this year.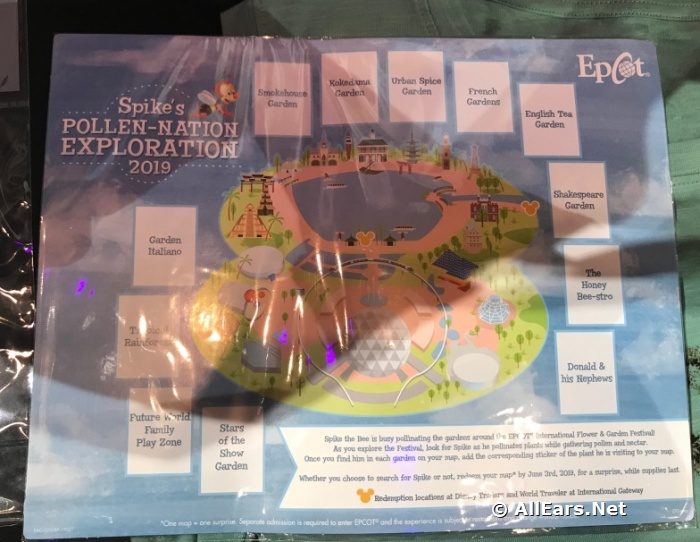 The map itself costs $6.99 and after you spot Spike around the park and complete the hunt, you can return it and pick a pack of patches as your prize. (Try saying that three times fast!)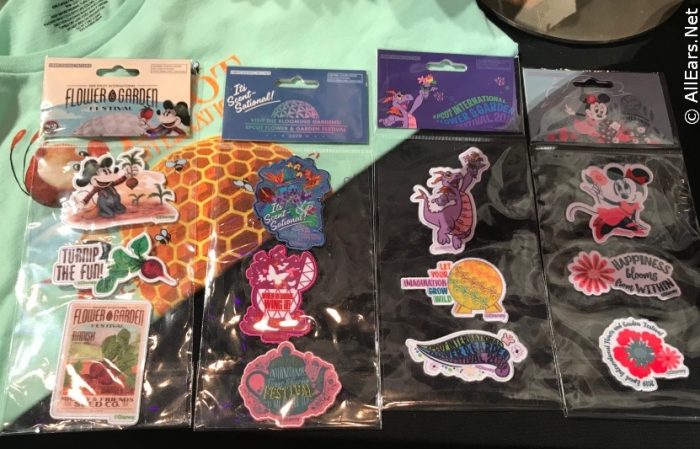 Spike the bee has proven to be such a favorite that he's earned his own mini-merchandise line… even though he has to share it with Donald Duck. That's right, you can buy a cute t-shirt featuring Spike and Donald, along with an ingenius honeycomb Spaceship Earth design. There's a cap as well!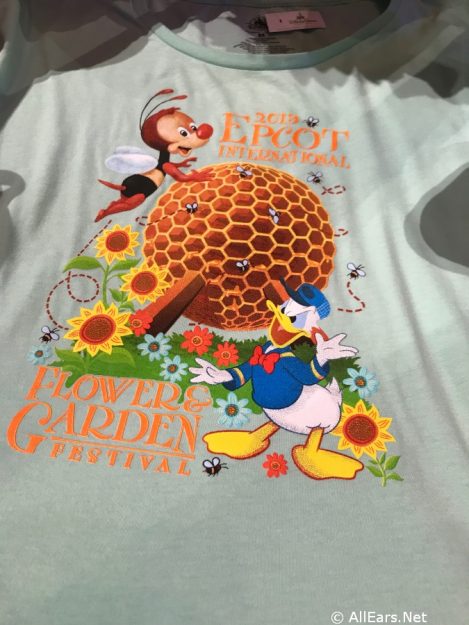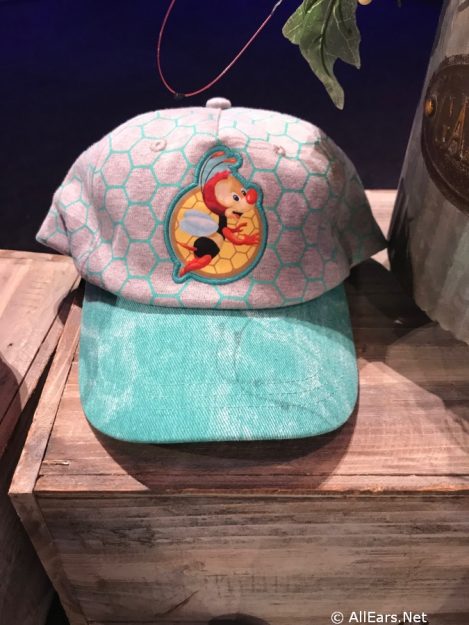 We also got a peek of some festival-themed Figment and Donald mugs that will be released on March 6 and Minnie and Goofy mugs coming halfway through festival.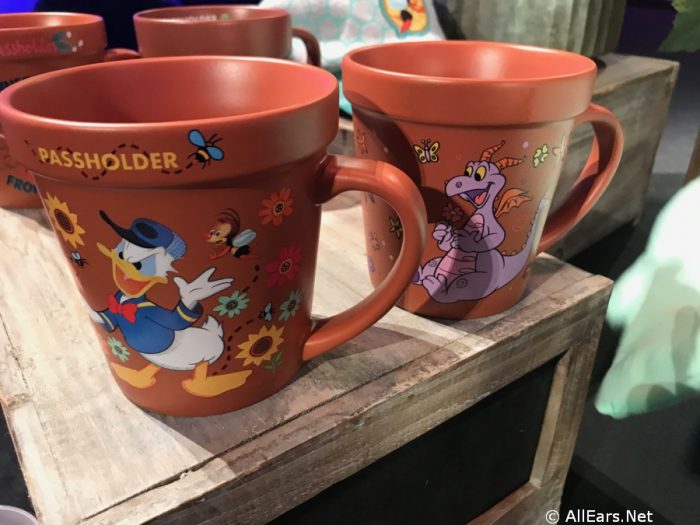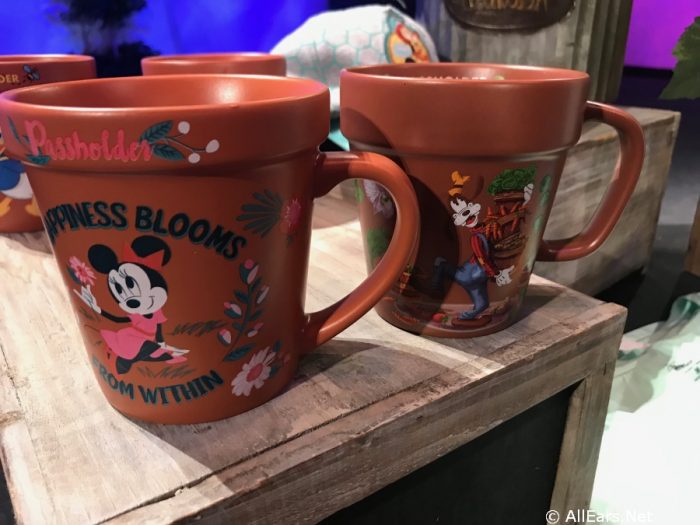 There will also be a Passholder MagicBand (LE 2000) and other Passholder exclusives.
It sounds like there's a lot more merchandise that Disney is keeping to itself right now, too — not shown at the preview today were a new Pandora charm, and new Dooney & Bourke bags, including one that's for Passholders only. We can't wait to see them!
Festival Food!
Finally, one of the biggest components of the Flower and Garden Festival since its addition a few years — the food! We had the chance to try a number of this year's cool concoctions and mouthwatering morsels.
There was, of course, the aforementioned Violet Lemonade, returning to the festival this year.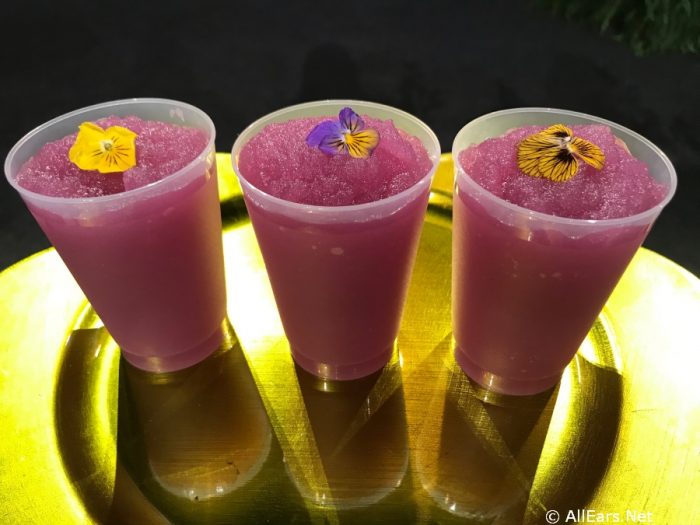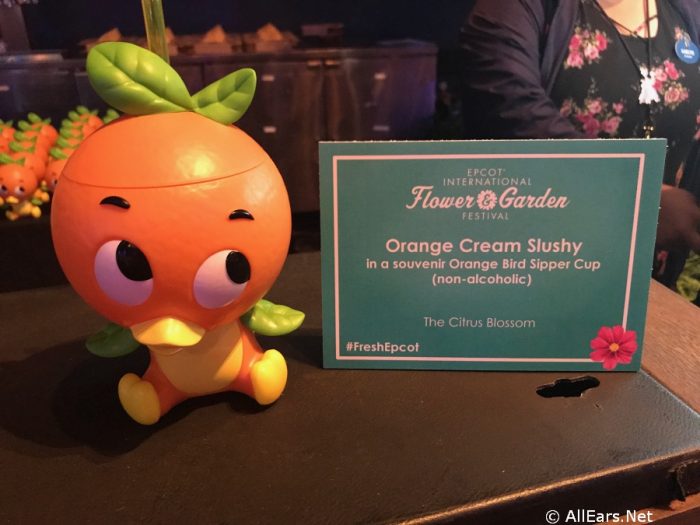 Then there was the non-alcoholic Orange Cream Slushy, in an adorable souvenir sipper cup. It tastes just like we remember old-fashioned Creamsicles. Note: There is an alcoholic version of this drink — well, it's slightly different, made with wine. BUT, and it's a big but, it cannot be served in the Orange Bird cup. What a shame!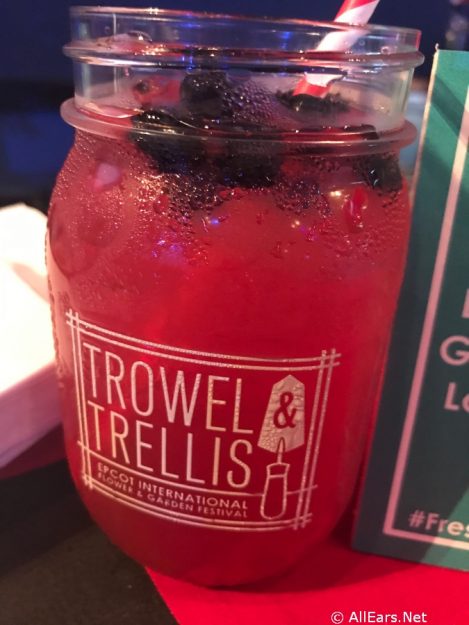 Fans of the currently popular "mule" style drinks will enjoy this Bloomin' Blueberry Lemon and Ginger Tea cocktail. It's not sickly sweet and you can really taste the ginger. Bonus: The cute plastic cup comes with the drink.
There was also an Agua Fresca that was much more tart than we expected. It had nice orange flavor that will be a fun non-alcoholic alternative for kids or adults who don't drink.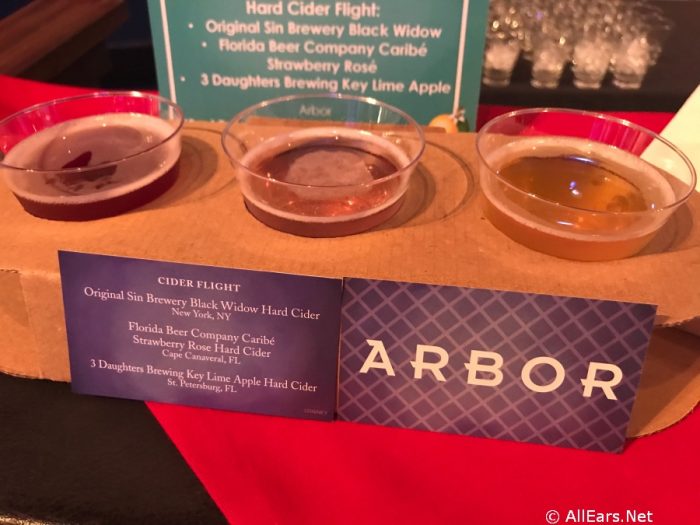 Hard ciders are very "in" right now, and this trio of ciders shows why. The Black Widow had a cherry flavor that was tart, not sweet. The Strawberry Rose in the center was light and refreshing. We'll order this again! And the Key Lime Apple somehow tastes like pie! There's a decidedly apple flavor that's more than apple, but it's not overly tart.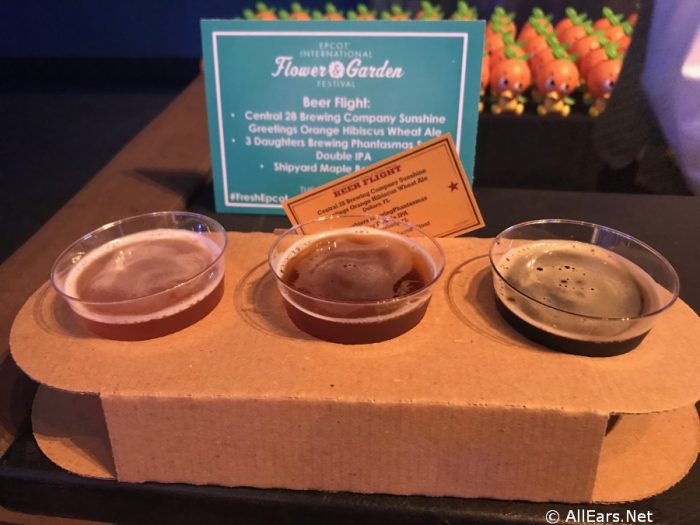 Finally, this beer flight featured a nice, light Hibiscus Wheat Ale, a hoppy IPA, and a Maple Bacon Stout that was heavy on the maple.
As for the main dishes, there was a nice variety of new dishes — here's our quick take on the items we had a chance to sample: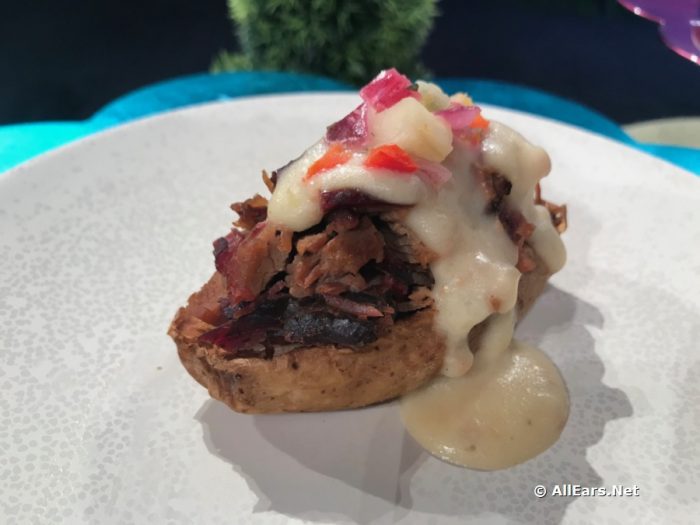 The Smokehouse Outdoor Kitchen has become a popular stop during the Flower and Garden Festival and this year's new offering, a smoked potato with shredded beef brisket and chorizo fondue is destined to be a huge crowd-pleaser. The smoky meat could use a bit more sauce, but overall it was delicious!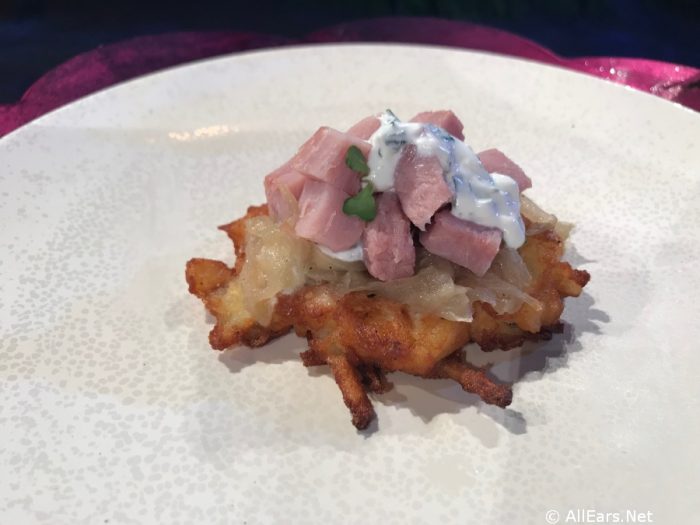 The Potato Pancake  with caramelized ham, onions and herb sour cream was also fabulous. Nice and crispy!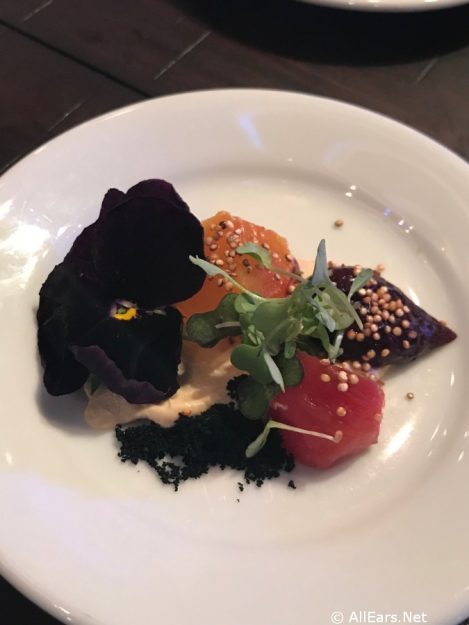 A vegetarian offering, this salad with roasted beets, cashew cheese, micro herbs and a lemon-oil dressing had nice bright flavors.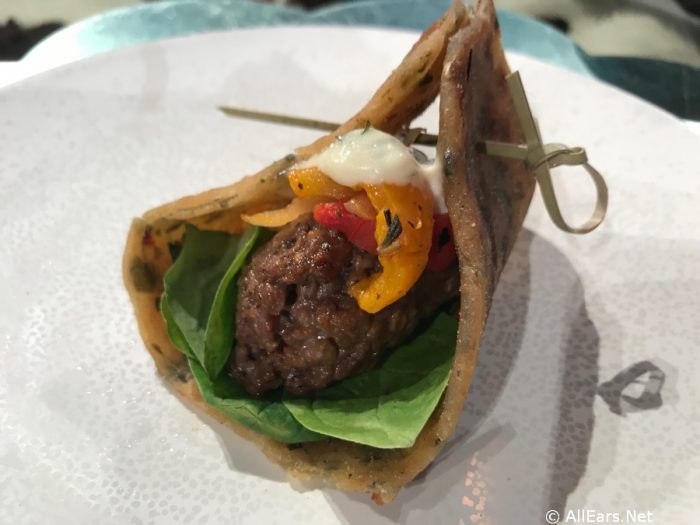 Another vegetarian option — actually vegan — was the Farmhouse Meatball with lentil bread, spinach, marinated veggies and a creamy herb dressing. The meatball was from the "Impossible" burger people and was nicely spiced — it nearly tasted like meat! Loved it!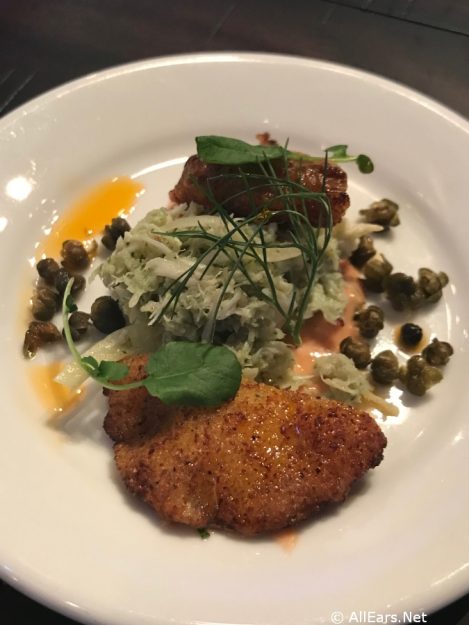 The Fried Green Tomatoes with Blue Crab-Fennel Salad, remoulade and smoked paprika oil had lots of crab, which paired nicely with the crunchy fried
green tomato. It was not too salty and sauce is simply awesome.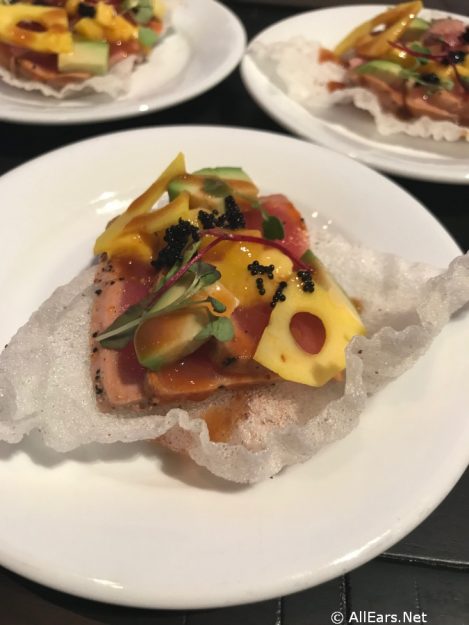 AWESOME was also the word  for this Tuna Tataki, with spicy yuzu glaze, mango, avocado and pappadam crisp. Nice and fresh — the citrus marinade comes through with light and bright flavors.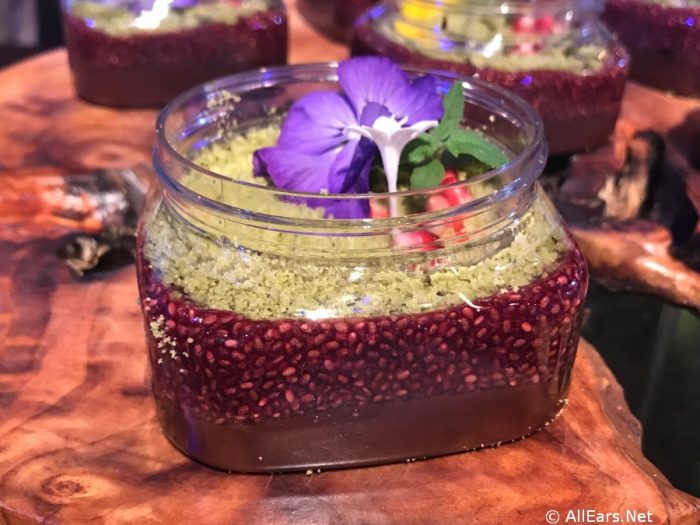 As for the sweets, well, this Chocolate Terrarium Pudding looks better than it tastes. It's very cute, but not very chocolate-y, with more pomegranate taste and texture.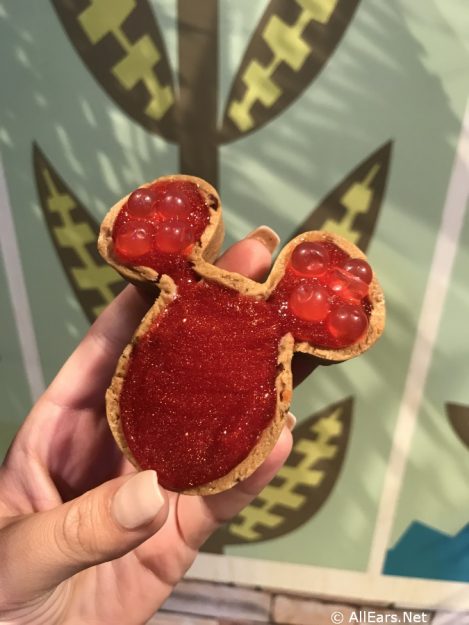 This Mickey Tart with Peanut Mousse and Strawberry Jam was easily the best dessert we tried all day. A fun twist on peanut butter and jelly, with super-creamy mousse and glittery jam — don't forget the boba pearls!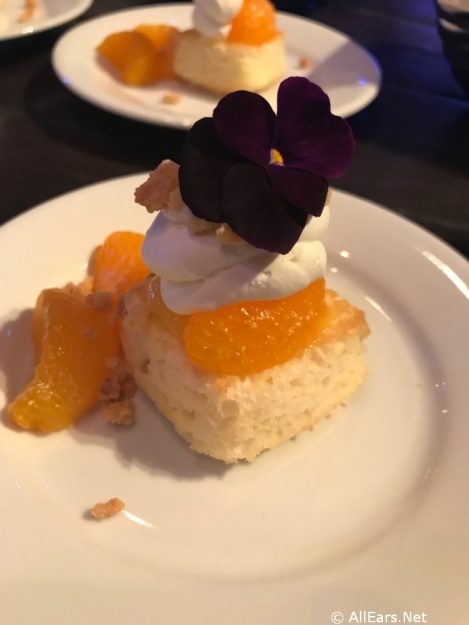 The Citrus Shortcake, with lemon curd, mandarins, whipped cream and citrus crumble, was the perfect light dessert to end on. The citrus flavors are strong, but pleasant, and the crumble adds a nice texture.
And there you have it! The preview left our eyes happy and our tummies full, but wanting more. We can't wait for the Epcot Flower and Garden Festival to start next week, on March 6 — and we're sure we'll be visiting again and again during its three-month run. (It ends June 3!) Will we see you there?
Disclaimer: AllEars.Net was an invited media guest of Disney at this special Media Preview of the Epcot International Flower and Garden Festival. This does not affect our opinions, however — our opinions are our own.
What about you? Are you planning to hit the Flower and Garden Festival this year? We can help you plan! Check out these pages:
Did you know… AllEars.Net has been covering the Epcot Flower and Garden Festival almost since its inception 26 years ago? We have lots of info on past festivals, just to give you an idea of what to expect this year if it will be your first time! Here's a look at some of our 2018 photos and info:
Don't miss our other videos — check out our YouTube channel here.
And you can search for Flower and Garden Festival tips in our Tips Database here.
Remember! When you're in Disney tag us @allearsnet in your photos!
Subscribe to the AllEars® newsletter so you don't miss any of the latest Disney news!