We've been treated to another poster promoting the fourth installment of the Toy Story film series. This time the poster features a character from the past movies — but she's got a brand new look!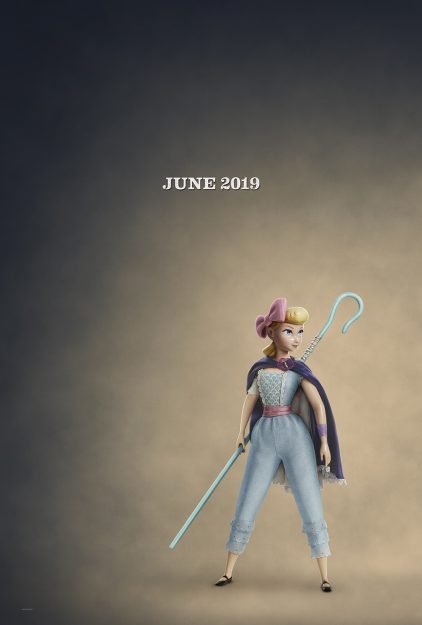 "Bo's taken control of her own destiny," said Toy Story 4 director Josh Cooley. "While Woody was watching Andy grow up, Bo gathered dust until she took it upon herself to head out into the world. And when Woody shows up, they can't believe that they've found each other again."
Bo Peep always shared a special connection with Woody in past movies, but they have not seen each other in years. Over that time Bo has become chipped and faded. Despite her delicate porcelain exterior, we learn Bo is an adventure-seeking free spirit who feels right at home on the road — and with her new look. When she and Woody are reunited under unlikely circumstances, they realize they've grown worlds apart when it comes to life as a toy.
Annie Potts returns as the voice of Bo Peep. "She is modern, independent, capable and confident," said Potts of her character. "Bo is written and conceived to be inspiring as she has weathered life's ups and downs with grace. I aspire to that."
Pixar released a new trailer introducing two new characters, Ducky and Bunny. We haven't seen them in previous Toy Story movies and are anxious to see more of them, as well as Bo!
Toy Story 4 will be released on June 21, 2019
.
Are you a Toy Story fan? Are you excited for this fourth installment of the series? Let us know in the comments below!
Remember! When you're in Disney tag @allearsnet in your photos!
Want more AllEars.net content? Be sure to check out our YouTube Channel for reviews, news, information and more! 
Subscribe to the AllEars® newsletter so you don't miss any Disney news!