I spent a day at Disney's Hollywood Studios recently experiencing the Flurry of Fun and want to take you on a visual tour.
Back in September 2017, I came across a curious sight when I saw Echo Lake drained. Later that year we all found out why as the Studios' Christmas tree was relocated from the outside front entrance to a small island in Echo Lake surrounded by large and colorful floating ornaments in the refilled lake.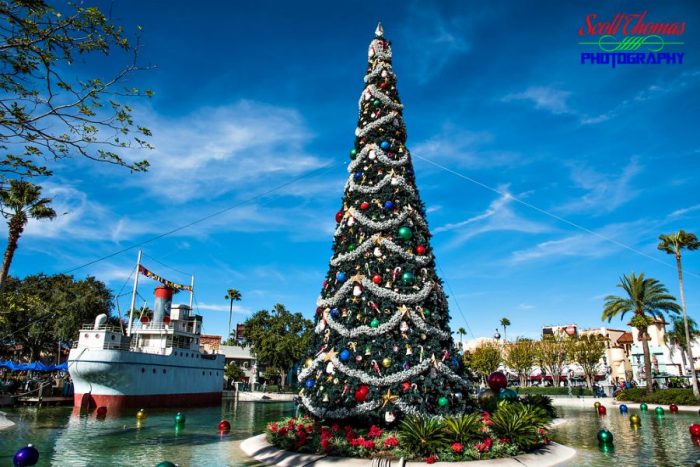 For this day during the Christmas season of 2018, I used only the Nikon 24-120mm VR Zoom lens as it allowed me to capture all the day's subjects from wide angle views to fireworks at night.
Nearby Echo Lake in the Hyperion Theater, the Christmas version of For the First Time in Forever: A Frozen Sing-Along Celebration included songs from the Olaf Christmas special as the cast rang the Yule Bell to much rejoicing.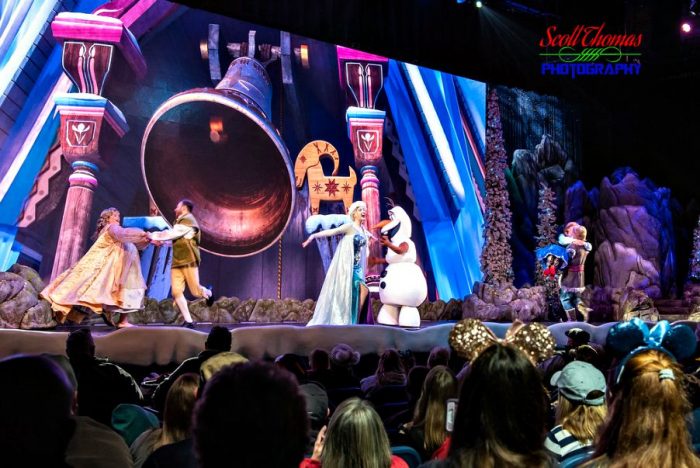 Photographing live shows can be tricky as you can not use flash unless told it is OK (like in the Lion King Stage Show). I dialed in my exposure using my camera's LCD. Since I used a relatively slow shutter speed of 1/60th of a second, I did get some motion blur. The shutter speed was necessary to sync with the animation on the screen behind the performers.
Walking into Toy Story Land, I photographed Buzz Lightyear greeting guests in a Santa hat.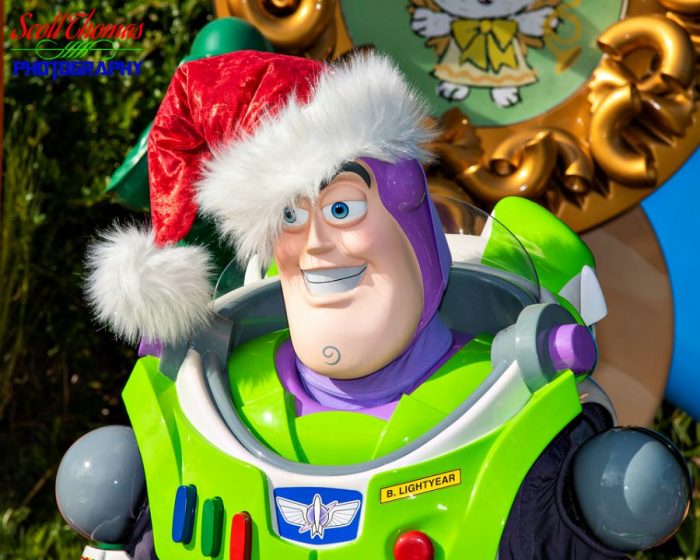 As I often do while walking around Walt Disney World, I had my camera in Program mode so I do not miss a photo opportunity that might pop up like this.
As day turned into night, I walked over to Sunset Blvd. to take in Sunset Seasons Greetings projection and laser show featuring the Twilight Zone Tower of Terror.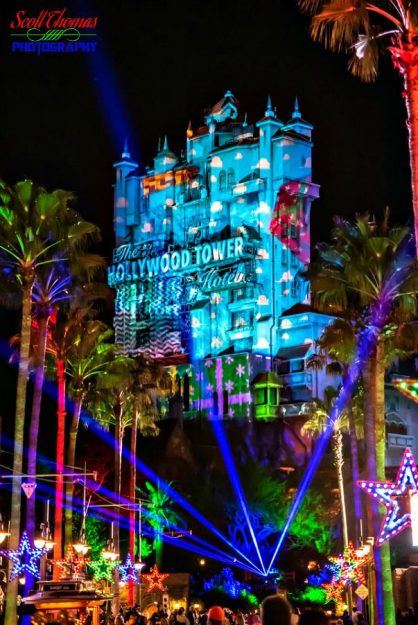 Again, needing to use a 1/60th of a second shutter speed for the animated projections, I allowed my camera to use very high ISOs to be able to capture the colors of the show and along Sunset Blvd.
Last show of Flurry of Fun, Jingle Bell, Jingle BAM! takes place on the Chinese Theater at the end of Hollywood Blvd. Normally, I would use a tripod for a fireworks show, but the use of projections has changed how I approach these shows. Instead of going for long exposures for fireworks, I decided to use faster exposures to capture the projections and lasers.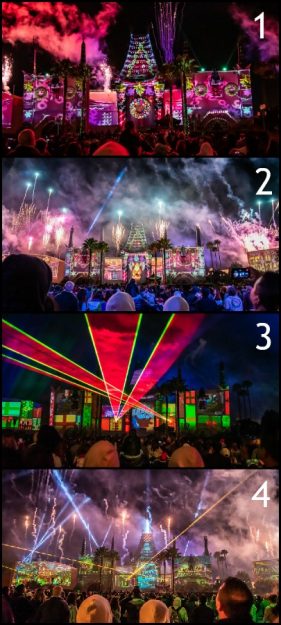 All of these photos were hand-held using a Nikon D750 camera and Nikon 24-120mm VR lens at 1/60s, f/4, ISO 6400, EV 0. Only the focal length varied between the photos: 1.) at 38mm, 2.) at 24mm, 3.) at 32mm and 4.) back to 24mm.
As Walt Disney World continues to add projections to their nighttime shows, we still photographers are going to have to choose which elements we most want to capture and focus on. Or, switch to video capture.
Hope you all have a Happy and Safe New Year's celebration!
When you're in Disney, please tag us @allearsnet in your photos!
Don't forget to click the image below to subscribe to the AllEars® newsletter — don't miss any exciting Disney news!