To all who come to this photo trivia game, Welcome! Along the way, the photos can make us relive memories and see details Walt's Imagineers put into everything we love in Walt Disney World!
Here it is: Christmas week!
Now for Challenge #567
And here's the answer: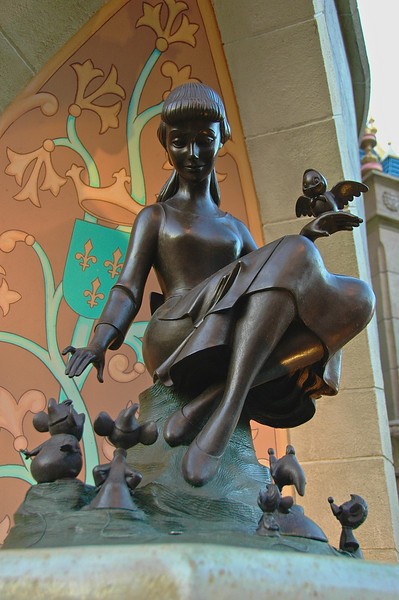 Cinderella's fountain behind the Castle in the Magic Kingdom. You may already know that as you bow your head to drink, the crown lowers on her head.
Gloria Martin was the first to send in the correct answer! Congratulations to Gloria  and to all our winners this week!  Adolph and Kimberly Timm, Cathy Fleming, Margaret Convery, Jose Caballero, Michelle Petrovic, Tammy Warmouth, The Kertes Family, Mike Walter, Sandie Albrecht, Ken Savage, theresa rucando, Janet T Thorn, Axel Beer, Luis Rodriguez, Andreas Beer, The Gunnels Gang, Michael OBrien, Michaela OBrien, Ronnie Alvarado, Karen O Brien, Dee Dee Kenney, Claire Gregory, Belicia, Scott C., Julia and Carol Wickware, Tricia Pettyq, Larissa Huda, Chris Kelly, Thomas DiBenedetto, linda hoffman, K Beasley, The Tisdale Family, Jenn German, Vera and Izzy Williams, Deb Ragno, Phyllis, Al & Kerry Ganter, Josh Weiss, Joseph M. Zafia, Arlene Vicek, Andrew Carrieri, Herb Miller, Kenny, Ed Suscreba, JoAnn Albrecht, Kris Nixon, Timothy Johansen, Team Hill, Martha & Justin Collins, cathy mullen, MaryAnn Eckenrode, Jim & Lorie Sonnen, Beth McMeekin, Brian Gallant, Sue and Ed Adams, Phil Vickers, Linda College, Karen Schlumpf, Jodi Cook, Jeremy A Hardy, SANDS FAMILY, Maureen and Warren Handy, Michael Haeberle, Robert Wescovich, Brian Richmond, Jim Thompson, Wendy T Faler, Steve Knapp, Kerry A., Ken Maikowski, Grumpys Groupies, bruce hinterleitner, Linda Ranatza, Brian McWithey, Lenz Family, Chris Gretchen and Katie Barnes, Smitty, Jackie marshall, Lisa McKenzie, Jacqueline S Grissom, KerryAnn, April layzell, Tony Young, Danielle Murgia, Kelly Hughes, Catherine Vrettos, Lisa Abbott, Deb Falvo, Jen Tremley, Terri POPE, Susan Higginbotham, Cindy Peck, Christi Newman, Amy Finn, MaryEllen Walker, Ginger stanton, Betsy White, Christina Thomas, Chris Horne, Emily hudson, Katherine Fox, Kathy Meyer, Emily Hudson, John baker, Christine Huff, Kellie Gleason, Mandy Ruppel, Mandy, Jessica Polizzotto, Alysia Harned, Kate Henwood, Ellen Sullivan, Tim Logue, Sueanne Henriksen, Sara Powell, Lyncia, Nicole Vahl, Nancy Bundy, Lori Rienhardt, Stacey McCarter, Megan Krainski, Susan Welsh, Tina Powell, Jessamy Rose, Kristy Seberry, Cheryl Hansen, stefan owens, Bryan janito, Natalee Koudijs, Patricia Harper, Amanda Carol, Lisa Kinney, LaDonna Edwards, Autumn Bernard, Misty Pringle, Jack Jones, Dee Crampton, Christine DeLaurentis, Patricia Morin, Karen Maimone, Michelle Price, Jeanette Krause, Dawn Turkovich, Jan, Claire Newcom, Lyn Smith, Lori cummins, Michael Conley, Jodi prada, Rebecca Churchill, Theresa Maradei, Amanda Harding, Maddy S, Ann Fulton, Matthew Davidson, Dusty Lloyd, Christy Crawford, Karen Akers, kristy truland, Pat Schwier, Kelly Gagnon, Jim Poplawski, Melissa Bradley, Jennifer Hess, Lauri Uzee, Jennifer Monfette, Jim Finley, Chad Steckler, April Hause, Laurie Clark, Valerie Alban, Krista Connolly, Stacy Sanders, Natalie McGreevy, BETH, Gretchen Poinsett, Christi Bonvillain, Alissa smith, Cindy Pink, Loring Family, Paige, Marianne, Ruth Senecal, Jessica, Anne Mortensen, Rebekah Banks, Lynne Arnold, Julie, Andrea Ahlers, Jen Trumbore, Keri Kotchounian, Brittany Coleman, Debbie Fawcett, Jennifer Elliott, Daniel Record, Emily Eldridge, Dawn Smith, Mary Kate Finney, Karen Taylor, Danielle, Michael McGrefgor, Amy Reddy, Jill Schlosser, Erin Hammer, Dawn Jacobs, Steven Bowling, Roni Repash, Jeff Buller, Lisa Lawcock, Heather Mandosa, Mark A Long, Joseline Hernandez, Dawn Bach, Nicole Soh, Steve Goodman, Kelly Caldwell, Debbie Miller, Mary Palauskas, John McPheron, Nichole DOnofrio, Alicia Henderson, Shelby Watson, katie, Kelly Chapin, Lorrie Thompson, Jeannette Hess, Heather, Dave De La Rosa, Jami Smith, Jeff Blank, Diane Curfman, Melissa Littman, Stacy Crist, Angie Couch, Tara, Amy DeFilippo, Mark Beard, Carlie, Eric Enli, Hillary Waldroop, Dulce Del Toro, Dulce Del Toro, Teresa DeMarco, Dawn calendo, Linda Crosby, Amy Marotz, Charlene Armstrong, Amy pultrone, Michelle Fure, Natalia Devore, Kim Schmidtgall, Jeremy Reichelt, Tina cason, Russ Morgan, The Patterson Family, Rebecca Keenan, Mark Hardy, Kyla Ruwet, Erin Scott, Cathy derecola, Nicole Godwin, Barry Sklenar, Davida, Paula Williams, Sandy Ceplecha, Elissa Harwin, Misty Sudela, Suzete Reinhart, Kelly James Blank, Maddie Inman, Jamie Steiner, Susan Masotti, Susan Masotti, Pensacola Glenn, Karen Bellamy, Janet Theriault, Vincent DeGasperis, Elizabeth, Sandi Vaughn, Jennifer Masotti, Lynn Nguyen, Terry Harris, Erin Saraiva, Dr. Kelly LaFramboise, Carri Marotto, Nan Amor, Karrie Rodriguez, Cathy Maltonic, Kristin McFarland, Jamie Poynton, Thomas Olschewski, Rachel, Cindy scharff, Tina varacalli, mis jamie marie, Laura Sponaugle, Amy Thompson, Linda karis, Leslie Bird, Paul McFadden, Emily Josephson, Jackie Graebel, Barclay Bakkum, Donald Purney, Shelly Borella, Sherry Trapp, Meghan McKillop, George Mundy Jr, John G, Jodie S., Melissa N, Kelsey McKillop, Roye Ann Morris, Sherri Pell, Gallagher Family, Jane Johnson, Bob Turner, and Vicki Britt!
_______________________________________________________
Challenge #567 Where in the world is this?
Let's do something for Christmas. The sight of these is one of the things that makes my heart feel like it's Christmas at Disney.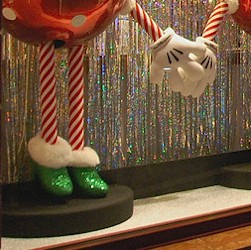 Do you know? Do you have a guess? Please send in your answer before the end of the day on Thursday, December 27th, by clicking on the blue box below.
Please do not post your answers on this blog post.
See you soon, Players!

_____________________________________________________________________
Everyone who sends in a correct answer to a Where in the World Challenge this month will be entered in a drawing at the end of the month for some special AllEars® goodies!
Remember! When you're in Disney tag us @allearsnet in your photos!
Click on the graphic below to subscribe to the AllEars® newsletter — don't miss any exciting Disney news!