Everyone's favorite magical nanny (except for the Nanny McFee superfans) is back to salvage the Banks family once more in Walt Disney Studios' new "Mary Poppins Returns."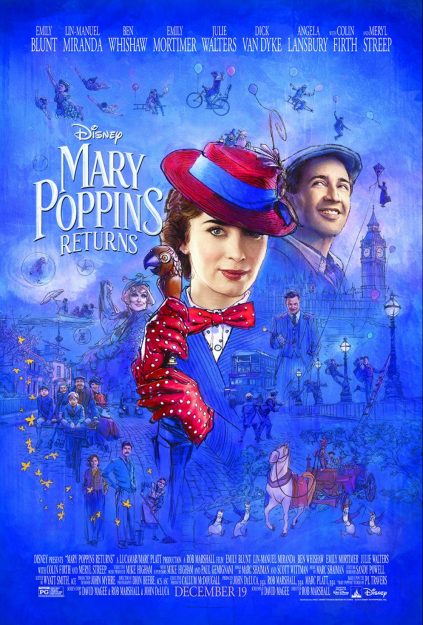 A sequel to the 1964 classic, "Mary Poppins Returns" shows us the Banks children some 20 years after we last saw them gleefully flying a kite in the park with their parents.  In the interim, Jane has taken up her mother's interest in crusading for human rights, while Michael has fathered three children but recently lost their mother.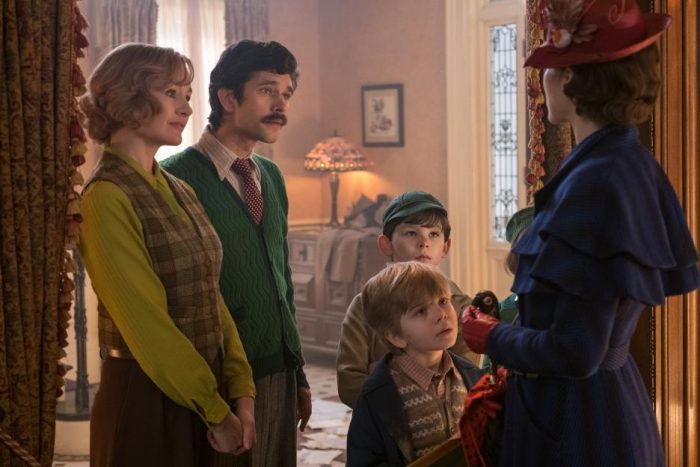 The loss of his wife has sent Michael into a depression, both psychological and financial, which has begun to leech all the joy from 17 Cherry Tree Lane.  Enter Mary Poppins, to once again show the Banks children — elder and younger — how to come together and be a family.
It is as unfair as it is inevitable to compare "Returns" to its progenitor, which in many ways is as practically perfect a film as exists.  Made by Walt Disney and his studio at the height of their live-action film-making powers, the original hits the mark on virtually every level and is rightly and widely beloved.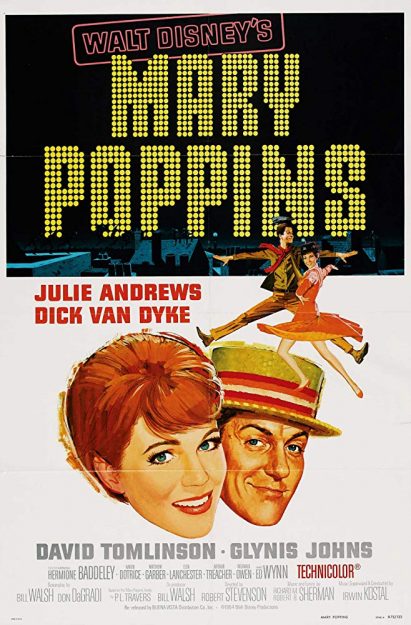 "Mary Poppins Returns" is clearly a love letter to the first film, with careful attention to all the little details and quirks that gave the original life.  Director Rob Marshall creates a London that looks as wondrous as it did back in the Peter Ellenshaw matte paintings, with just a dark hint of 1930's London's Great Depression.  Sandy Powell's costumes give Mary Poppins the same recognizable silhouette with slightly modernized touches and bold colors to contrast with the era's more drab reality.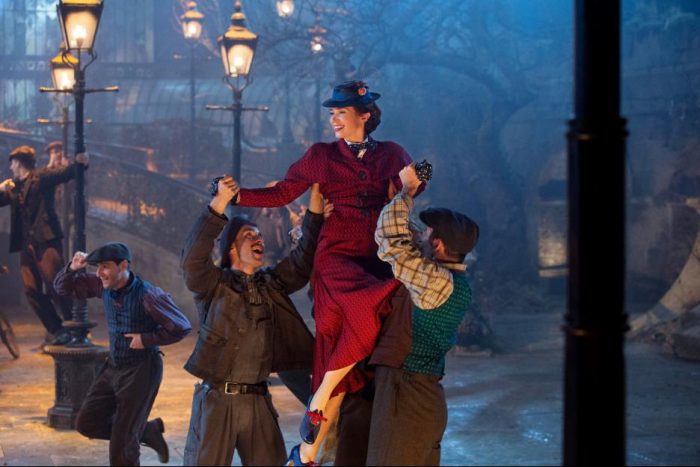 The performances are really very good — Emily Blunt, exercising her vocal chops again as she did in "Into The Woods" manages to give us a portrayal of Mary Poppins that seems genuine and true to the books, without being a mimicry of Julie Andrews.  Lin-Manuel Miranda also grounds the story with Lamplighter Jack's working-class wisdom and irrepressible optimism.  They both have several big production numbers, of which Miranda's "Trip a Little Light Fantastic" is the standout, featuring everything from parkour to BMX stunt bikes.
There are, in fact so many big production numbers that it almost starts to feel like a little too much, particularly in the first half where "Can You Imagine That?", "The Royal Doulton Music Hall" and "A Cover Is Not The Book" follow pretty closely one after the other.  From CG dolphins to 2D circus animals, the sheer volume of spectacle begins to feel a little overwhelming and one longs for a quiet "Feed the Birds" moment.  When it comes, in the form of "The Place Where Lost Things Go," the message seems a bit confusing — lyrics such as "nothing's gone forever, only out of place" almost feel like they could give the children the impression that they have literally lost their mother, and might find her at the market someday.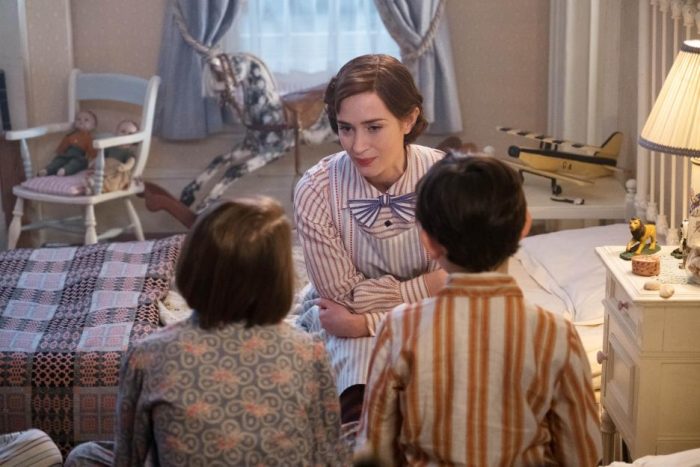 The Marc Shaiman music is charming in its way and is particularly effective when Miranda gets his specialty numbers, much like Danny Kaye used to do in his films — there is a moment in "A Cover Is Not The Book" where we get to hear the syncopation he made such a smash with in "Hamilton."  Oddly enough, although the songs are cleverly done and in large part mirror the original score, they end up having a very similar feel, perhaps in part due to the lush orchestration that backs all of them.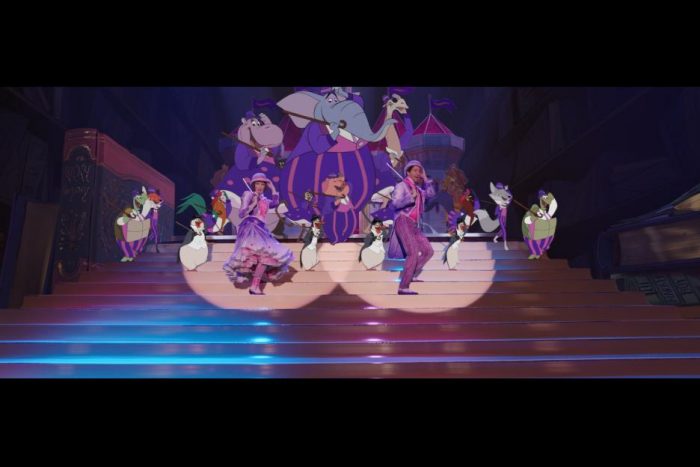 The plotting seems a little haphazard, particularly compared to the tightness of the writing on the first film, and employs some devices at the end that seem more convenient than logical.  Some scenes are puzzling, such as one where people desperately try to scale a wall, while Mary Poppins looks on… despite the fact that if there's one thing everyone knows about Mary Poppins, it's that she can fly.
The moment Dick Van Dyke appears, however, the film takes on new life and both his and Angela Lansbury's numbers are transcendent.  Beyond just nostalgia, the two are stars of the highest magnitude and prove once again that they can elevate any project with their presence.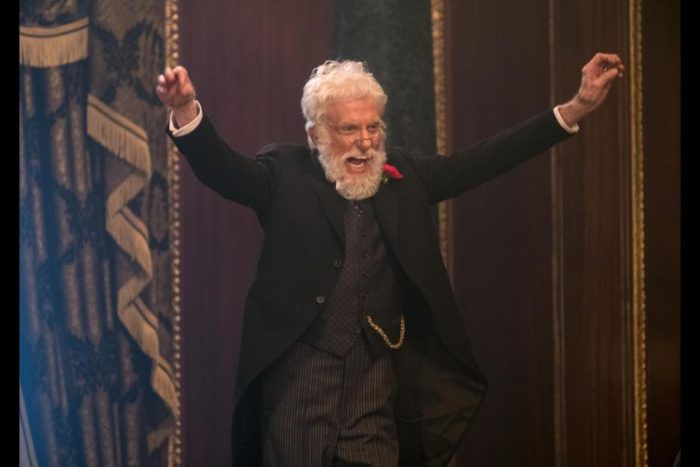 At the end of the day, "Mary Poppins Returns" is a glorious return to the days of big movie musical production.  It looks good and sounds good and if it doesn't quite meet up to the standards of "Mary Poppins," it's certainly not alone in that.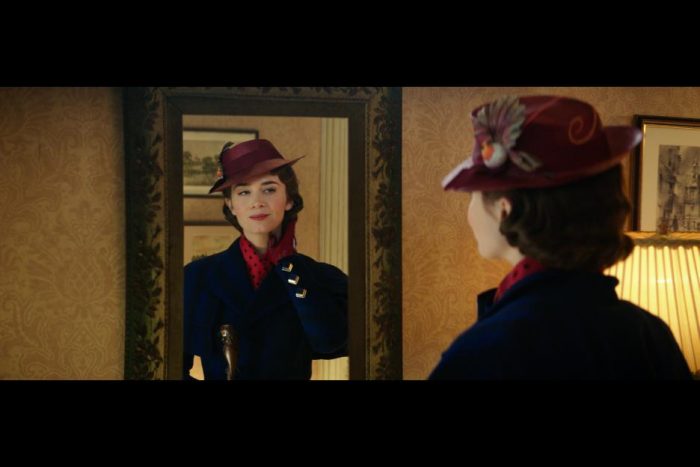 "Mary Poppins Returns" is directed by Rob Marshall from a screenplay by David Magee and a screen story by Magee & Marshall & John DeLuca based upon the Mary Poppins Stories by PL Travers.  The film stars: Emily Blunt as Mary Poppins; Lin-Manuel Miranda as Jack; Ben Whishaw as Michael Banks; Emily Mortimer as Jane Banks; Julie Walters as Ellen; Pixie Davies, Nathanael
Saleh and Joel Dawson as the Banks children; with Colin Firth as William Weatherall Wilkins; and Meryl Streep as Cousin Topsy.
The film is rated PG and enters US release on December 19, 2018.
Will you be seeing "Mary Poppins Returns" over the holidays?
Advance tickets for Mary Poppins Returns are now available for purchase here.
Do you agree with our reviewer's take on the film? Leave a note in the comments below.
Click on the image below to subscribe to the AllEars® newsletter so you don't miss any exciting Disney news!