You can now pay a visit to Dear Old Saint Nick over on Sunset Boulevard in Disney's Hollywood Studios. He'll be there to find out what you want for Christmas from now until December 24.  You can find him inside the Once Upon a Time store, which is all decked out in holiday trimmings. So how can you get the best pictures with Santa this year? Read on to find out.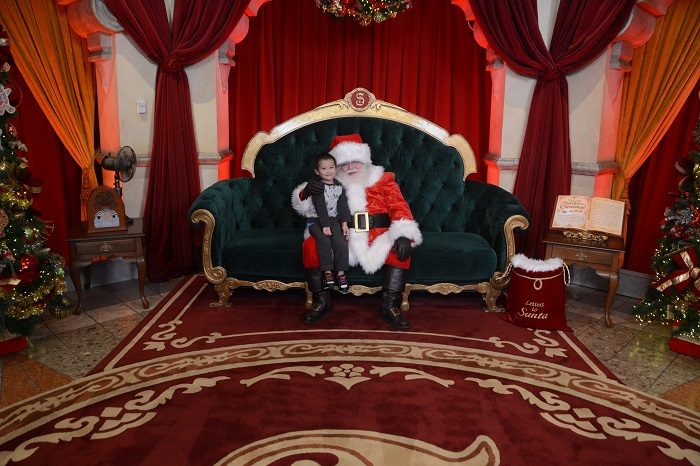 The lines can get lengthy with wait times rivaling some of your favorite attractions. The earlier you arrive, the better. We recommend heading in to greet the big guy first thing before you head off to anything else. This ensures the shortest wait possible. Arriving early will also help you make sure you look your best. You can get all the hair-raising fun of thrilling rides like Tower of Terror and the Rock 'n' Roller Coaster afterwards!

If you don't have to time to stop for Santa first thing in the morning, check with the cast members in the Once Upon a Time store to see when to come back. Santa takes breaks to feed the reindeer a few times per day. This can sometimes take more an hour. After all, he does have nine pulling his sleigh (if you count Rudolph, of course). You don't want to be halfway through the line when this occurs.
No one wants to see what your little ones had for breakfast smeared on their faces for these stunning shots. If you've got wipes, clean up any dirt or smudges while you're in line. If you forgot to bring some, a quick trip to a sink should do the job. For bonus points, you can pack a comb to smooth out any flyaway hairs.

To get the most candid shots, let your little ones be themselves. The PhotoPass photographers will get great pictures of your kiddos doing their thing and showing their true personality if you let them have a genuine interaction with Santa. He will ask them what they want this year, compliment their behavior, and give hugs or even fist bumps. Stand back for the first few photos. Then join in for a family portrait.
If you don't have the Memory Maker addition on your vacation package, it's OK. You better watch out, you better not cry, better not pout, we're telling you why! Santa has a team of helpful holiday elves along with him to make sure you get the best photos possible. They will take pictures of your experience with your personal smartphone or camera. They'll also help get the attention of your smallest family members with jingly bells and Christmas plush in hand.
What if You Can't Get There Before Christmas

If you can't make it out to see Santa Claus before Christmas day, there is another photo opportunity to partake in. Santa Goofy will be dropping in from December 25 through December 31. This is a great experience that only happens for a limited window. If you get the chance, you could even try to do both.
So are you ready for your close-up with Claus? Share your experiences in the comments!
And don't miss our Ultimate Guide to the Holidays for more ideas on celebrating in the World!