As if the new menu items and snacks now available in Toy Story Land weren't enough, Hollywood Studios has updated a number of other menus around the park, including more vegan options, BBQ-inspired dishes, funnel cakes and other desserts and more.
Star Wars Treats Galore
The Backlot Express continues to serve a variety of Star Wars-themed menu items, and is now offering BB-9E and Kylo Ren Cupcakes. The BB-9E cupcake is a vanilla cupcake with caramel cheesecake buttercream icing – topped off with a BB-9E. If you lean more toward the Dark Side, you'll enjoy a chocolate cupcake topped with peanut butter buttercream, and of course a little edible Kylo Ren.
If you're looking for the perfect, and useful, Star Wars souvenir you'll find an AT-AT Popcorn bucket, a BB-8 sipper, or a Darth Vader stein at a variety of locations around the park serving popcorn or fountain drinks.
Not Your Ordinary Funnel Cakes
If you're a funnel cake fan, the Oasis Canteen has a treat for you. The new Cookies and Cream Funnel Cake is a classic funnel cake topped with crushed cookies and cream pieces, chocolate sauce, your choice of vanilla or chocolate soft-serve, and an abundance of powdered sugar. To make this even better (and Instagram perfect) it's also topped with two cookies that certainly look like someone's ears!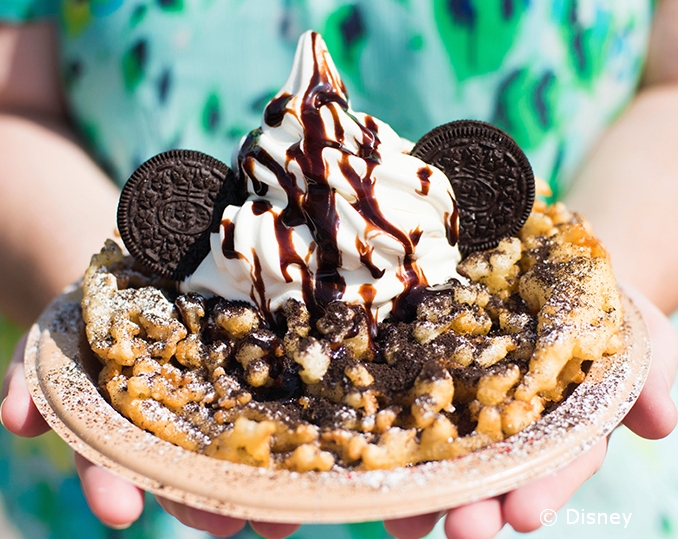 Dockside Diner is also offering a new funnel cake that is a salute to a favorite summertime treat – the S'more. This funnel cake is topped with fudge, graham cracker crumbs, and marshmallows. Sounds perfect for a summer evening.
Sci-Fi Dine-In Theater Expands Menu
The Sci-Fi Dine-In Theater Restaurant has added quite a few new menu items. Start your meal off with the Sci-Fi Appetizer Sampler made up of boneless buffalo tenders, shrimp and crab fondue, house-made tortilla chips, and fried dill pickles – all served with blue cheese and horseradish dips. If you are a shrimp and crab fondue fan you can select a full size dish of that alone. The fondue is a blend of shrimp, crab, cheeses, roasted red peppers, fresh dill, and corn tortilla chips.
Another new appetizer is the Sci-Fi Wedge Salad, a crispy iceberg wedge accompanied by grape tomatoes, bacon, red onions, blue cheese crumbles, radish, balsamic glaze and blue cheese dressing.
You'll also find a few new entrees, starting with a Buffalo Chicken Salad, Smoked Prime Rib Sandwich, Pan-Seared Shrimp or Chicken Pasta, Beef and Blue Burger, and Vegan Tofu Lettuce Wraps. The Lettuce Wraps come with salt and pepper crispy fried tofu, lettuce cups, water chestnuts, shredded carrots, spicy cucumber, Szechuan sauce, and soba noodle salad.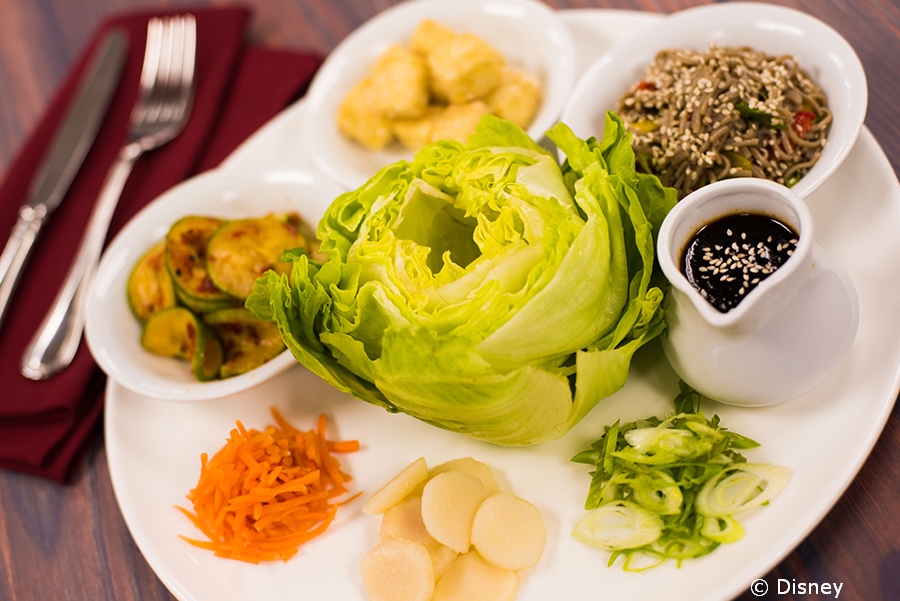 You'll also find the Sci-Fi Barbeque Platter or the Drive-In BBQ Burger. The BBQ Burger is a signature blend of beef with BBQ spice, house-made BBQ sauce, bacon, cheddar, and crispy-fried jalapeno and onion straws all on a brioche bun. The Barbeque Platter includes smoked pulled pork, St. Louis-style ribs, grilled chicken, sausage, cheddar cornbread. Southern slaw, and cowboy beans finished with a Coca-Cola barbeque sauce.
ABC Commissary Mixes it Up Again
The ABC Commissary has been tinkering with its menu for a while, and some more new items have shown up. Among them are the Shrimp Teriyaki Bowl and the Southwest BBQ Burger The Teriyaki Bowl is stir-fried Napa cabbage, snap peas, red peppers, carrots, onions, edamame, shitake mushrooms, and broccoli tossed in a house-made teriyaki sauce served over brown rice.
The BBQ Burger at the Commissary is a flame-broiled, 1/3-lb. Angus burger topped with sweet BBQ pulled pork, bacon, bread and butter pickles, and cheddar cheese finished with garlic aïoli and crisp onion rings between Texas toast and served with signature southwestern steak fries dusted in chili-lime seasoning.
If you're looking for some healthful options you'll find more of those here at ABC Commissary. There's the Mediterranean Salad with Chicken or the Vegan Burger. The salad comes with grilled chicken breast on a bed of fresh mixed greens with cherry tomatoes, red onions, pepperoncini, Kalamata olives, and feta cheese tossed in Mediterranean vinaigrette and served with hummus and flatbread. The Vegan Burger is topped with lettuce, tomato, sautéed peppers and onions in a balsamic glaze, vegan mayonnaise ketchup, and sriracha mustard and served on a brioche bun with french fries.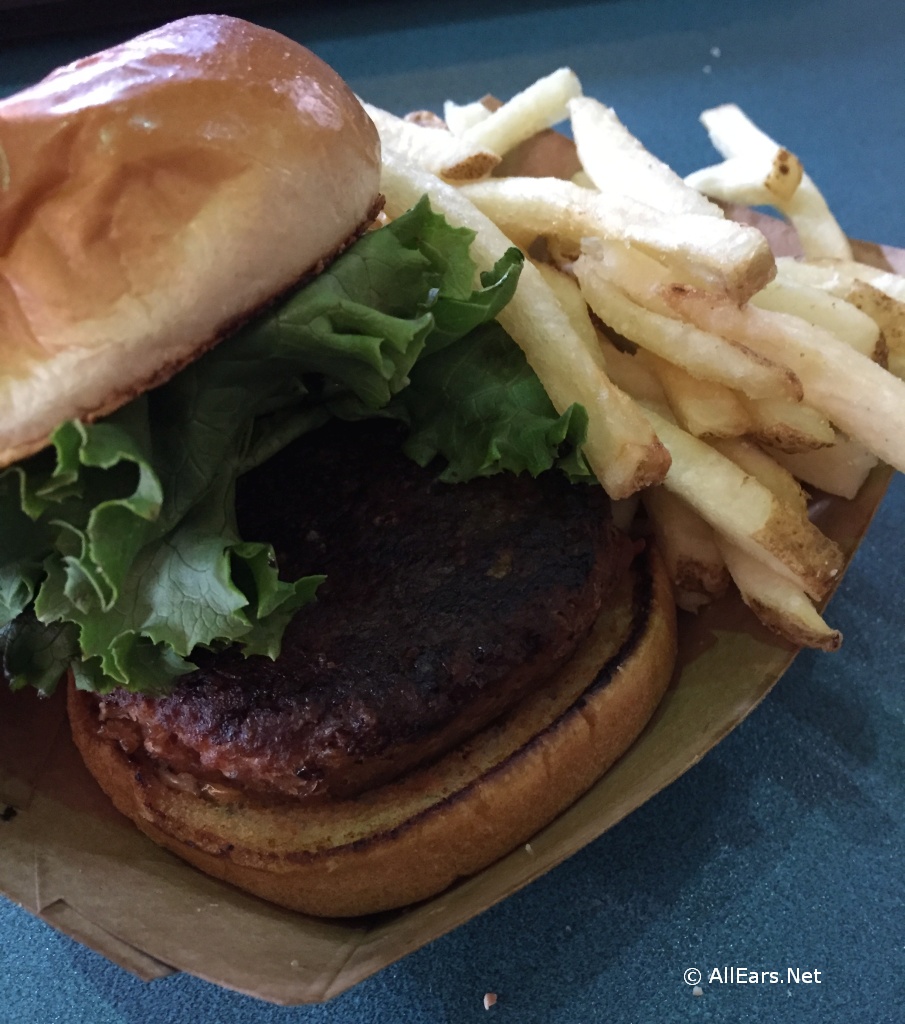 For a sweet way to close out your meal try the new Chocolate Banana Cream Almond Crisp here. You'll also find the Toy Story Land Cupcake here (which can also be found at The Trolley Car Café).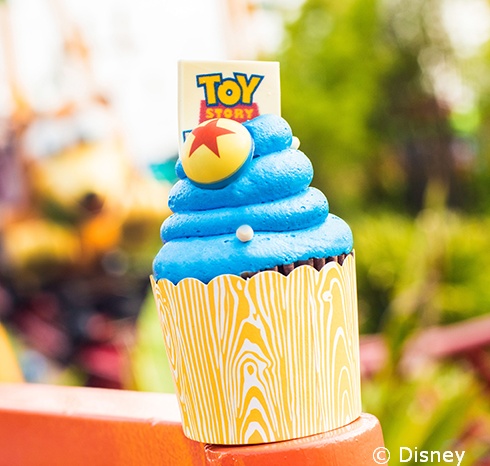 This was introduced to celebrate the grand opening of Toy Story Land in June. This chocolate cupcake is topped with vanilla buttercream and a white chocolate piece as well as the famous Pixar ball.
Don't forget to check out our extensive collection of MENUS for the latest updates to all the dining locations at Walt Disney World!