I've made a couple more visits to the Festival of Holidays this year, where I sampled some of the other new Marketplace items. Here are my thoughts and some photos.
On a very warm November day (we had some really hot days in southern California this past month) I tried the Backstreet Raspberry Sour beer from the "Brews & Bites" marketplace. It was so refreshing! A lot of raspberry flavor, but I didn't think it was particularly sour.
From "Classic Crocks & Casseroles" I sampled the Chana Masala with grilled garlic naan. This is one of a number of vegetarian offerings. It was pretty good – a little bit spicy. The spice level was higher this year in a number of the dishes.
One of the dishes I'd seen a number of people recommend was Braised Lamb Cheeks with Mediterranean Cauliflower from the "Blissfully Braised" marketplace. I thought it was just ok…I had some fatty/gristly lamb pieces. The riced cauliflower had too many green and red peppers in it, and I didn't like it at all.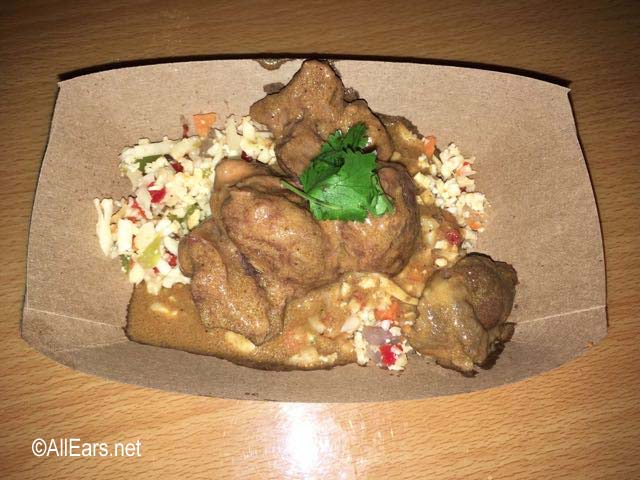 From "Festive Holiday Extras" I tried the Brussels Sprouts with goat cheese, cranberries, and bacon. The brussels sprouts were roasted, and there were a LOT of them…it was a very generous serving. They were great if you like brussels sprouts…I thought they were good but I just couldn't eat them all. Part of the reason was the goat cheese made them much richer.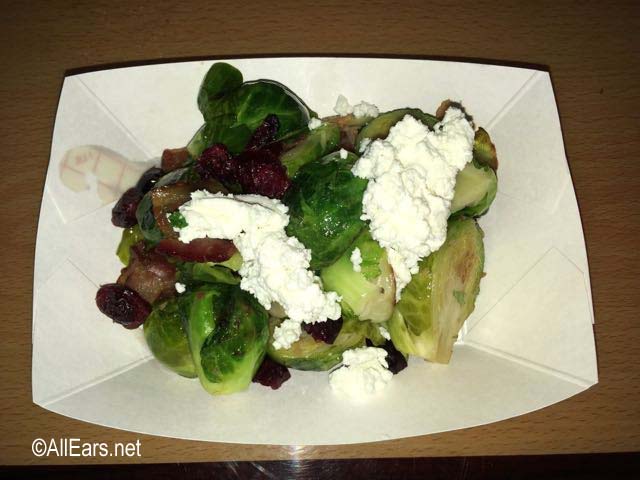 On a different day I sampled another beer, this one from "Winter Sliderland". It was Modern Times Fruitlands Passion Fruit and Guava Gose. Really good – a little tart from the passion fruit. Tasted almost more like a hard cider than a beer to me.
Also from "Winter Sliderland" I tried the Holiday Ham Slider. It was really piled high with tasty ham covered with a pineapple relish. The slider bun was excellent, also. This was a favorite.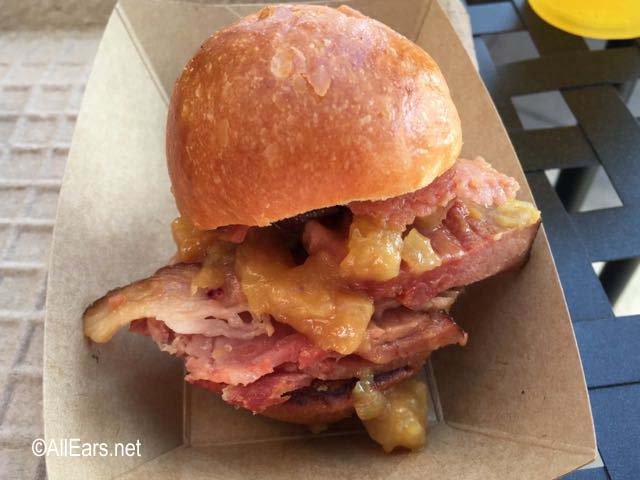 At "Spicy Celebrations" I ordered a Nashville Fried Hot Turkey open-face sandwich with a pickle on top. Whew…it was spicy! I wished I still had some of that beer left! It was good, but I think the spice level should be dialed back. At least the pickle helped to cut the burn. The coating was nice and crunchy and the turkey inside was moist and flavorful.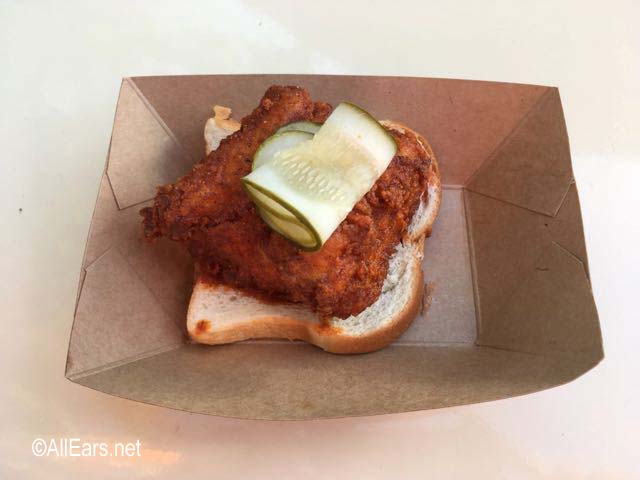 From the same booth my friend tried the Beef Corn Tamale a la Plancha with spicy rojo sauce. She said this was also quite spicy, but good.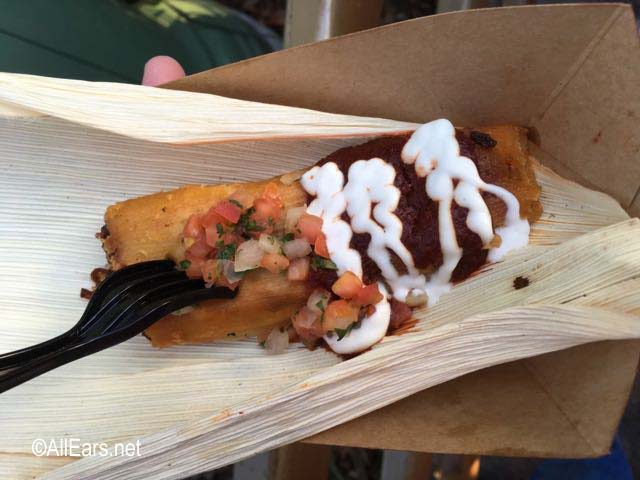 I ordered a Seared Salmon Filet from "Joy to the Sauce". It was surprisingly good – maybe one of the best pieces of salmon I've had from a food booth. The lemon caper sauce was quite good – the tang of the lemon and the salt from the capers enhanced the dish. It was served with several small potatoes, though I found them under-seasoned and not warm enough.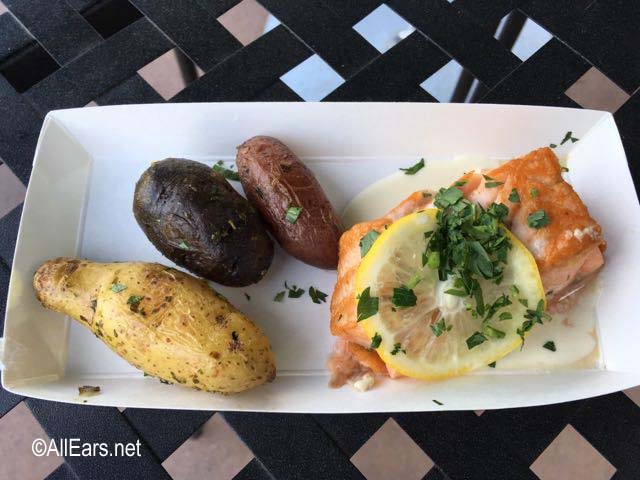 My friend tried the Beef Brisket with brown sugar-glazed carrots from "Grandma's Recipes." The brisket was not bad, but her husband makes excellent brisket and this didn't measure up. It was also a small piece for the price. Of the two beef dishes she had she preferred the Beef Tamale.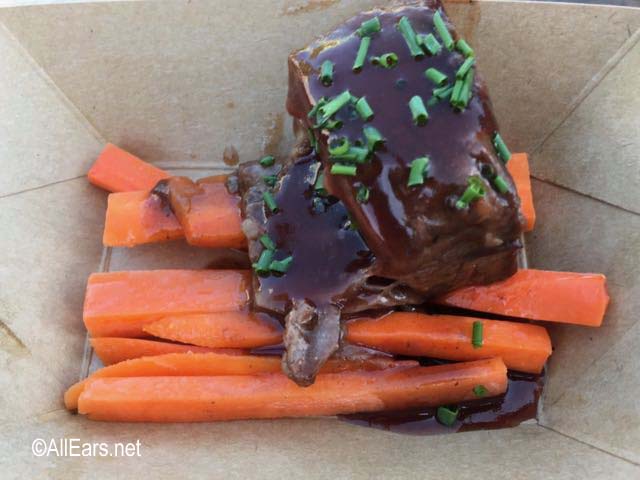 My favorite is still the first Marketplace item that I tried back in early November – the Butternut Squash and Almond Pakora Fritters. Different, but really good.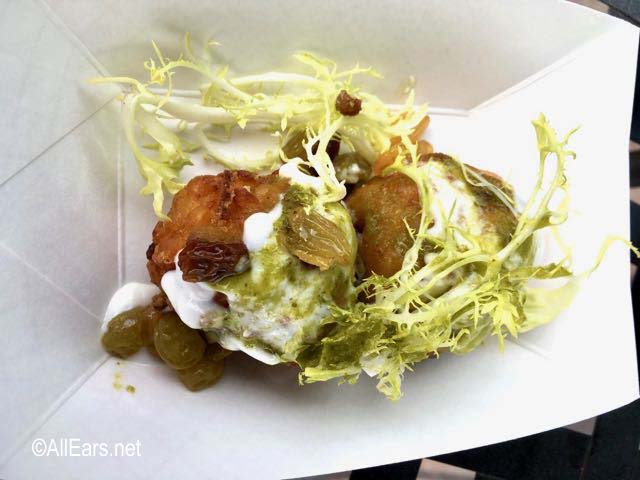 I won't make it back to the Festival of Holidays before it closes on January 7, but I'm looking forward to the Lunar New Year Celebration that will run from January 26-February 18. There will be more food items to try with several food booths offering Asian cuisine, as well as a special menu at Paradise Garden Grill.