The first thing I noticed when walking into Pandora – The World of Avatar in Disney's Animal Kingdom were the Floating Mountains. The size and the way Disney Imagineers designed them is quite amazing. The second thing I noticed were the waterfalls flowing from them. Disney uses water beautifully in all their Walt Disney World properties and Pandora was no different.
Unlike the many photos I had seen of the Floating Mountains, I wanted to feature one of the waterfalls in a photo. To do that I stood on a bridge closest to one of the waterfalls and pointed my camera upwards. This shows a more dynamic view and gives a sense of scale with one of the light fixtures in the frame. I used a fast shutter speed to freeze the water.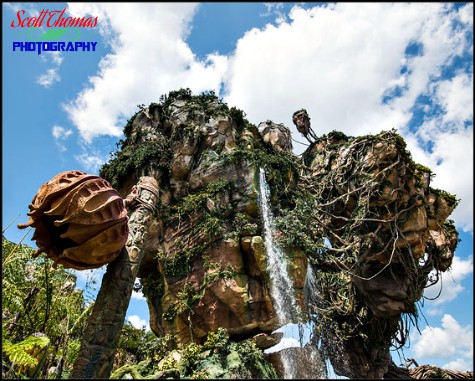 Waterfall from a Floating Mountain in the Valley of Mo'ara.
Nikon D750/16-35VR, 1/250s, f/8, ISO 100, EV 0, 16mm Focal Length.
Pandora only has two attractions, a store, a beverage service stand and a restaurant. What else is there to do you might be asking yourself. I am here to tell you as a photographer, there is plenty. The area you walk through is honeycombed with meandering trails. Each turn has something new to discover. Falling water is used among the trails to add natural sounds to the landscapes full of exotic plants.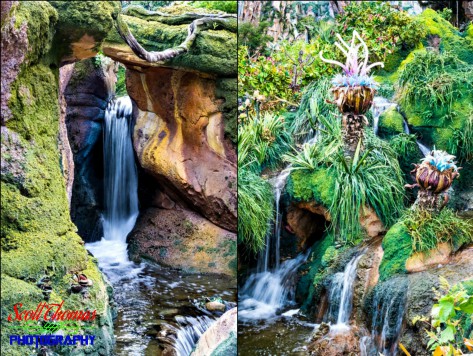 Waterfalls found along the Valley of Mo'ara trails in Pandora.
This pond below being feed by numerous little waterfalls was a favorite location for me. I really liked how you could frame the scene with flowers and water. Being a photographer who likes to see his waterfalls "flowing". I stepped down the camera's aperture to f/22 to slow the shutter down to 1/15th of a second. I did not have a tripod with me so I used the top of a wooden fence post to steady the camera. As it was late in the day, the ISO did go to 4000 but the sensor handled it very well. The slow shutter caused the moving water to get the nice silky look about it.
Waterfalls and flowers along the Valley of Mo'ara in Pandora.
Nikon D750/24-120VR, 1/15s, f/22, ISO 4000, EV 0, 24mm Focal Length.
You will find waterfalls everywhere in Pandora. I photographed these two as I walked along the FastPass queue to ride Avatar Flight of Passage. I used the strange blue cone-like flowers as foreground interest. As a side note, Avatar Flight of Passage IS as good as everyone says it is.
Waterfalls along the Flights of Passage queue in Pandora.
Nikon D750/28-300VR, 1/125s, f/5, ISO 100, EV 0, 28mm Focal Length.
Why Pandora in Disney's Animal Kingdom does have two excellent attractions and a place you can get your own banshee, do not overlook all the other interesting things like waterfalls to see.