Many compelling Hidden Mickeys can be found in Disneyland, California. We also come across a few questionable images at times. Let's begin our search on Main Street, U.S.A.
A subtle classic Mickey shadow hides in the Disney Gallery, which is right next to the "Great Moments with Mr. Lincoln" theater. Find the image in a drawing of a Euro Disneyland Railroad car on a wall to the far right as you enter the gallery from Main Street. The railroad car has a "Coney Island" label on its side. In the fifth window from the left, the shadow of a person's head resembles Mickey. (Thanks to Mari H.)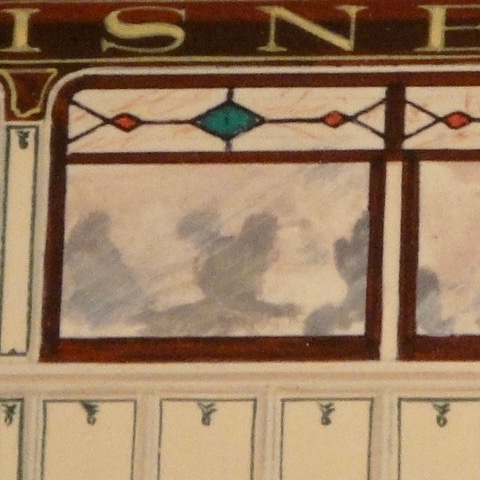 The Mad Hatter store is on the corner to the left of the Disney Gallery. A few second-story windows to the right of the Mad Hatter store sign is a window commemorating Disney Legend Blaine Gibson, an animator and sculptor. (One of his creations is the "Partners" bronze statue of Walt and Mickey.) Classic Mickey ears form the right side of a soap carving that is painted in the window. (Thanks to Jason Gall).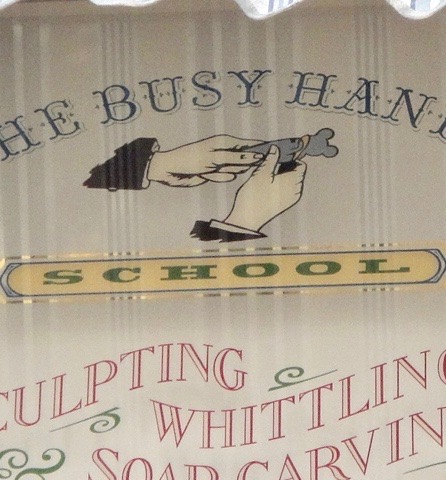 What do you think about the following images? Circles in wallpaper in the Chester Drawer's children's store, next to Disney Clothiers, might approximate a classic Mickey. Circles behind the "C" in the wallpaper seem closer to a Mickey image than those behind other letters. (Thanks to Josh Burch).

A chandelier in an embroidery shop, near the Disney Showcase store, has small projections that might resemble Mickey. Is it close enough? (Thanks to Justine Mikhail and Mark Treiger).

You can still find the Pinocchio game machine with its classic Mickey in the Penny Arcade. It's been sitting at the rear of the Arcade for a while now. The small Mickey sits between the play buttons on the machine.

Enjoy the search!