Walt Disney World is well-known for its willingness to accommodate guests with food allergies. In fact, its chefs often go out of their way to prepare special dishes even when they are not requested. Now, the Orlando resort is offering another option for those with food concerns: allergy friendly trick-or-treating at its Mickey's Not-So-Scary Halloween Party events.
When I attended a party last week as an invited media guest, I decided to trick-or-treat using the new program so I could see how it works. I do not have any food allergies, but my 12-year-old daughter (who was with me) does have some food sensitivities and we both wanted to better understand the experience.
Guests who participate in allergy friendly trick-or-treating start the evening the same way any other guest does — by asking for a complimentary bag on the Main Street bypass or at any candy station in the park. But the allergy friendly bags look different from the other candy bags that cast members are handing out. They are teal with the image of a single orange pumpkin, as a reference to the Teal Pumpkin Project, which was started to promote the inclusion of all trick-or-treaters during the Halloween season.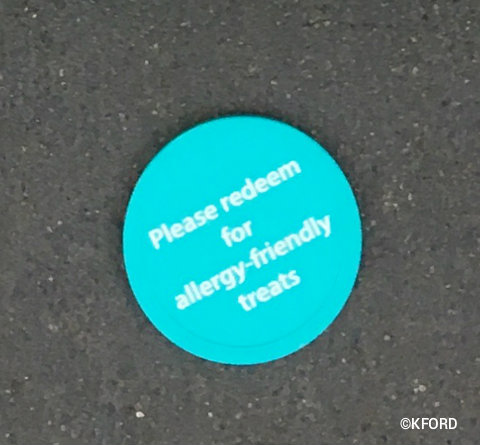 Guests — children and adults alike — take these bags to the candy stations throughout the park and exclaim, "Trick or Treat!" When cast members see the teal bags, they will give the bearers special teal tokens that say, "Please redeem for allergy-friendly treats." Guests can choose to trade in the tokens at any point in the evening so they can begin enjoying their treats (like other guests) and continue trick-or-treating. There are three locations for redemption: in Liberty Square between Sleepy Hollow and the Hall of Presidents attraction, at the Town Square Theater or at City Hall.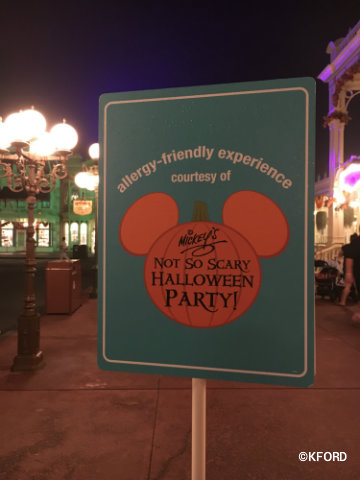 I waited until the end of the night to exchange my tokens, so the only location open was City Hall. I was presented with a list of available treats (and their ingredients) and asked what I would like to receive. My choices included: Smarties, Gummy Worms, Gummy Bears, Jelly Beans, Ricemilk Chocolate Bars, Dark Chocolate Bars, Vanilla Honey Graham Crunchy Cookies and Double Chocolate Crunchy Cookies. There were even craft kits for those who wanted a treat that wasn't a food item. I received a generous portion of all the items I asked for.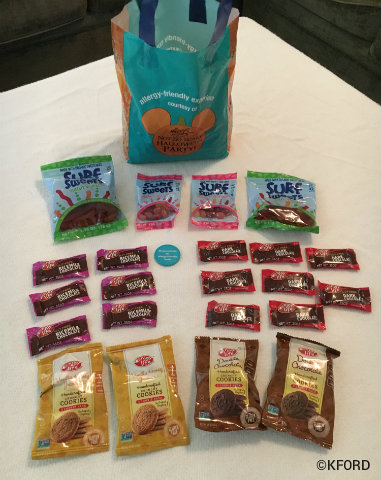 Guests who spot regular candy that they know they can safely consume in the trick-or-treat barrels also can ask cast members specifically for that candy along with a token. Cast members I encountered were happy to fulfill such requests. Remember, your party ticket includes unlimited trick-or-treating so it's not an either-or situation, unless you need it to be. This worked for my daughter because she has some food sensitivities and not life-threatening allergies. If you are concerned about cross-contamination, though, this would not be a good practice because the candy you can safely eat is stored in a container of other treats you cannot.
Overall, my daughter and I found the allergy friendly trick-or-treating to be a fun experience and one that allowed all guests to participate without being singled out. The cast members were friendly and helpful, which we appreciated.
Have you tried the allergy friendly trick-or-treating? Please share your experience in the comments.
DISCLAIMER: I was a guest of Walt Disney World at Mickey's Not-So-Scary Halloween Party. This did not affect my story; my opinions are my own.