Over the last few weeks Carol has been eagerly preparing for the annual Pin Event at EPCOT. As I watched her getting ready I began to reminisce a bit about the early days of Pin Trading.
There weren't many Disney Pins around before the year 2000. Although the first pins began to appear in the 1950's, they were only created as keepsakes to commemorate special events or as gifts handed out by Disney's sponsors like Kodak or American Express.
The first series of pins "official" trading pins issued by Disney was the Countdown To The Millennium series. The set consisted of 101 pins sold in Disney Stores, 7 or 8 each week, from October 1999 to December 2000. That was when pin trading began!
Here's an article from the Spring 2000 issue of Disney Magazine that describes those very early days of pin trading.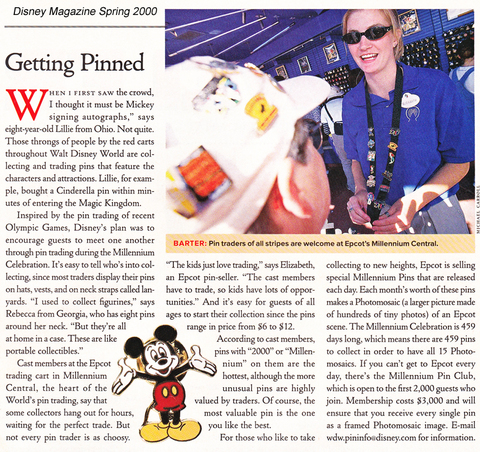 Click on the image to see a larger version
There was even a set of 15 photomosaic images you could buy for $3,000.00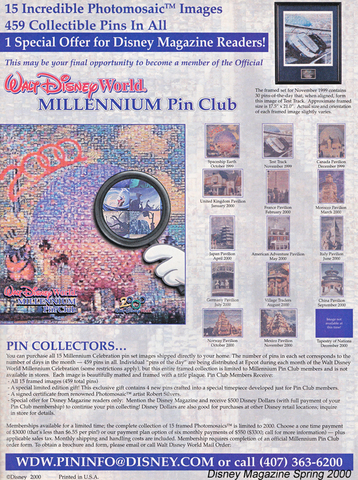 Click on the image
Somehow it seems that Carol didn't get the memo and she didn't buy any Millennium pins, or those expensive photomosaics.
It all started for us a little later, about 16 years ago. At the time Carol's Disney pin collection consisted of two or three items. There was a pin showing Mickey Mouse skiing that we picked up while enjoying the slopes at Smuggler's Notch Vermont and a pin from the 2000 Mickey's Very Merry Christmas Party.
Then one fateful day in the autumn of 2001 she read on the Internet that a new series of pins, 100 Years of Magic, were being sold at Disney Stores, a new batch of pins released each Saturday from September 15th to December 15th. "Let's go take a look," she said. If only I had known . . .
We walked into the Disney Store at Limeridge Mall in Hamilton Ontario about noon on October 8th, the very next Saturday. Carol asked a cast member about the pins and she was told, "You're a couple of hours too late." The pins were all sold out; they sold out minutes after the store opened!
The following week we arrived five minutes before the store opened and joined a long line of about 30 avid pin collectors!
When the doors opened everyone filed in and lined up at the counter to buy the 7 or 8 pins released that week. Each collector was allowed to buy 2 of each pin; Carol bought a single set.
As the weeks went by the pins became more popular and the lines grew week by week. By December we were lining up at 7:30 a.m., a full 2 hours before the store opened and each collector was limited to 1 of each pin. By then I had been conscripted to stand in line as well; Carol had decided that she needed a second set of pins to use as traders.
As we stood in line week after week with the same group of traders a funny thing happened . . . we made some new friends. Before long we were meeting at one of the friend's homes for "trading nights" and a few of the cast members from the Disney Store joined in the fun.
Carol was busy trading with our new-found friends and buying pins on e-Bay . . . before long she had all the pins from the first few weeks of the 100 Years of Magic series. She was a happy trader!
Two more Disney Store series followed in rapid succession, Magical Musical Moments and 12 Months of Magic. She bought them all.
Before cast members began wearing lanyards with pins to trade there were "Super Traders". Amy Johnstone, one of five Super Traders at EPCOT described her job in a Fall 2001 article in Disney Magazine.
Click on the image
Trading was soon so popular that many cast members at Disney parks began to wear lanyards full of pins to trade and our Disney vacations suddenly had a brand new element added! I didn't do any trading but I was a "spotter" — it was my job to make sure Carol didn't miss any lanyards.
A Spring 2002 article from Disney Magazine gave some tips for aspiring collectors.
Click on the image
In 2005 Carol went to the annual EPCOT Pin Event for the first time. This is the premiere event in the life of a pin trader. Disney decorates EPCOT's World ShowPlace Auditorium, located between Canada and Great Britain, with lavish displays that match the special pins created for each year's theme. Carol was simply blown away by the décor, the pins and the opportunity to meet so many other avid traders.
Over the past 16 years, since Carol started collecting, there have been tens of thousands of new pins created. Needless to say her approach to pin trading has changed; in the early stages Carol wanted every new pin . . . she had to have them all. These days she's much more focused and much more selective. Her collection of over 4,000 pins is sorted by theme or subject and most of the pins are stored in binders that fill a closet. There are boxed sets and framed sets displayed around the house . . . there are about a hundred "traders" in a bag that travels with Carol to all Disney events!
As you read this Carol has just wrapped up her 13th consecutive trip to EPCOT for the annual pin event. The 2017 theme was "Love is an Adventure". She'll be blogging about the event before long — stay tuned for details!
(If you just can't wait for Carol's 2017 EPCOT Pin Event blog, why don't you re-read some of her previous reports! You can find them all HERE