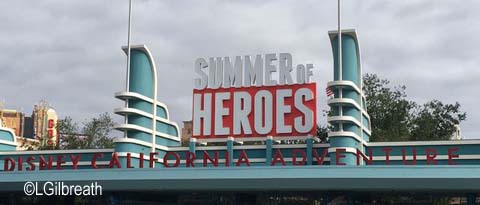 Jeanine, Jason, and Laura continue with their coverage of the Guardians of the Galaxy – Mission: BREAKOUT! opening at Disney California Adventure with this preview of the Summer of Heroes.
The Summer of Heroes promotion includes limited time food and beverage, merchandise, and entertainment opportunities featuring Marvel Super Heroes. It runs until September 10.
Avengers Training Initiative gives youngsters a chance to interact with Black Widow, Hawkeye, and Avengers special agents. Along the lines of the Jedi Training Academy, but with an Avengers theme. Training sessions take place several times a day on the Hollywood Backlot stage. Signups are available on a first come-first serve basis – on the day we were there the kiosk was outside Stage 17. If your child wishes to participate, we recommend making sign-up your first order of the day.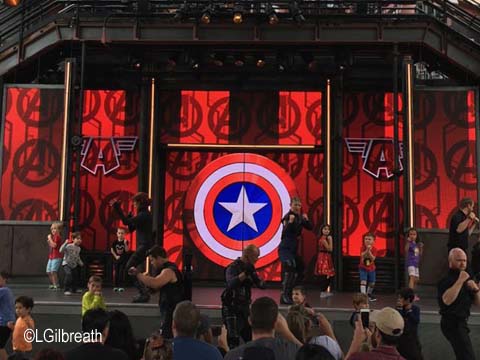 Kids are separated into several groups where they have to work as a team. The also learn a sequence of defensive, evasive, and even offensive moves, which they later demonstrate against a HYDRA villain. (The Captain America shields they used had some entertaining Frisbee-like qualities when flung at the villain.)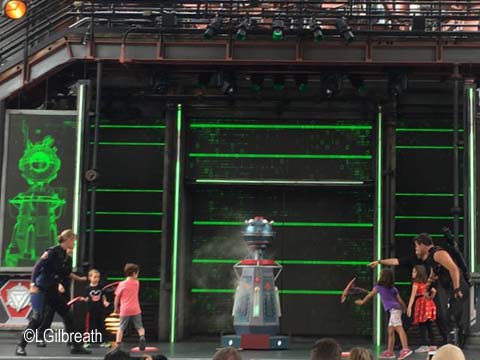 Jeanine: So when I saw the sneak peek presentation on it a little while ago (seen here) I thought this looked like a pretty interesting show. I would have been impressed if it actually did show kids some basic self-defense moves, which doesn't seem like a bad thing for anyone to know nowadays. My other thought on walking up to the show a little late, was that Iron Man sounds a lot like Tom Hanks doing Woody for some reason.
Black Widow Encounter – She patrols the Hollywood Backlot in her black armored vehicle, and interacts with guests. The more traditional meet-and-greet opportunity with Spider-Man and Captain America is also still available.
Guardians of the Galaxy: Awesome Dance Off! – As you'll see in the video below, we experienced a version of this during the Grand Opening event, though this may not be quite what guests will experience. The Disneyland web site lists it as an activity for kids and tweens. The Dance Off concludes with a visit by Groot, who "sticks" around for a meet and greet afterward.
Hero Action Center – What Super Hero are you most like? Is it Captain America, Black Panther, Dr. Strange, Black Widow? Or perhaps Iron Man, Thor, Hulk, or Spider-Man? At the Hero Action Center in the Hollywood Backlot you can take an interactive quiz that asks a series of questions to determine what Super Hero is most like you. The quiz is administered via a touch screen tablet. Afterward you'll receive a comic book and a sticker representing your Super Hero. There's a photo backdrop with a Photo Pass photographer, also.
Jeanine: Considering I usually get "You are Ursula" on all these tests, this was pretty vindicating.
Food for Super Heroes (or mere mortals)
There are a number of new food and beverages choices, in multiple locations around Hollywood Land.
Award Weiners – Three words: Funnel Cake Fries. Laura is really looking forward to these. They are available separately or included in the Angry Little Pudding Cup (below), a chocolate pudding, chocolate cookie, and whipped cream parfait.
Schmoozies – Schmoozies will now be open in the morning, serving doughnuts in addition to smoothies and hot beverages . Doughnuts are available while they last. The Hulk-themed doughnut, filled with blackberry and black currant, will be available every day. As you might expect, it's huge. The other three will rotate. The Captain America doughnut is an apple pie doughnut, the "Spider Bite" is cinnamon spiced (think Red Hot candies), and the Groot doughnut is maple and bacon.
Cosmic Canteen – This is located on the far end of the Hollywood Backlot next to the Monsters, Inc. attraction. It will have a variety of "Cosmic Cocktails" and non-alcoholic "Breakout Beverages". Groot-shaped bread will be available – it's sourdough bread with cheese or jalapeno cheese. The eyes are black olives. The bread will also be available at Fairfax Market.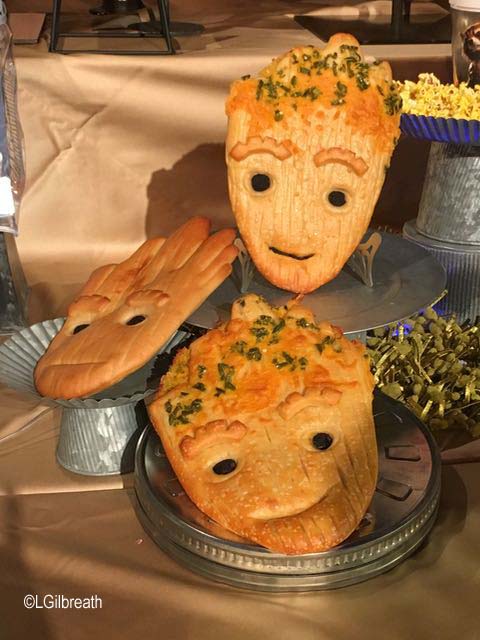 Studio Catering Co. – the food truck in the backlot. A number of different items here! The Super Hero sub includes peppered salami, capocollo, mortadela and provolone, topped with lettuce, tomato, pickled onions, and pepperoncini.
Multiverse Parfait with chocolate cake, white and dark chocolate mousse and cherry jelly, topped with chocolate ganache.
Falafel pitas: Chickpea fritters served with two different accompaniments – spinach, cucumber/mint slaw and yogurt sauce or pickled red cabbage, yellow peppers and charamoula sauce. Laura worked with a Disney chef to make some fritters:
Knowhere Eats will be a food kiosk (re-purposed from the Food and Wine Festival). It opens June 6, and in the meantime these items will be available at the Cosmic Canteen and Studio Catering Co. All of the food items are available with a vegetarian version.
The Most Dangerous Tacos in the Galaxy – Barbacoa beef tacos on green tortillas.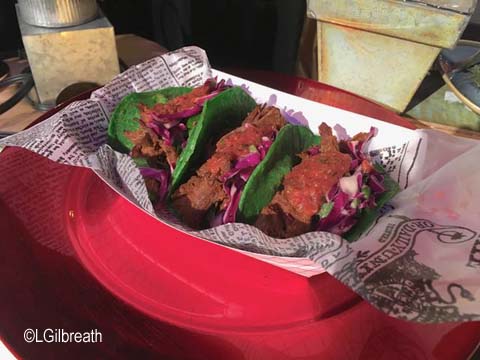 Obviously Nachos – Blue corn tortilla chips with mojo-marinated chicken, red pepper cheese sauce and chipotle crema. Laura tried these and thought they were very good – not too spicy at all.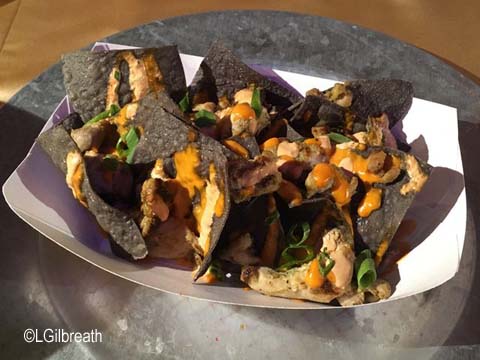 Space Outpost Tacos – chicken street tacos with chopped cilantro and onions.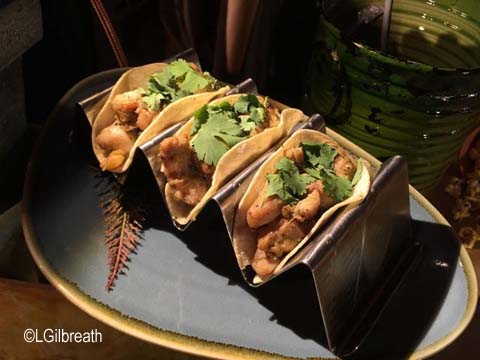 Several alcoholic beverages are also available.
Summer of Heroes Merchandise – most is available only in Disney California Adventure, much of it exclusive to the Collector's Warehouse at the exit of the Mission: BREAKOUT! attraction. Lots of cute Baby Groot items. We got an overview:
While it's not a part of the Summer of Heroes, another new attraction also opened at Disney California Adventure: Disney Junior Dance Party!. This show for pre-school kids includes some of their favorite Disney Junior characters, like Doc McStuffins, Sophia the First, and characters from The Lion Guard and Mickey and Minnie Mouse from Mickey and the Roadster Racers. There's special effects like bubbles, snow, and confetti, and the kids are encouraged to get up and dance to the music.
Jeanine: I'm not sure I ever actually saw the show that preceded this one, but the dance party seemed high energy and fast-paced enough to keep most of the children's attention engaged. I would only make the additional observation that anyone going should probably expect exposure to the sights, sounds, and olfactory stimuli characteristic of a youthful audience.
Jeanine: So between "Mission: BREAKOUT!" and "Summer of Heroes," there's a lot coming to Hollywood Land this season. Frankly, I'm just glad the three of us were able to cover it all and get out without any mishaps.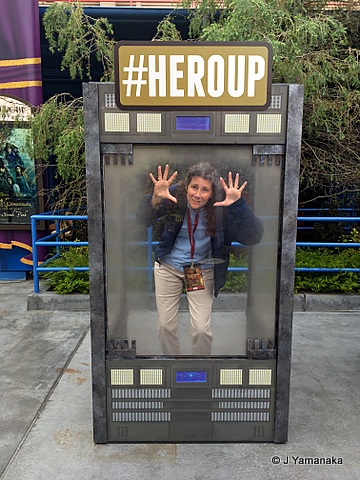 …Oops.