To me, photography is an art of observation. It's about finding something interesting in an ordinary place… I've found it has little to do with the things you see and everything to do with the way you see them. — Photographer Elliott Erwitt
While we can all agree Walt Disney World is not an "ordinary place", it is a great place to find something interesting if you are observant. It is hard not to be distracted while visiting the resort. There are so many things to see and do and so many people doing them. You are traveling with other people and there are reservations and Fast Pass times to adhere to.
But…if a few times during your stay you can take a step back and look around. Allow yourself to observe where you are and let the creative part of you out. You will be surprised what you may capture in front of you.
The Discovery Island Carnivale in Disney's Animal Kingdom perform a very energentic act which gets guests involved and dancing. I so enjoy others enjoying themselves and capturing their exuberance in the moment.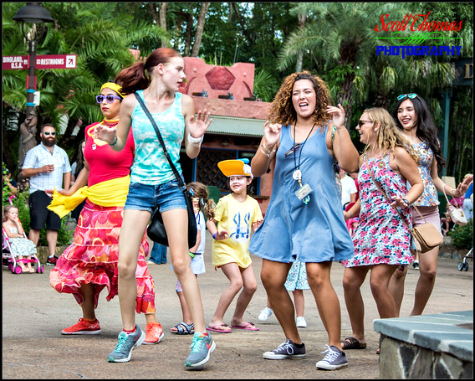 Discovery Island Carnivale performing and getting guests to dance with them..
Nikon D750/28-300VR, 1/125s, f/5, ISO 140, EV +0.3, 72mm focal length.
It can be something so simple and ordinary as a daughter helping her mother with menu choices at Homecoming: Florida Kitchen restaurant in Disney Springs.
Daughter helping her mother with menu choices at Homecoming restaurant.
Nikon D750/24-120VR, 1/125s, f/5.6, ISO 2000, EV +0.3, 27mm focal length.
Let your knowledge of your camera, lens, exposure, composition guide your creative side to look and see. Walt Disney said, "The way to get started is to quit talking and begin doing." In our case, put the books down, get away from the computer and go out and shoot. Learn from mistakes and never stop observing the life around us.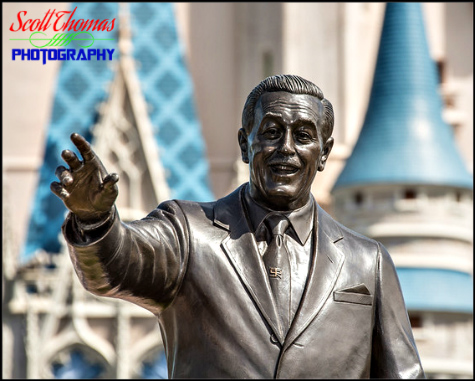 Walt Disney statue in the Magic Kingdom.
Nikon D750/28-300VR, 1/250s, f/9, ISO 100, EV 0, 300mm focal length.
A good exercise in observing is finding a place to sit down or lean against an object. Do as Obi Wan Kenobi would do and let yourself go and stretch out with your mind to see the extraordinary in the ordinary. You can do this anywhere even in a busy Disney themepark.