On May 1, 2010 Carol and I were celebrating my birthday at EPCOT. Naturally we had to take a ride on Soarin'
As we waited in line we struck up a conversation with another couple who seemed to be avid Disney fans, just like us. When they heard that we were staying at Fort Wilderness Resort & Campground in our motor home they were suddenly full of questions. Retirement was on the horizon for both of them and a motor home was something that they had talked about. They thought it might be a nice way to spend their golden years!
When we finished our glider ride over California the four of us chatted about motor homes and Disney camping as we enjoyed coffee and a snack at Sunshine Seasons. Who knew that a chance meeting in a queue almost seven years ago would lead to the friendship we now enjoy with Al and Jane from Blue Springs, Missouri.
We swapped e-mail addresses that day and over the next few months Carol and I answered all sorts of RV related questions. About a year later they bought their first rig, a brand new 37-foot Winnebago. They're now retired and enjoy dividing their year in two halves; the warmest six months they spend at their home near Kansas City and the coldest six months they spend in their new 43-foot Winnebago motor coach at Fort Wilderness.
We have camped beside Al and Jane, or across the road from them, about a half dozen times and we always enjoy hanging out with them. Even our dogs have become friends; they look forward to going to the Halloween Pet Parade together every year!
Last October we were camped across from our friends when they took delivery of their newest toy, a beautiful customized golf cart.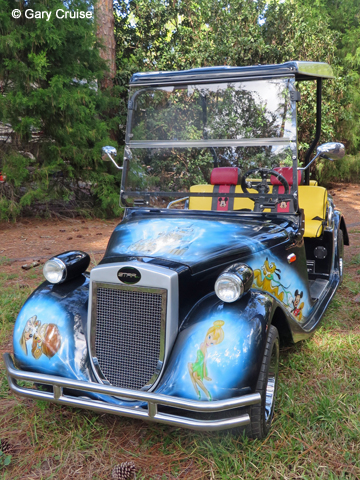 It's a Star Roadster 2+2 made by the Star EV Company of Greenville South Carolina. It's electric powered and street legal.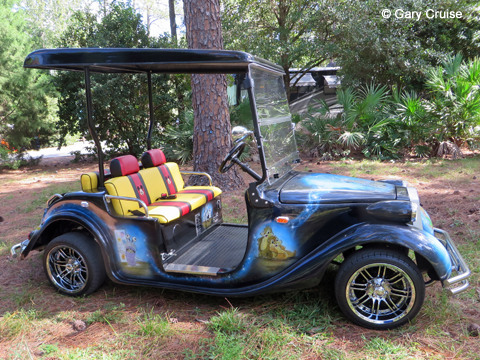 While they were considering buying a cart they spotted a used EZ-GO that had some nice Disney themed art painted along each side. They didn't buy that cart, but when they did decide it was time to buy they went to the same dealership in Indiana who had arranged for the customized air-brush painting on the used cart.
I asked Al, "You live in Missouri and bought a golf cart made in South Carolina that you will be using in Florida. Why did you go with a dealer in Indiana?" "Well," he replied, "I really liked the work that the Indiana air-brush artist did on that EZ-GO cart, so I bought from the same dealer. I'm glad I did, they were great to deal with!"
Once Al and Jane had picked out the retro roadster and worked out the purchase details they began selecting the art which would adorn the cart. With so many Disney characters to choose from I am sure this was not an easy process.
An image of Cinderella Castle covers the hood and the banner reads "A dream is a wish your heart makes"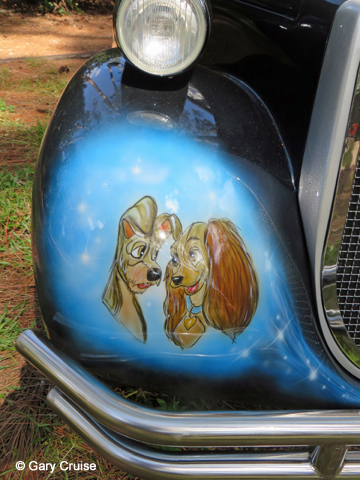 Lady and the Tramp appear on a front fender. Al and Jane are "dog people". Their three cocker spaniels travel with them, and in their working lives one of their businesses was a dog training and obedience school in Blue Springs.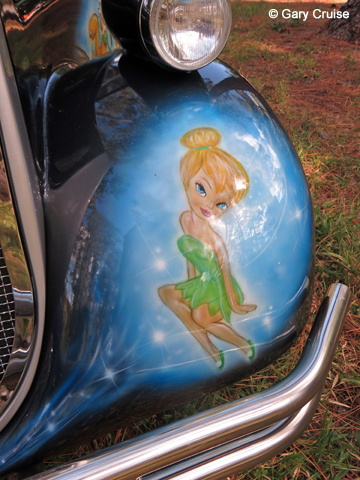 Tinker Bell graces the other front fender; she's one of Jane's favourite characters!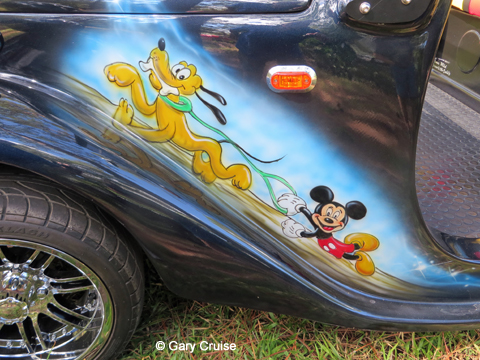 Mickey and Pluto on the driver's side; Mickey because he's the big cheese and Pluto because they're dog people!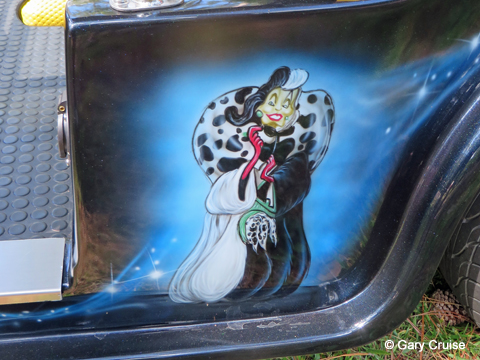 Jane's favourite villain, Cruella De Vil on the driver's side.
One of the Dalmatian puppies hides just around the corner from Cruella, under the driver's seat.
Mickey Mouse on a rear fender.
Minnie Mouse on the other rear fender.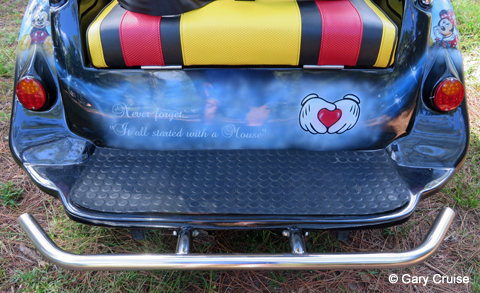 Across the back, "Never forget, it all started with a mouse"
One of Al and Jane's cocker spaniels is named Boo, so this character is a natural!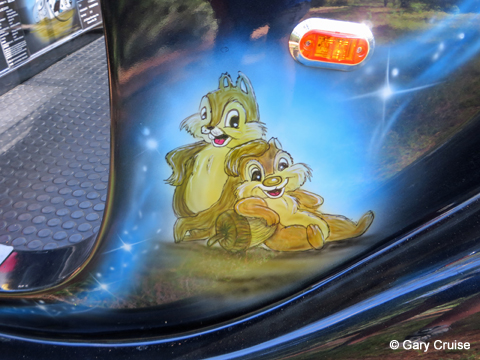 Chip and Dale are another pair of favourite characters, but they're also park icons at Fort Wilderness. Those pesky chipmunks are featured on a lot of campground merchandise!
I think that Al and Jane picked the art very wisely and the air brush artist did a great job applying it to the cart. The results are stunning!
The dealer even arranged for the custom upholstery, Mickey's colours and a smiling Mickey icon! Beautiful!
Why not include custom wheels?
And teardrop headlights?
Here are Al and Jane driving their cart in the annual Halloween Golf Cart Parade at Fort Wilderness!
You can find Al and Jane (and their cart) in the 700 loop during that colder half of the year. If you see them around the campground be sure to say hello! They like to talk about their new toy.
Al recently told me, "We can't go anywhere without some one wanting to take pictures of it. I think it is probably in hundreds of people's vacation pictures."
Somehow that doesn't surprise me. It really is a cool ride!