Bob Gurr holds a copy of his book, "Design: Just For Fun," after its release. [Ape Pen Publishing]

If there's such a thing as a blueprint for an exciting, fun-filled, never-a-dull-moment retirement, Bob Gurr seems to have created it.
Which, in a way, makes perfect sense, since Gurr is the man responsible for creating so many of the exciting, fun-filled, never-a-dull-moment ride vehicles and attractions we've come to know and love in Disney parks around the globe for decades.
Gurr, who is 85, has packed so much into his retirement years that it's almost impossible to pinpoint a time when he's actually stopped working and commenced sitting back in a rocking chair and relaxing. For the record, Gurr officially retired from the Walt Disney Company in 1981 … but that didn't stop him from working on a number of "side" jobs, among them: The grand finale production at the 1984 Summer Olympic Games in Los Angeles … the monstrous King Kong Audio-Animatonics figure at Universal Studios … and the complicated stage apparatus used during Michael Jackson's Victory Tour in 1984.
Also during his "retirement," the affable Gurr has "gone on something like 45 cruises," to places like Hawaii, Tahiti and the Caribbean, done dozens of panel discussions and presentations, written and promoted his own book [Design: Just For Fun, APP-Gurr Design], and, most recently, spent more than a year putting together a documentary, Bob Gurr: Turning Dreams into Reality, available through Ape Pen Publishing.
The documentary, which debuted last year at the popular Pacific Northwest Mouse Meet, is not so much a story of Gurr's life as it is an outline of just how Gurr created some of the industry's most innovative and ground-breaking theme park attractions. In short, it's not about what he did, but how he did it.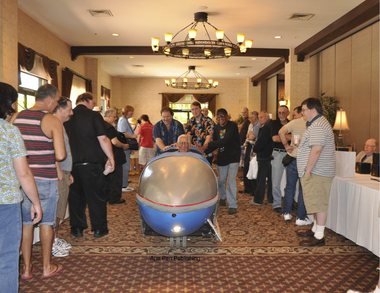 Bob Gurr takes a spin on a scale model of a monorail during a Disney fan event several years ago. [Ape Pen Publishing]

Carlene Thie, who owns Ape Pen Publishing and who had a big hand in helping Gurr get his book published and was the driving force behind The Bob Gurr Roast in 2015, "Had this long-term idea," Gurr said in a recent telephone interview. "She said, 'I want to do a documentary on your life.' And I said, 'No, no, Carlene. There are so many videos available on my life on YouTube and so forth.' But she was very insistent."
Finally, Gurr told Carlene that "if anyone was going to do a documentary, we should look at HOW I was about to do stuff. We finally agreed to sit down and start talking about it. It was the spring of 2014. By that time, she had assembled a few people, a screenwriter and a videographer. Then she had three friends who were in the videographer business and she was trusting them. She said she wanted to get me on camera and record me so I could tell my story. I said that I didn't want anything to do with that kind of project, but I told her to go get some witnesses who actually watched how I worked.
"So I gave her a list of eight people, and in about two months, she got everybody on the list … Marty Sklar, Garner Holt and a bunch of other people. Even the head of Walt Disney Imagineering. She got them to agree to come out on a Saturday and a Sunday, four people each day."
The only problem was, she didn't have any place to record them. In lieu of a studio, Bob suggested using his own house in Tujunga, Calif. "So we put tarps over the windows. I told her to bring her photographers in the house and I'd sit in the backyard and run the hospitality food tent. People came and went and I'd greet them.
"Six months later, I called her up and asked her, 'Where's your documentary?' "and she said," 'Uh, Bob …'"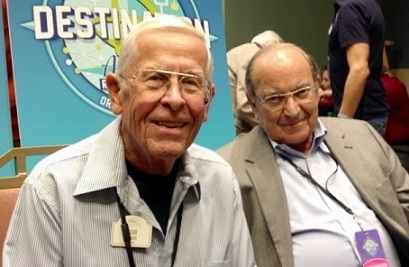 Gurr poses for a photo with fellow Disney Legend Marty Sklar at a D23 event. [Deb Wills]

Turns out what was filmed wasn't very good. "A train wreck," is how Gurr described it. To make matters worse, it was estimated that it would cost upwards of $50,000 to repair the damage.
Carlene gave Gurr a copy of what was filmed and he poured through the 10 hours of video. When he was finished, he came to a conclusion: "Despite all the wreckage, there was precious content about the theme park industry in general. I said it would sure be a shame to lose all that stuff just because she had a bad crew."
That crew "made more mistakes than you can imagine," Gurr said. "They screwed up the lighting, the sound quality was quite poor, they even walked in front of the cameras. If you wrote down all the major mistakes a film crew could make, they made them.
"Finally, I said to Carlene, 'Buy me a new Macintosh with a quad core processor and all the software and I will teach myself to be an editor of PBS quality. That's the cheapest way you'll ever get out of this thing."
So Carlene bought him the equipment he needed and he began a months-long editing process. "After a while, I began to figure out the story. It was fascinating listening to people from different companies and different eras describing how Bob Gurr works. It slowly dawned on me how I work and I work totally differently than other people work. You know in any line of work, you always think that everybody works the same and then it dawns on you later that when you've got witnesses, no, maybe you don't work like that."
During his Disney days, Bob Gurr had a reputation of being somewhat of a genius. After all, he played significant roles in such classic Disney attractions as the Autopia cars, Matterhorn Mountain, the submarine voyage, the Disney monorail system, the Abraham Lincoln figure at the 1964-1965 New York World's Fair, and the development of Audio-Animatronics.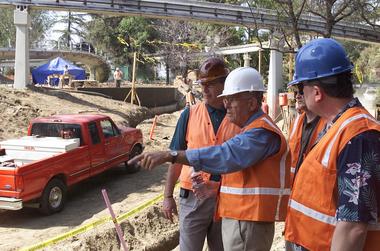 Bob Gurr offers his advice during a remodeling of the Autopia track at Disneyland. [Walt Disney Imagineering]

"People would say, 'Didn't you know Gurr's a genius?' and I'd say, 'No, no, I just work here. Whatever Walt wanted, I did. Whatever Michael Jackson wants … you just did it.. On top of that, I never went to engineering school and I had no qualifications to do any of this stuff and Walt never gave it a thought, he didn't care.
"And looking at my life backwards, these guys [the eight 'witnesses' who came to his house on that fateful weekend] are explaining it, and I thought, now I could write a story that would make sense."
Then he invited some friends to drop by and help with the project.
Following Gurr's lead, those friends dove right in. "They'd show up here and the minute they looked at the computer, they'd start taking notes and writing things furiously on paper" and a script began to take shape.
Gurr then began the arduous task of editing. "Sound editing is really fascinating," he said. "Luckily, my nephew, Eric Johnston, has five Emmys. He's a recording engineer for X Factor and Dancing with the Stars. He said, 'When you get the sound tracks to where you want them, I'll go through them and clean up all the technical problems in the audio.'"
Meanwhile, Carlene Thie was beginning her own long journey. "It took about a year for her to get Disney's approval to use the images of the things I designed," Gurr said. "They wanted thousands of dollars for the licensing fees. I told her to keep writing them every few weeks and wear them down. Every time she did, the price went down a little bit. I think they got down to where they got just enough money that it would be a contract."
Bob Gurr, third from the right, poses for a photo after he was roasted in 2015.

Gurr then threw himself head-long into video editing. "From a technical standpoint, I became totally fascinated with video editing," which was a painstakingly long and tedious process. "I had to swap out all the poor quality and I had to construct the soundtracks by hand."
During the final stages of putting the documentary together, Gurr had to compile credits for the film. "I left on all the names of the people who did such a bad job. The people who actually did all the work were my nephew, Carlene Thie and myself. But I knew it's completely wrong for a person to edit their own life documentary. It's just not right.
"So, when you look at the credits in the back of the film you'll see Eric Johnston, Carlene Thie and 'editing done by a new company called RescueEdit Services.'
"That's the final joke," he laughed.
Bob Gurr: Turning Dreams into Reality can be purchased through Ape Pen Publishing at www.apepenpublishing.com. To view Bob Gurr's website, go to www.bobgurr.com.