Today marks one week until my husband and son are running their first half marathon, and it will be during the 2017 Walt Disney World Marathon Weekend. Although they both have been participating in runDisney races for a few years now, there are some aspects of this particular event that are new to them — other than the 13.1 miles. Also, runDisney has changed and updated some of its processes for this weekend. Here's a look at what you can expect, if you, too, are attending or participating in race weekend.
2017 runDisney New Balance shoes
One of the big draws for this particular Health and Fitness Expo at the ESPN Wide World of Sports Complex is the annual debut of the new runDisney New Balance shoes. This year's collection features shoes patterned after attractions at Walt Disney World: Toy Story Mania, Mad Tea Party, Haunted Mansion and Space Mountain.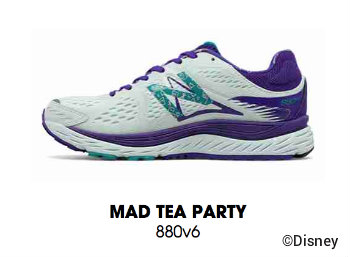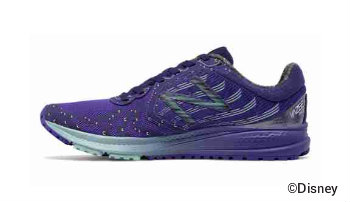 Haunted Mansion
Space Mountain
The Toy Story Mania and Mad Tea Party shoes are the 880V6 style running shoe, which cost $139.95 for adult sizes and $79.95 for children's sizes in 2016. The Haunted Mansion and Space Mountain designs are the Vazee Pace v2 style running shoe, which cost $124.95 in 2016. Prices for the 2017 runDisney collection have not yet been announced.
Because of the popularity of the runDisney shoes, New Balance again will operate a virtual queue for its Expo customers. Guests who would like to try on — and possibly purchase — the running shoes must make an appointment online. Sign-ups at NBvirtualqueue.com for the first day of the Expo, which is Wednesday (Jan. 4), begin at 7 p.m. Tuesday (Jan. 3) and are reserved for runners only. (Appointments cannot be made without a bib number.) Sign-ups for the New Balance virtual queue for Thursday and Friday open at 7 p.m. the night before and are open to all Expo attendees. There is no virtual queue for Saturday.
runDisney Health and Fitness Expo
Speaking of the Expo, it begins at 10 a.m. Wednesday, but only runners who purchased a VIP Race Retreat package will be allowed entry at that time. Other runners, spectators and the general public will not be allowed in until noon on the first day. This is different from other runDisney race weekends. The Expo hours are as follows:
Wednesday: noon to 8 p.m.
Thursday: 10 a.m. to 7 p.m.
Friday: 10 a.m. to 7 p.m.
Saturday: 10 a.m. to 4 p.m.
Some of the most-sought-after merchandise at the Expo is the runDisney race-specific clothing and souvenirs that cannot be pre-ordered. It is only listed to be sold in one location: the back of the Jostens Center. I would expect Half Marathon merchandise to be especially popular because it's the 20th anniversary of the race. Also, there was no pre-order for the Walt Disney World Marathon Weekend Dooney & Bourke handbags, so expect that area to be busy, as well.
For those driving to the ESPN Sports Complex for packet pickup (and the Expo), a new parking option was introduced at the Disney Wine and Dine Half Marathon Weekend. Guests now can pay $10 for preferred parking, which is the closest to the complex. I understand that the extra expense is worth it to some people, but it just seems counterintuitive at an event where participants are physically active.
Earlier registration for future runDisney races
runDisney has begun selling bibs for the 2017 Disney Wine and Dine Half Marathon Weekend even earlier than past years. At the Expo for the 2016 Wine and Dine Weekend, attendees could buy bibs for 2017 if they purchased an entire travel package. No word yet on whether that same offer will be available during Marathon Weekend.
Even so, bibs for the 2017 Disney Wine and Dine Half Marathon Weekend, which takes place Nov. 2 through 5, go on sale to the public at noon EST Jan. 17. Disney Parks passholders and Disney Vacation Club members can register as early as noon EST Jan. 12. Not even a month later, bibs go on sale for the 2018 Walt Disney World Marathon Weekend races, which take place Jan. 3 through 7. General sales start at noon EST Feb. 14, while passholders and DVC members can register at noon EST Feb. 9.
Making Memories
Finally, if you are new to runDisney races or it's been a while since you've been a participant, don't forget to plan for and check out your race photos. In 2016, runDisney switched from Marathon Foto to Disney's PhotoPass. That's good news for passholders who have Gold, Platinum or Platinum Plus passes, because the downloads of all race photos are included in pass benefits. My family and I have appreciated the substantial savings.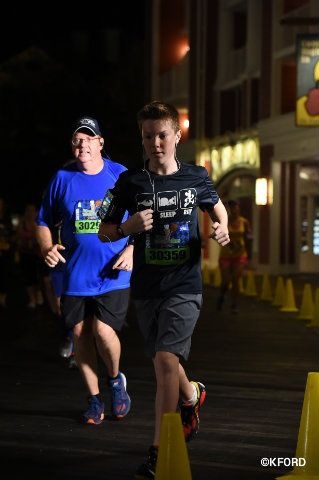 If you are not a Disney Parks passholder with Disney PhotoPass benefits, you can purchase Memory Maker One Day or the Memory Maker package that includes all photos from your Walt Disney World vacation. Memory Maker One Day is $59 and can only be purchased through the My Disney Experience app. (Click on the three bars at the top left of the screen and then choose "PhotoPass," not "Memory Maker." Tap a photo and your choices will appear.) Memory Maker One Day begins at 6 a.m. ET on the day you select. The Memory Maker package is $169, but guests who purchase it online at least three days in advance of their arrival at the resort will save $20. The Memory Maker package starts at 12 a.m. on the day you first download or unlock digital content and lasts for 30 days.
Runners also have the option to buy individual photos and photo downloads. It's free to view your photos, but you must have created a complimentary My Disney Experience account. RunDisney photos are compiled by race and bib numbers. You will need to input one of these codes to see your photos: 2017-WDWK-IDSx-xxxx, 2017-WDWW-K5Kx-xxxx, 2017-WDWW-10Kx-xxxx, 2017-WDWH-ALFx-xxxx, or 2017-WDWM-ARAx-xxxx. Enter your bib number in place of the X's; if your bib number is smaller than five digits, place 0's in front of it. It can take up to 24 hours for the photos to appear in your account.
Be sure to check the runDisney website about two weeks after race weekend to download and print your complimentary official finisher certificate.
Good luck, runners!