It was a night for foodies to celebrate — and eat and drink, of course! And I was fortunate enough to join them to cover the first progressive dinner between two top Disney Springs restaurants with their celebrity chefs as the hosts.
On Saturday, guests took part in the Sake and Shine dinner that started at Morimoto Asia and finished next door at the Shine Bar portion of Homecoming Kitchen. Chef Masaharu Morimoto and Chef Art Smith not only oversaw the meal, but they circulated among diners and even gave each other cooking lessons that served as demonstrations for the participants, as well.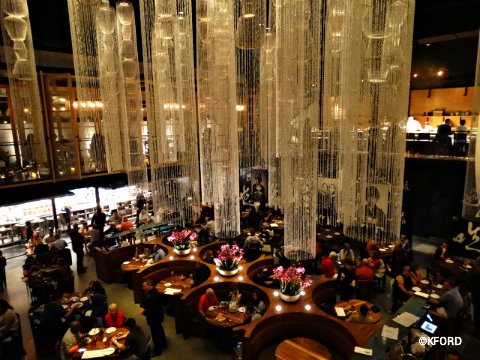 We began our evening at 7:30 p.m. at Morimoto Asia, which just celebrated its one-year anniversary at Walt Disney World. We gathered on the upstairs terrace, taking advantage of the cooler Florida temperatures, to sample a three-course Pan-Asian feast.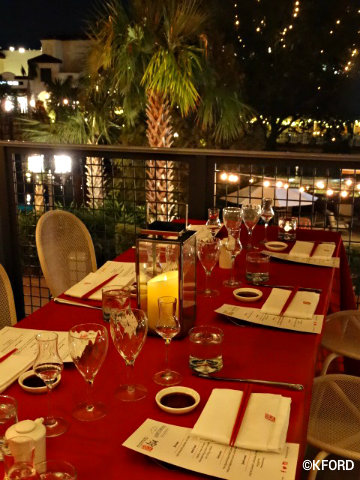 The fun began when Chef Morimoto announced he would be teaching Chef Smith how to make sushi. First, he showed Chef Smith how it was done, slowly laying out the ingredients on the seaweed before rolling and slicing. Then, Chef Morimoto waited for Chef Smith to take a stab at it. He good-naturedly did so, before Chef Morimoto informed him that he would be teaching the diners how to make sushi, too. Eight lucky participants took turns stepping up to the table and learning from the chefs.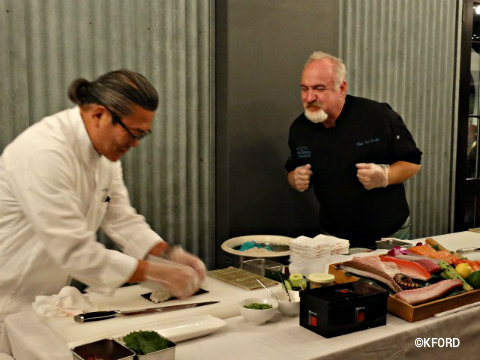 Then we all got to sample some of Chef Morimoto's delicacies. Paired with the restaurant's sake, we tasted Spicy Tuna, Shrimp Tempura, California and vegetable rolls, as well as a variety of Nigiri, including Tako (octopus), Hamachi (yellowtail), Kanpachi (amberjack), Maguro (Tuna), Mizudako (live octopus), Sake (salmon) and Lion Fish. I had never tried sushi, but I decided that if I were going to take the culinary plunge, this would be the place to do so. And I'm happy I did because I actually enjoyed the rolls and ate all the pieces I was given. I was less inclined to finish the Nigiri, largely because it prominently featured large strips of raw fish.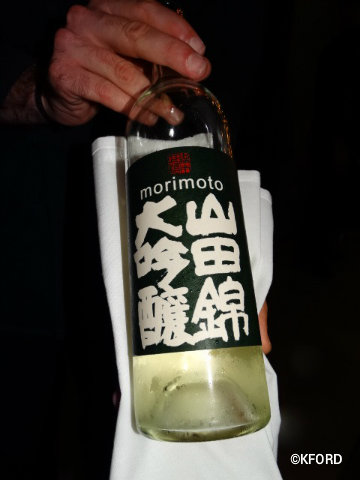 Our second course was Alaskan King Crab and Nantucket Bay Scallop "Ankake" over crispy noodles. The contrast of the textures in the thick seafood sauce and the crunchy paper-thin noodles made this dish really appealing. And the large portion size was more than I could eat. I wish this were on the regular dinner menu at Morimoto Asia. The second course was paired with Morimoto's Sobe Ale, which is available as a draft in the restaurant.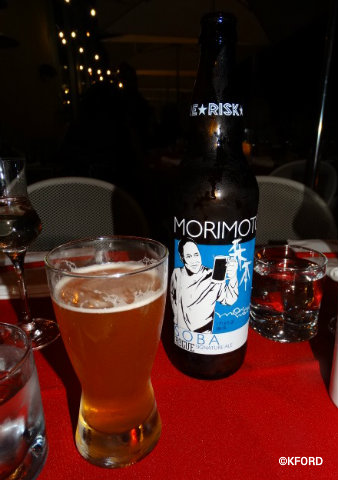 Our third and final course was a Five Spiced Braised Beef Short Rib with Sansho Peppercorn Sauce and Wilted Dou Miao. This short rib was so tender that it fell apart on the fork and was just delicious. Although this particular dish is not on the Morimoto Asia menu, the chef does offer Morimoto Spare Ribs (pork ribs with cilantro and hoisin sweet chili glaze). Our beef short rib was paired with a Primus red wine blend.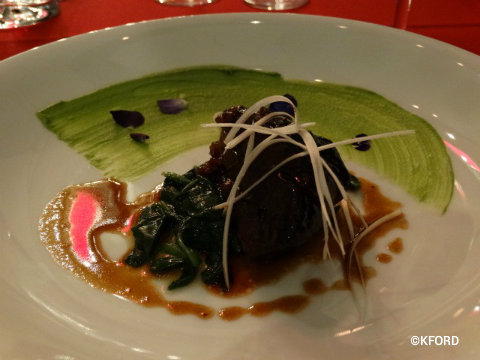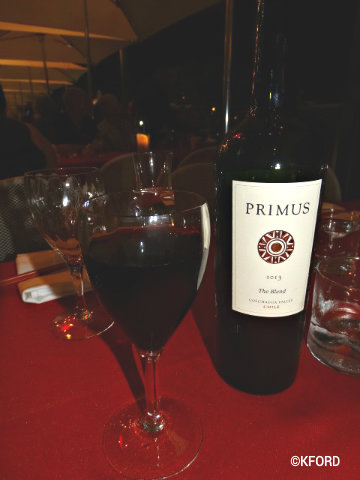 By this point, it was 9:30 p.m. and the progressive dinner originally was scheduled to end at 9 p.m. The chefs seemed to be in no hurry to end the evening, however, and we all walked across the courtyard to Chef Smith's Shine Bar that is connected to his Homecoming Kitchen restaurant. On our way out, we each were handed the evening's menu, which had been autographed by Chef Morimoto and Chef Smith. What a thoughtful and much-appreciated gesture!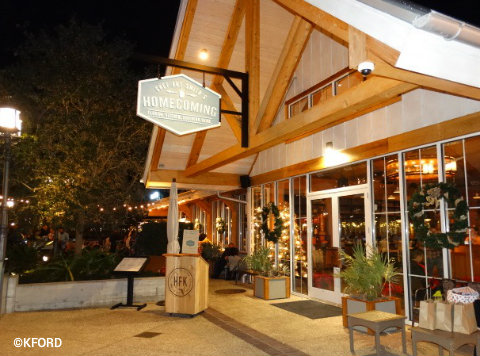 At Shine Bar, Chef Morimoto and Chef Smith mingled with guests, posing for photo after photo. We were invited to sample the varieties of Moonshine-based cocktails at the bar, including MoonShine Mash (made with Mrs. Sutton's Watermelon Likker), Sweet Tea Shine and MuleShine (made with White Lightning).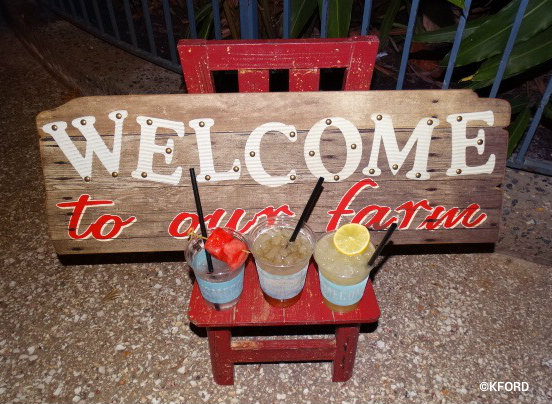 Then, Chef Smith challenged his friend and fellow chef to learn how to properly ice one of his Hummingbird Cakes. Chef Smith is known for his version of the popular Southern dessert, which is a pineapple-banana cake with cream-cheese frosting. When he was the personal chef for Oprah Winfrey, she gave many of his creations to friends as birthday cakes. Chef Smith's Hummingbird Cake also was the most popular dessert at his Chicago restaurant, Table Fifty-Two.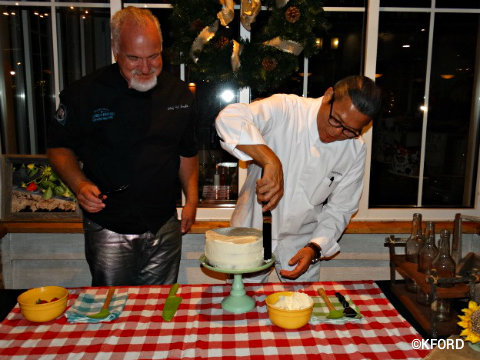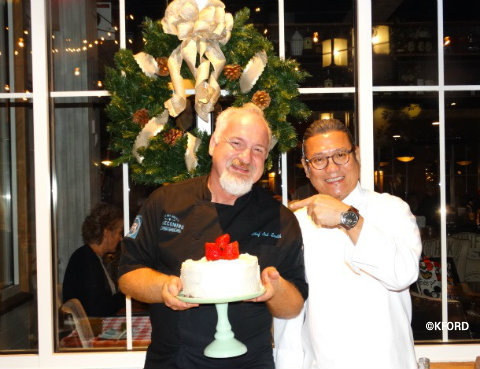 Despite that daunting history, Chef Morimoto took on the task of playfully icing a Hummingbird cake and then we all sampled slices. Guests also were invited to taste Chef Smith's signature Shine Cake, a butter cake that is soaked with Moonshine syrup, and visit a strawberry shortcake bar. (Florida strawberries typically start their short harvest season in December.)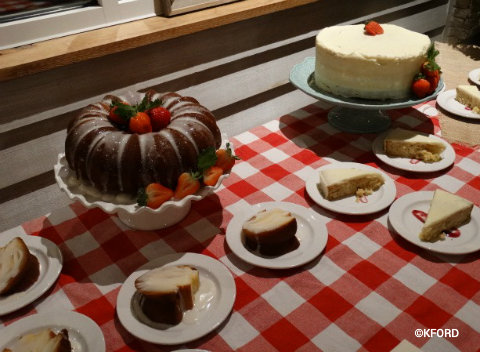 The evening wrapped up at about 10:30 p.m., making what was scheduled for 90 minutes a three-hour event. The first Sake and Shine dinner was lively and leisurely at the same time. Both chefs said they would like to pair up again for another progressive dinner, so be sure to follow them and their restaurants on Facebook, which is where these types of announcements typically will be made.
The cost of the event was $225 per person (including tax and gratuity). The tickets were available on the Patina Group's website, which is another resource for food news.
DISCLAIMER: I was a media guest at the Sake and Shine dinner. This did not affect my story; my opinions are my own.