Here's another little tidbit of Disney lore that Carol and I were told by a cast member during a behind the scenes tour . . . it explains those odd objects on the roof of the Haunted Mansion in Walt Disney World's Magic Kingdom.
The story the guide told us began in California back in the late 1960's. Disney had just purchased the land needed for "The Florida Project" and all hands in the Imagineering Department were busy designing attractions for the new park.
Imagineer Marc Davis, one of Walt Disney's Nine Old Men, was not only a gifted artist; he was also a skilled draftsman. He had designed the Haunted Mansion which opened to rave reviews at Disneyland in August 1969. It was only logical that he design another version, adapted to the geography and climate of central Florida.
So in the late 1960's Davis was hard at work generating sketch after sketch of the Florida mansion. Before long he was drafting specific plans and had a number of small scale models built to test his plans and experiment with materials, textures and color schemes.
Marc Davis was also an avid chess player and always had a chess board set up in his office. He would often use the chess board to clear his mind during stressful times, playing a game against himself or replaying a classic game played by a chess master.
Often, while Davis and some of his fellow Imagineers were out having lunch an unknown prankster would sneak into his office, pick up a few of the chess men and put them on the model of the Haunted Mansion. A pawn on the corner of a gable, a rook on a chimney, etc. Of course, Marc had a keen memory and was able to put every piece back into the proper place on the board. A few days later the pieces would migrate back to the model during lunch . . . it happened again and again! And Marc Davis always put them back in place on the chess board.
After many months of work the design was nearing completion, the process was almost complete. But Davis couldn't shake the feeling that something was missing . . . something was wrong.
Rather than go back to the drawing board, he went back to the chess board. He put some chess men back in the places where the prankster had left them, switched them around a few times and soon found the perfect look. His work was done!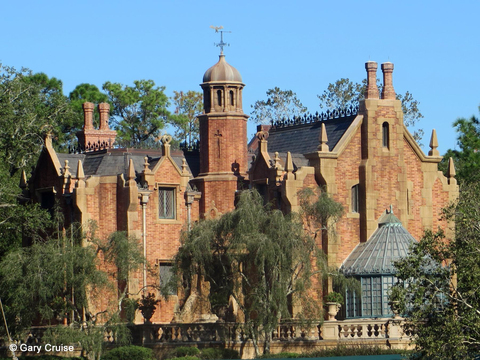 Click on the image to see a larger version
I snapped the picture above in November 2013. Can you spot the chess men? You should see Pawns, Bishops, Rooks and Queens.