I have written about how to create a proper panorama photo in the past and how NOT to create them. I did fail to mention the easiest way to create what I call pseudo-panoramics.
A pseudo-panoramic is done by cropping an image taken with a wide angle lens in a panoramic aspect ratio like 16×9 or 18×6. While you could use any lens to do this, a wide angle image works out better. The photo below of Epcot's Spaceship Earth at night was done in the 16×9 ratio or sometimes referred to as the HD (High Definition) ratio as that is the ratio used for High Definition televisions.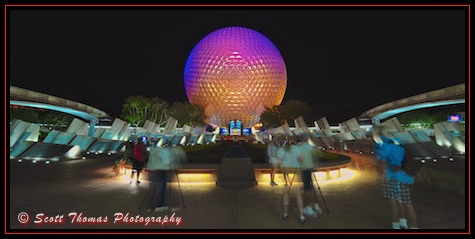 Spaceship Earth at night in Ecpot's Future World.
Nikon D700/Tokina 11-16mm, 10s, f/16, ISO 200, EV -1.0, 16mm focal length, cropped.
Many smartphones and cameras today have panoramic modes. Look to see if your's does.
Deb will share her panorama tomorrow.