In 2013 I was fortunate enough to go on an Adventures by Disney to Scotland: A Brave Adventure. As we traveled through this beautiful country we went to many of the places the Pixar*Disney team visited as they researched the movie.
One of the places we visited was located in the Isle of Lewis called the Callanish Standing Stones, which were erected around 3000 BC. It was an amazing place.
You can actually see these stones in the movie Brave. Here is a concept artwork image for Brave in which the stones are featured.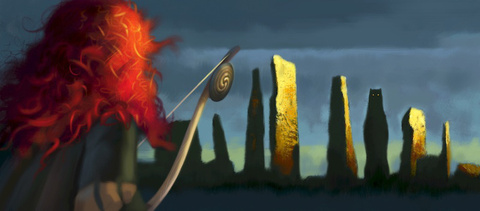 I took this panoramic photo with my Iphone. Be sure to click on it for the larger image.

Hope you enjoyed my choice for Pic of the Week: Panorama