One of the classic jewels of the Disney Animation Renaissance Era, John Musker and Ron Clements' "Aladdin" returns to the El Capitan Theatre in Hollywood for a limited engagement from September 17 to October 7, 2015.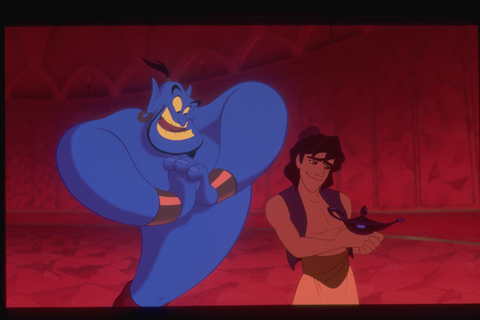 As part of a special opening night presentation, the first 50 applicants that showed up for auditions at the El Capitan earlier that day were winnowed down to five who each got to sing parts of "A Whole New World" with Aladdin's singing voice Brad Kane, American Idol style. The audience then selected one lucky winner who then sang the whole thing with him over the animated sequence on stage.
As part of every showing, audiences will be treated to a song and dance by the Genie, as well.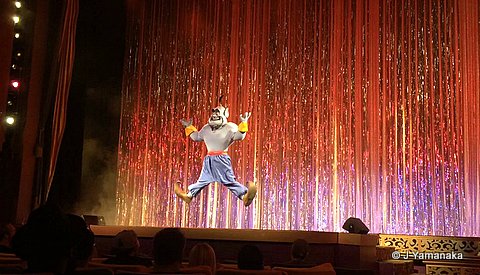 Along with previews for "Zootopia" and "The Good Dinosaur," the new Pixar short "Sanjay's Super Team" is showing with "Aladdin." Giving an insightful (based on the director's own experiences) and non-pandering glimpse at the difficulties of reconciling different beliefs and traditions with American pop culture, it is a thoughtful and touching piece that I think is the best short Pixar has done in awhile.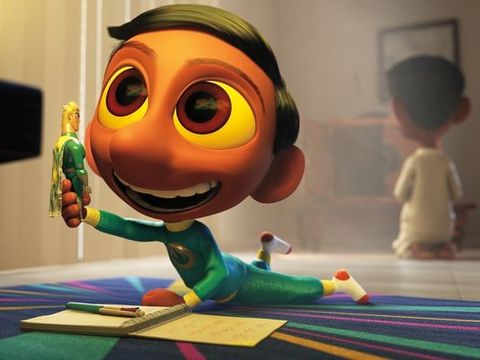 As a film, Aladdin still holds up to repeat viewing. The art direction and character design is great, and the whole project is given added poignancy when you remember it was the last film Howard Ashman worked on before passing. Still and all, it's hard to think that it would still remain in our collective consciousness as vividly as it does, without the genius mix of Robin Williams and Eric Goldberg. Perhaps never before or since has a voice and caricature so seamlessly blended together to realize the potential of the animated character.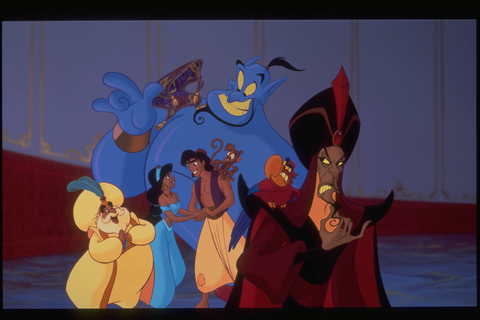 Not all frenetic standup (unlike some of his live action performances,) Williams does some impressive acting as well. On rewatching, it is the Genie's need for freedom that becomes the more compelling storyline, versus a young boy's struggle for self-validation.
Daily showtimes are 10am, 1pm, 4pm and 7pm. Tickets are on sale now, and available
at the El Capitan Theatre (6838 Hollywood Blvd.), online at www.elcapitantickets.com, or by
calling 1-800-DISNEY6. Tiny Tot Tuesday showings are at 10am each Tuesday, and a special breakfast with Genie can be reserved in advance–call for details.