Stroll along the magnificent promenade around the lagoon in Paradise Pier and stay alert for Hidden Mickeys! First, hop on Toy Story Midway Mania and watch for the screen with target balloons in front of the volcano spewing lava. If you pop the middle 100-point balloon on the second tier, a light faint classic Mickey appears on the rear surface in the lava behind the balloons. (Extra circles and zeros may appear in a photo of the 3-D image). (Thanks to Jennifer Oliphant, Catherine Conroy, Holly Haider, Robert Huntington, Evelyn Vides, Mari, Rosemary and Neil [FindingMickey.com], Jessica Van Linge, and Tara Jacob).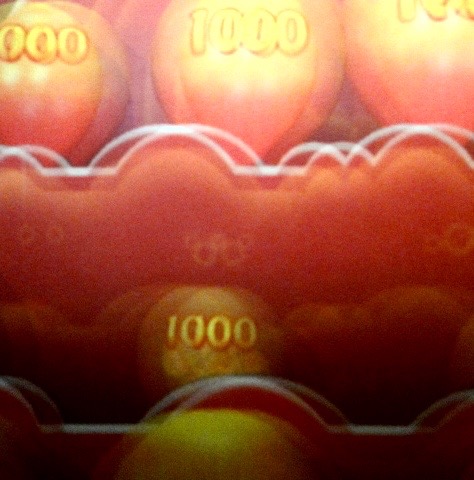 Now look for the screen with moving white plates. At one point, a large front plate aligns with smaller plates behind it to form a classic Mickey. (Thanks to Rosemary and Neil [FindingMickey.com]).

Mosey over to Goofy's Sky School. Along the standby entrance queue, check the walls for cork bulletin boards. On the first board, three round impressions in the cork form a classic Mickey. It's tilted to the right, and it's at the right lower side of the upside-down note that says, "Notice to Appear."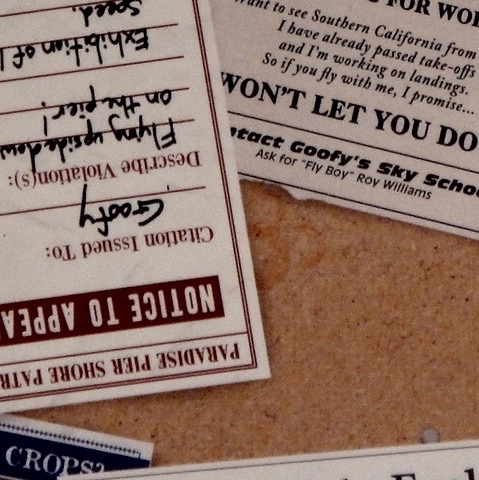 A similar classic Hidden Mickey made of impressions is on the second bulletin board on another wall along the queue line. This one is tilted to the left and is partially covered by the left side of a handwritten letter that says "Dear Teach." Look above the right upper corner of a note that reads "I Fix Planes!" to spot it. (Thanks to Jasmine Martinez, Rosemary and Neil [FindingMickey.com], and Sam Vanderspek).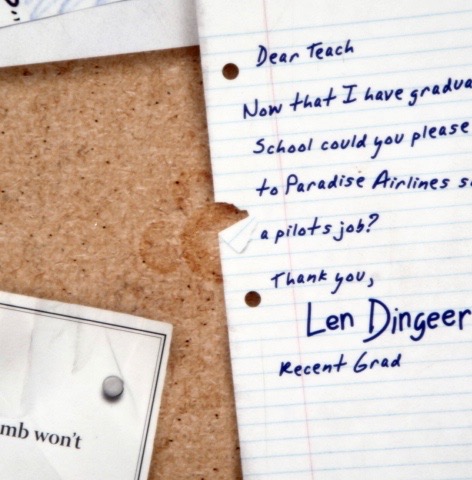 Always study Disney shops for hidden images! At the Seaside Souvenirs shop, one or more Mickey balloons is painted high on the walls behind merchandise shelves. Also, two brown Nautilus submarines are in these murals behind the shelves. ("Nautilus" is the submarine, commanded by Captain Nemo, in Jules Verne's novel Twenty Thousand Leagues Under the Sea.) (Thanks to John Martinez).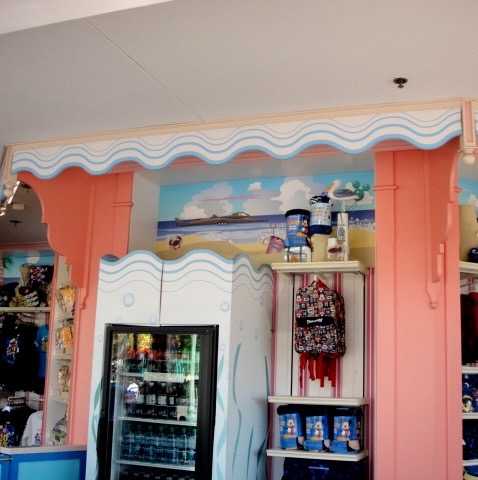 Happy Hunting!
Looking for more Hidden Mickeys? Have one to report? Visit Steve's website at: http://hiddenmickeyguy.com/