On Saturday, SeaWorld will be honoring some very important animals, and park guests are invited to share in the celebration. Although these particular animals are not ones that will perform in the theme park's shows or serve as company ambassadors, their specialized training has prepared them for equally challenging and rewarding roles.
The Southeast Region of Canine Companions for Independence will be hosting its Puppy Matriculation Ceremony at SeaWorld Orlando's Nautilus Theatre at 11 a.m. Saturday, May 16. Teams of 14 graduates and their new assistance dogs will graduate in front of their puppy raisers, instructors, volunteers, and Canine Companions staff members and graduates. But SeaWorld guests are also welcome to attend the ceremony, as well.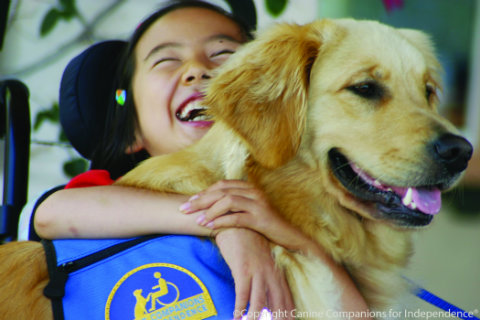 Graduation marks the end of an assistance dog's professional training and the beginning of a partnership between a human in need and a canine that will provide service and companionship. The organization says these dogs are expected to 'provide emotional support to children in the courtroom settings, will help special education children in schools, will turn the child in a wheelchair into the cool kid and will give independence to adults so they can live on their own.'
The Southeast Region of Canine Companions for Independence was established in 1989. Its regional training center, which serves the states of Florida, Georgia, Tennessee, North Carolina, South Carolina, Mississippi, Alabama and Louisiana, is located in Orlando. SeaWorld's $1 million donation allowed the state-of-the-art facility to open in 2000.
Canine Companions for Independence has placed more than 4,680 assistance dogs with program graduates during the last 40 years. Graduation celebrations are taking place across the country this weekend. Those who would like to watch the graduation ceremonies but who cannot attend in person can view them on CCI's website, where they will be live streamed.
To achieve its mission, Canine Companions for Independence hosts fundraising events –called DogFest Walk 'n Roll — throughout the year in different cities. Orlando's event is on Nov. 21 at Lake Lily in Maitland. Owners and their canines are invited to register now for the community dog walk and find out how they can support the organization with fundraising, sponsorships and donations.