New York Times best-selling author Ridley Pearson visited his home-away-from-home — Walt Disney World — this week to launch a book tour promoting his newest novel in the popular "Kingdom Keepers" series. Although the original series of seven books set in the Disney Parks and on Disney Cruise Line ships wrapped up last year, Pearson is writing a trilogy of sequels under the name "The Return." The first, "Disney Lands" was made available early to theme-park guests who attended two book signings at the resort.
During his time at Walt Disney World this week, Pearson sat down with my children and I to discuss his latest work. My 12-year-old son is an avid Kingdom Keepers reader, and my 10-year-old daughter just started discovering the adventures for herself, so we had plenty of questions for the author.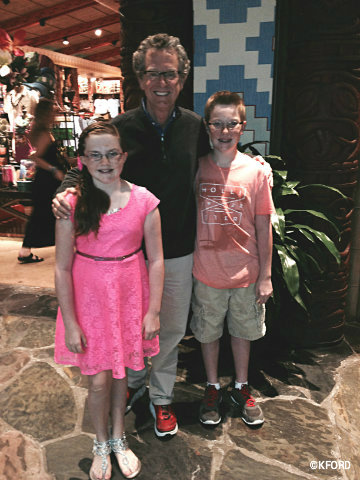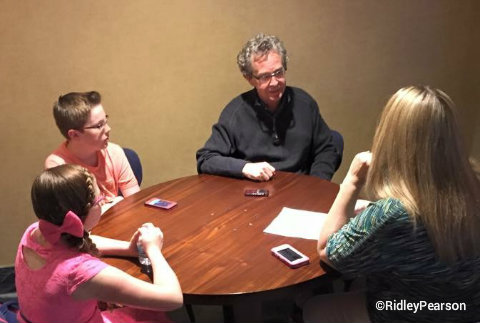 Question: How did you decide the premise for this next trilogy in the Kingdom Keeper series?
Answer: For "The Return," the challenge for me as a writer was to not write the same book and just put a different title on it. "¦ I'm fascinated with the idea of something between employment and internship with the super creative young people that Disney runs into, which would take the shape of an Imagineering school. I wanted to write a series about the Imagineering school, so "The Syndrome" leads you into Imagineering school and "The Return" picks up there. And it happened that I was still dragging my feet not knowing where the conflict would come from. I got an email from a 10-year-old reader, and he said, "What if one night Finn got on the King Arthur carousel and when he got off, things were totally different?" And I said, "Well, there's the series!"
Q: Although society's increasing dependency on technology is an underlying theme in "The Return," the trilogy really focuses on another subject. Tell us about that.
A: Clearly, the trilogy is more about the backstory of The Overtakers. Who is responsible? Are the villains themselves responsible? Is there a human behind it? If there is, how does that relate to Barracks 14 and the Fairlies? As we dug into that more in the Kingdom Keepers series and we discovered that there was a divide even among The Overtakers, how did that come to be? Why are Maleficent and Ursula in two different camps of the same villainy. Wouldn't they be stronger if they were united and probably have more power if they were united? Clearly, in the Kingdom Keepers series, they represent two different sides of the same dark side. That will be fully explored in this trilogy. I hope that this trilogy will become this massive "a-ha" for KK readers. I've been working on this stuff since the second book and I sort of waited 8 years [for the reveal]. It's a culmination of a lot of outlining and work and seeding.
Q: One of the really special things about the Kingdom Keepers books is that you describe parts of the Disney Parks and Disney Cruise Line ships that most people don't see. What behind-the-scenes research did you do for "The Return: Disney Lands"?
A: In "The Return," there is a mixture of Disneyland past and present. And, creatively, I really wanted to look at where Disney started and where they have evolved to. "The Return" series, I hope, will accomplish that in a lot of ways.
I've been to the [Walt] Disney Archives multiple times. Anything you do at the Archives is unusual. They let me have access "¦ Walt was prescient enough to have stenographers in every meeting and there are photos of the carbon copy pages of all those meetings in the archives. You get to go into these loose-leaf notebooks and listen to Walt talking to all the creative people behind all of the amazing animated films and the park and everything else. That was remarkable insight they've given me.
They brought out the original book in the fairytale animated films that they turn [the pages of] when they say, "Once upon a time"¦" With white gloves, they turned them for me just the way they were turned in the films.
I've been upstairs in the property side of it with [Disney archivist] Kevin Kern and handled all these amazing artifacts from the films. The biggest goosebump moment was walking through the archives at one point and [Walt Disney archives director] Becky [Cline] stopped me and grabbed me by the arm and said, "Look!" There were Dave Barry's and my books on shelves in the archives. It never occurred to me that Disney would bother to archive my books, but they archive everything Disney. I'm going to be there forever. I about cried. And they've got all the scripts from "Peter and The Starcatchers." It was just remarkable. I'm just a little footnote of Disney history in there. It gave me goosebumps.
Inside the parks: I was inside Walt's apartment, which I've been in multiple times now, and I had a little plot séance in there. I was just stuck on this plot piece and I asked to just be left alone and I just sat on the floor in there, and it all filled in. It just sort of solved itself.
I've been inside the Dream Suite out there and that's been incredible. I've been inside the train complex and inside Lilly Belle where she's parked, so I've had some terrific experiences, but not like maybe going down the utilador. There is no utilador out there, but I've found tunnels and things left over from old rides. I've been up in the sky lift station that is off limits. It was crumbling and old and there were words written up there. You know that's The Overtakers' hangout in the seventh book.
I've done some really fun stuff [at Disneyland] but nothing like seeing the dolls move in [it's a] small world. I was on the ride after dark with no music and no movement. The dolls were frozen, looking really scary, and you could hear the boat – creak, creak, creak, splash, splash, splash – and out of the corner of my eye, I saw two of the dolls step forward. I literally jumped! I was with an Imagineer and I said, "Did you see that?" And he said, "Don't be silly. It's turned off. You didn't see anything." Well, multiple people have seen this happen, so it turned out I wasn't the only one. It sure freaked me out.
Q: Have you started writing the second book in the new Kingdom Keepers trilogy? Will fans again be invited to write segments through specific challenges?
A: Yes, I have started "Disney Divides," and I hope so. We did that with the first book, and they wrote some of the quotations that go throughout the book. They were brilliant. I actually had to vet these because I wasn't sure people hadn't borrowed these quotes. They were so wise and spot on. I worked with Colloquy Books to do this and I kept saying, "Are you sure these weren't plagiarized off the Internet somewhere?" And they said they were all original and they were wonderful. So I hope to do something like that. I love working with the Insiders. It could start up pretty soon now that I'm writing and I've outlined the whole thing. We would have a better idea of what to ask for.
Q: We noticed the cover art has changed between editions of the first book. Why? And do you help come up with the art ideas for the book?
A: Disney does the covers for the books, and they did an old woodblock cover for the first edition of the first book that I loved. But they didn't like it, ultimately, so they changed that look. I wish the whole series had had that look. And then we had what they call a second pass, so they published all the books under a different look. And they were nice enough to listen to some changes that I would prefer. I really wanted to bring the villains' eyes out, so the third and final look to the books are the villains' eyes with the kids running and doing different things. I still hope for one more pass I'd love to get the kids off [the cover] so it's just the eyes and a piece of the park. I think "The Return" cover is amazing and I doubt we'll ever change those at all.
Q: What is your favorite book that you have written?
A: I think the first Kingdom Keepers book will always be an iconic book for me, just the way I love Magic Kingdom because it's iconic and it started it all. My favorite book by far is "The Return," and I had the most fun I've ever had writing "The Syndrome" because I got to write from inside Jess's thoughts and inside Amanda's thoughts and inside Mattie's thoughts. I love Amanda, so to be able to be Amanda for several months is an amazing experience for me and I hope to do more of that.
Q: But what about Finn?
A: Oh, I love Finn. Finn is me, really. I'm a combination of Philby and Finn.
"The Return: Disney Lands" goes on sale on March 31. "The Syndrome" already is available.