I am still an old photographer when it comes to the new age of Social Media. I often forget when I am photographing at Walt Disney World or some other fun destination to take pictures with the various cover images in mind. On my last trip, I made it a point to find locations or subjects suitable for the Social Media world.
As an example, when I was on Disney's Kilimanjaro Safari and the driver stopped for a few minutes near a few browsing Reticulated Giraffes, I took the opportunity to compose a photo so I could crop it later for either my FaceBook, Twitter or Google+ profile profile pages. Here is the resulting crop.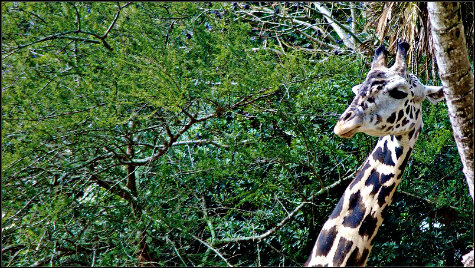 Reticulated Giraffe photographed on Disney's Kilimanjaro Safari.
Nikon D7100/24-120VR, 1/500s, f/4, ISO 160, EV +0.3, 120mm focal length, cropped.
These Social Media services sometimes change the sizes for their cover images so I will not give it out here. Check their support pages to verify current image sizes. If you go to my FaceBook page today, this is how it looks or looked with the giraffe:
The author's FaceBook page is it appeared with the Giraffe from Disney's Animal Kingdom
FaceBook's cover photo is a good size. My personal blog is a bit harder. The header photo is 940 pixels wide by 198 pixels tall. A tricky size to work with. I used a wide angle lens around the parks and kept interesting subjects along the bottom third of the photos. I looked for subjects which would cover the entire length of the image in the viewfinder. This view of the Rivers of America from the Frontierland boardwalk did just that. Pictured is Harper's Mill on Tom Sawyer Island with the Haunted Mansion and Liberty Belle riverboat in Liberty Square.

View of Tom Sawyer Island and Liberty Square.
Nikon D7100/Tokina 11-16mm, 1/60s, f/16, ISO 200, EV +0.3, 11mm focal length, cropped.
While I am late to the party, I keep Social Media sites in mind when traveling with my camera.