Everything is matchy-matchy, themed, and ensembleized (new word) at Disneyland Resort and Walt Disney World. It's like each land is wearing Garanimals (way before my time). But that's what we love, that extreme attention to detail that assists in transporting us to another place where lunch isn't timed and the only dress code is wear clothes.
Signs are designed to co-ordinate with architecture, attractions, or just to stand out. They give us instructions, offer pricing for food, and most importantly, tell us where we are.
Want to photograph something that could change or disappear over time? Take pictures of signs.

Disney's Hollywood Studios hosts a meet and greet with Lightning McQueen and Tow Mater near Streets of America. Alas, Luigi doesn't make appearances.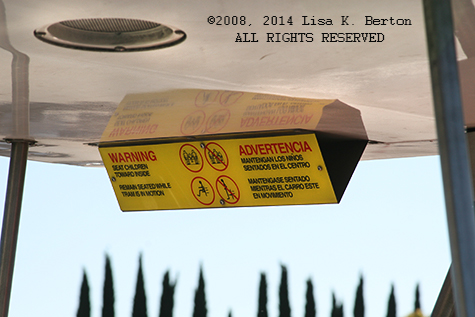 Safety is important. On the Disneyland Resort tram, signage can be found above your head.

Don't mess with pigs, they're snout right.

Crocs Bits 'n Bites closed years ago. I'm still sad about it. Not familiar with this eatery? Disneyland Hotel.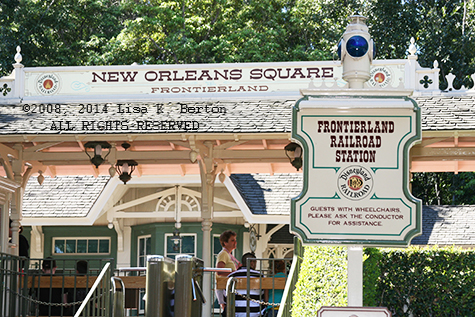 Trains, trains, trains, trains. Woo woo.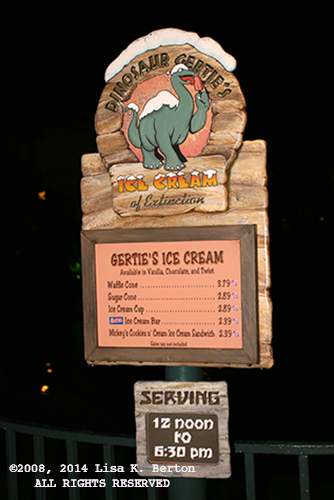 Menu signs will really strike a chord. Current prices: Waffle Cone $3.99, Ice Cream Cup $3.49, Mickey's Premium Ice Cream Bar $3.49, Mickey's Cookies n Cream Ice Cream Sandwich $3.49
Come on over and "Like" my Facebook page or follow me on Twitter, my handle is lisano1.