The Disney Animation Building in Disney's California Adventure is a must for the Disney fan. When I was there last fall, it was not a very busy place especially soon after park opening. I virtually had the place to myself.
Upon entering the building, you are presented with a large room with big screens showing scenes from one of many Disney animated classics. This is the Courtyard Gallery.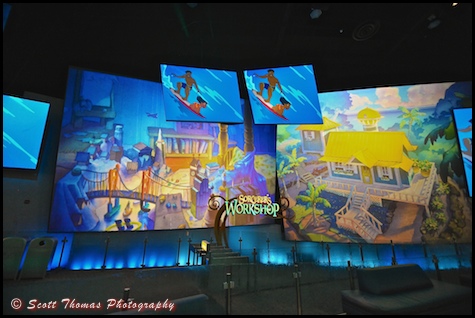 The Courtyeard Gallery inside the Disney Animation Building.
Nikon D700/Tokina 11-16mm, 1/60s, f/2.8, ISO 3200, EV +0.3, 15mm focal length.
As you can see, this is were people enter into the Sorcerer's Workshop. Since there was no one waiting in the queue. I decided to explore it first. The first chamber is full of interactive displays in how animation was first done. Lots of spinning things here to delight the animation history buff. As I was having fun enjoying the displays, I heard a familiar voice and turned around to see the Magic Mirror addressing the room.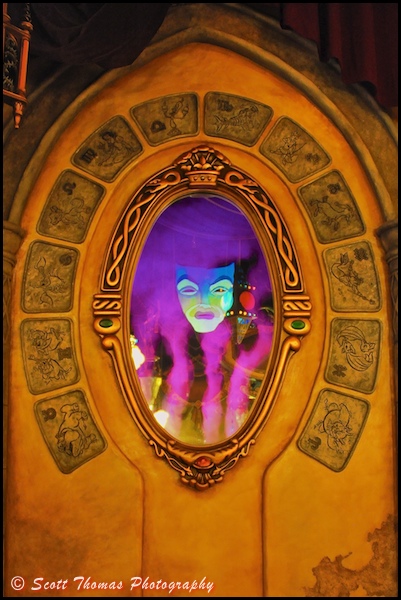 The Magic Mirror from Snow White in The Sorcerer's Workshop.
Nikon D700/28-300VR, 1/15s, f/3.5, ISO 4500, EV +0.3, 32mm focal length.
After doing a few voice overs in Ursula's Grotto, we entered the enchanted library of the Beast. In the Beast's Library magical books will tell you which Disney character you are most like and the room changes from the eerie past to the bright future complete with special effects.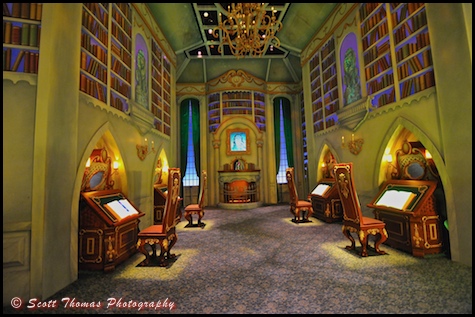 The Beast's Library inside the Disney Animation Building.
Nikon D700/Tokina 11-16mm, 1/15s, f/2.8, ISO 5600, EV +0.3, 16mm focal length.
Before you leave the Disney Animation Building, seek out the 3-D Toy Story Zoetrope. A zoetrope is a device that produces the illusion of motion from a rapid succession of static pictures. For 3-D, Disney used small statues. When seen in person and at the proper speed, you see Woody and the gang moving in real space. Knowing how static that would look in a still image, I used a slow shutter speed to show you have fast the zoetrope was moving.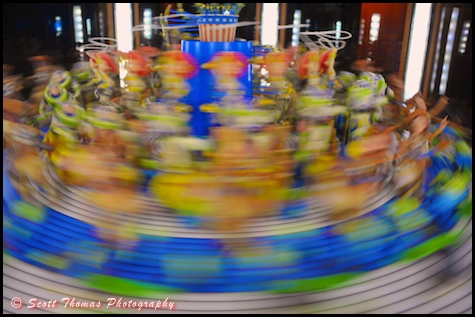 3-D Toy Story Zoetrop in motion.
Nikon D700/28-300VR, 1/15s, f/3.5, ISO 800, EV +0.3, 28mm focal length.
This is only one part of the Disney Animation Building experience. A hidden gem found in Hollywoodland.