Prime Epcot

As veterans of many trips to Walt Disney World, Lisa and I have often said to always look up and down when visiting the resort. Most of the time you will find wonderful details and even a Hidden Mickey. You may discover a composition you never noticed before. In reviewing photos from my last couple of trips, I came upon these photos which were taken in different parks and at different times but have similar properties.
The first was taken as I walked from Japan to Morocco late in the day. I noticed the low Sun angle was giving the Hotel du Canada of the Canadian pavilion in Epcot's World Showcase a nice golden glow. I decided to crop the photo leaving out any indication of the people and lamps at the bottom of the original photo. I wanted people to see the beauty of the Hotel du Canada framed between green trees and a cloudy sky.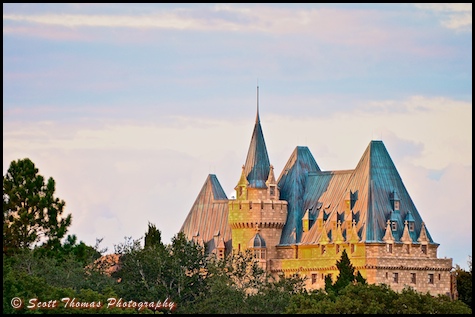 Late afternoon sunshine illuminates the Hotel du Canada.
Nikon D700/28-300VR, 1/125s, f/5.6, ISO 1100, EV +0.3, 300mm focal length.
While walking the bridge between the entrance to Adventureland and Liberty Square in the Magic Kingdom late at night, I looked up at the spires of Cinderella Castle illuminated above the trees. Not seeing the entire castle created a new composition for me.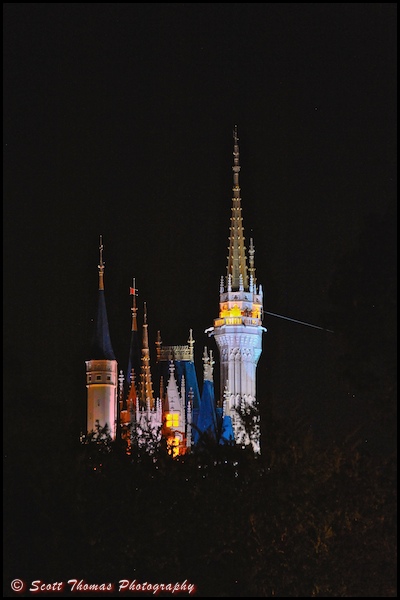 The Spires of Cinderella Castle illuminated at night.
Nikon D700/28-300VR, 1/13s, f/5.6, ISO 5600, EV 0, 200mm focal length.
While I often do not mind including people and other elements in my Walt Disney World photographs, I liked how I cropped or composed these two photos to eliminate any distracting elements.