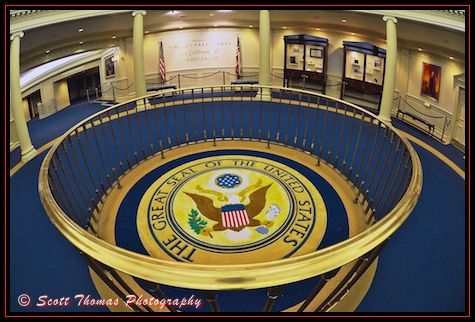 Fisheye view of the lobby inside the Hall of Presidents.
Nikon D700/Sigma 15mm, 1/6s, f/8, ISO 200, EV 0.
The above photo took two years to get it right. The first time I attempted this photo, I did not notice the release cable was in the corner of the frame. The railing surrounding The Great Seal of the United States confounded any skill I had in removing the cable without ruining the image. Last December, when I again visited the Hall of Presidents in the Magic Kingdom, I had my new Fisheye lens which captured even more of the lobby than the wide angle lens I used previously. As luck with have it, the last show of the night was about to start. I waited for everyone to exit the lobby and took this photo.
A patriotic scene for the Disney Pic of the Week for the Magic Kingdom.