This year the annual Disney Trade Celebration is called "13 – Reflections of Evil"
It starts on Friday the 13th (spooky) this September.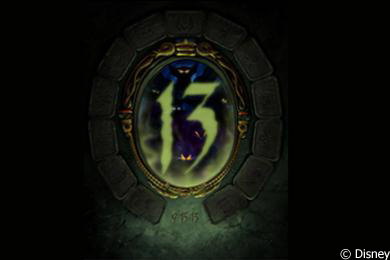 There are several changes to the event and to event procedures this year that I will go in detail about below. But the one change that has put me in conflict is that one of the pin collections actually started at last year's event. In 2012, while we were lined up on Saturday morning waiting to enter World ShowPlace, a cast member came along and gave everyone a wristband. We didn't know what it was for but we were told to make sure we were in the building at 1 o'clock. As it turned out, when the Event organizers announced the 2013 event each wrist band recipient was allowed to purchase the first in a series of 13 pins. Each month from September 2012 to September 2013 a different pin would be released. Each monthly pin has a Villain on it and is limited to 750.
This is where the conflict for me comes in! Due to my CCD (Collector Compulsive Disorder) when there is a collection involved, I can't just go with a few of the series, I have to have all – or nothing. I left the event last year with my mind made up that I didn't want this set of pins; I am not a Villain fan; I don't collect bad guy pins; the Evil Queen scares me; it would be too hard to get every month's pin . . . and so on.
Well one thing led to another and with the help of friends who have either visited WDW, a friend who lives close by WDW, and my couple of trips down since the event, I have all the pins that have been released – with the exception of 2. My conflict is – 1) Do I really want them? or 2) Have I just collected them because I could? Should I take them with me to the event and try to complete the collection (I have 2 doubles to use as traders) or do I use them to trade for pins that I actually collect. Nice pins like Pluto and Daisy and Orange Bird, not the nasty mean villains.
Another change this year is in the event packages. In previous years you signed up and paid for the pin portion of the event that was held Friday and Saturday and you signed up for the Vinylmation portion that was held on Sunday. This year when they announced the event package information, the pin portion was split into two separate packages. If you read closely, the Friday event included "limited" in the wording. Registration for these packages opened up on the 13th hour of the 13th day of May. I had my alarm set; my calendar marked and had warned family and friends to stand clear when the time came to register. I got into the online registration system at about 1:15 p.m. and signed up for everything. I was in and I had confirmation numbers for all three days as well as the two special breakfasts. I have heard that the Friday "limited" Club 13 Event Package sold out in less than an hour, and since then all of the other packages, with the exception of the Sunday Vinylmation package, have sold out.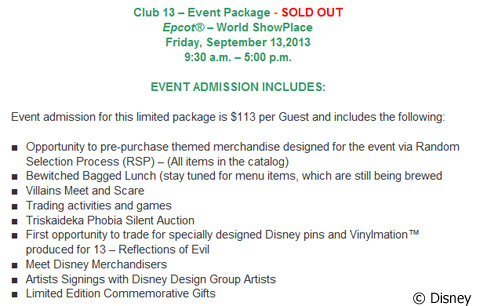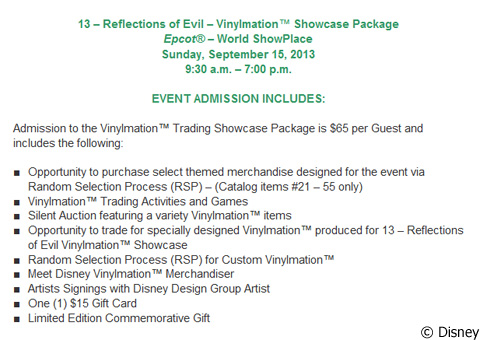 Another big change from previous years is the closing time. The events always started at 9:30 a.m. but they were over at 6:00 p.m., this year the closing time has been extended to 7:00 p.m.
The RSP (Random Selection Process) had changed this year. Instead of submitting one RSP that included all of your merchandise selections, the merchandise is divided into 3 categories. "Pin Trading", "Art & Collection" and "Vinylmation Trading" are the categories and depending on what event package you have purchased, you have different selection options.
New for this year is the "Purchase with Purchase" opportunity; this can be added to the end of your RSP form.
The 2013 event is shaping up to be a really villainous good time. I am so excited to be going! Many of my pins trading friends are going to be there and we have lots of interesting plans in the works. I have my flights booked, my pin bag organized and ready. My Vinylmation traders are sorted and my RSP has been submitted. The only thing left is the big decision, do I or do I not try to complete the 13 Evil Pins collection? I'll let you know the answer when I get back from the event!
While you wait for my blog about the 2013 event why don't you read a few of my previous trading blogs. Here are a few links:
The Museum of PIN-TIQUITIES – 2009
See you again in September!