Following the popularity of wedding dresses inspired by the Disney Princesses, a new collection of special-occasion gowns that hint at royalty has been developed for girls celebrating their 15th birthdays. The Disney Royal Ball Quinceañera Dress Collection debuted this week from Disney Consumer Products and Ashdon Inc.
Similar to a "Sweet 16," a quinceañera is a coming-of-age celebration for Latina girls. It often includes a religious ceremony and a lavish reception with family and friends. During the party, the birthday girl dances a waltz with her father and changes from flat shoes to high heels to signify the transition to womanhood.
"The Disney Royal Ball collection is designed to create a royal statement and a lifetime of memories," said Nick Yeh, CEO of Ashdon Brands, in a press release. "The gowns are fun to wear and fit wonderfully into traditionally festive environments, providing a magnificent and special way for Quince girls to realize their very own princess-inspired dreams."
The debut line features 21 gowns – two styles for each Disney Princess and a special new gown, "la Corona de la Princesa," that will be added to the line each year. Girls can pick from designs that represent the personalities of Ariel, Belle, Cinderella, Jasmine, Mulan, Pocahontas, Rapunzel, Sleeping Beauty, Snow White and Tiana. Disney's newest princess, Merida from "Brave," does not yet have her own quinceañera gown.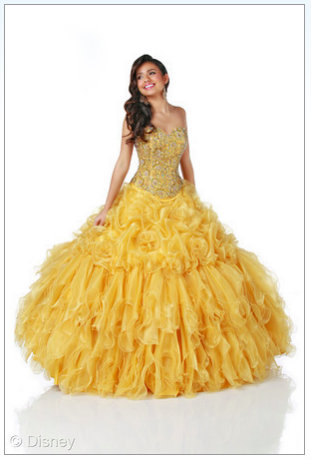 Belle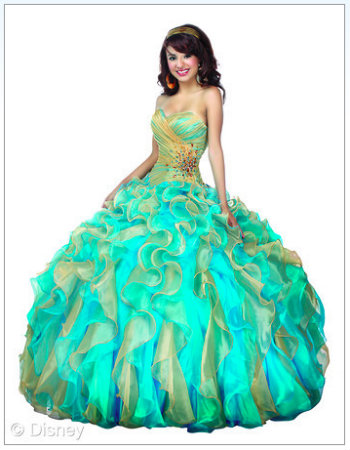 Pocahontas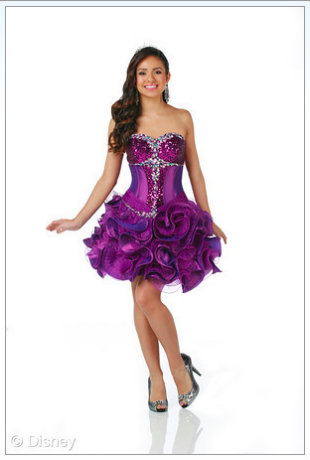 Rapunzel
The Disney Royal Ball Quinceañera Dress Collection is available at specialty and formal-wear retailers in the United States and Canada. The dresses come in a range of colors in sizes 0-20 and are priced from $530 to $999. To see all the gowns, view the photo gallery.
In 2007, Walt Disney World added quinceañera parties to its booming party-planning business. Associates at Disney's Catered Events create custom celebrations for these milestone birthdays, which can be just as over-the-top as Disney weddings with Cinderella's glass coach and footmen, a tiered cake and character appearances.
Base pricing starts with a per-person charge for the venue, plated meal with cake, and background music. These fees begin at $85 per person. Enhancing the decor, food, music or more increases the cost, of course.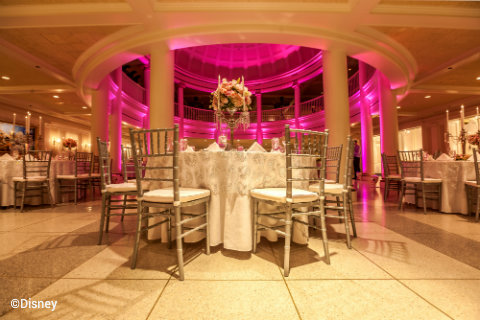 The venues for the balls so far have been Grand Floridian Resort and Spa, Boardwalk Inn & Villas, Yacht & Beach Club Resort, Contemporary Resort, Coronado Springs Resort and the American Adventure Rotunda at Epcot. Guests certainly are not limited to these locations, however. Event planners work with the guests to design dessert parties, private viewings of theme-park fireworks or other special occasions. If you can dream it, Disney planners will do their best to make it happen.
Guests can begin planning a quinceañera at Disneyland by calling 714-520-7072 or at Walt Disney World Resort by calling 321-939-4648.
Through June 7, QuinceañerasMagazine.com is hosting La Corona De La Princesa sweepstakes, offering one reader the chance to win the Disney Royal Ball Quinceañera gown of their choice, a VIP weekend trip for two to Southern California, a $1,000 cash prize and more. The top 10 finalists will receive a Disney Royal Ball Quinceañera gown of their choice and a subscription to Quinceañeras Magazine. For contest details visit quinceanerasmagazine.com/articles/la-corona-de-la-princesa.