Today's article contains another collection of unrelated odds and ends. Enjoy.
So You Want to be an Imagineer
Over the years, I have received a number of letters from readers asking me for advice on how to become an Imagineer. First, I am not, nor have I ever been an Imagineer. Therefore, I cannot share any personal insight with you. But I do know several current and former Imagineers and I can impart some of what they've shared with me. So here goes.
First and foremost, STAY IN SCHOOL. Get a college degree. It would be helpful if the degree was in a field you'd like to pursue in life, but any degree is better than no degree. Without a college degree, your chances of becoming an Imagineer today are practically nil unless you have a VERY unique talent that Disney finds essential.
Computer skills are very helpful.
Imagineering is not a training ground. Everyone that is hired into these positions either has had some applicable prior experience elsewhere or comes with their own sought-after skill set.
Disney has its own unique business philosophy and its own way of doing things. This is not always compatible with everyone. Many become frustrated when they find Disney's philosophies not matching their own.
Disney likes to promote from within. The four Imagineers I know all worked at Disneyland with me in the 1970's. This put them in the right place at the right time. Epcot and Tokyo Disneyland were in the works and the Imagineering department was expanding. These individuals all had marketable skills and came into contact with people who could help them. Like so many jobs in the real world, it's who you know that gets you promoted. That's not to say that you must work at Disneyland or Walt Disney World to become an Imagineer, but it can't hurt either.
So how did these ordinary cast members prepare to be Imagineers? Joe (not his real name) took creative writing in school. He even wrote a book and had it published. My friend Jim (also not his real name) studied film and animation. For a class project, Jim created a one-minute, hand-drawn animated piece (this was long before computer animation). Joe and Jim were both able to graphically display their talents to their Disneyland supervisors and then at interviews to become Imagineers.
The vast majority of Imagineering positions are located in Southern California. Is this where you want to live?
Okay, this next part is VERY important.
Many of us have been to D23 conventions and seen Imagineers onstage, telling us all about their dream jobs. They laugh, joke, tell stories, and make us believe that every moment at work is magical. And I'm sure they have a lot of fun on the job. But they also work very hard and often, very long hours – sometimes in the middle of the night when testing a new ride, shop, or restaurant.
I would bet that most of you who dream of becoming an Imagineer imagine yourself as a show designer. You picture yourself planning the next, fantastic attraction slated to "wow" millions with your creativity. But this segment of the department is just a small part of the total team. Most Imagineers are unsung heroes. These include audio engineers, graphic designers, and lighting technicians just to name a few. One of my Imagineer friends was an Inventory Coordinator. He was charged with creating a tracking system that would handle and identify the shipping of all Disney-provided items and their movement from the West Coast to East Coast. Jessie (once again, not his real name) loved this job and excelled at it. But Jessie's Imagineering job was behind-the-scenes. You would never see an Inventory Manager at a D23 convention, laughing and joking with the audience.
I am in no way trying to discourage any of you from becoming an Imagineer. This is a fantastic dream – one worth working for. I just want to make sure you have realistic expectations. It's like those who want to be a professional actor. If you make it, you're on top of the world. But it's best to have a backup plan as well.
Best of luck to all of you.
Dirt & Water
Because of new "green" regulations, Disney cannot fill in (decrease in size) any portion of a lake, creek, or canal on their property without creating an equal area of new water someplace else. For example, construction of the new Grand Floridian DVC created the need to extend usable land out into Seven Seas Lagoon.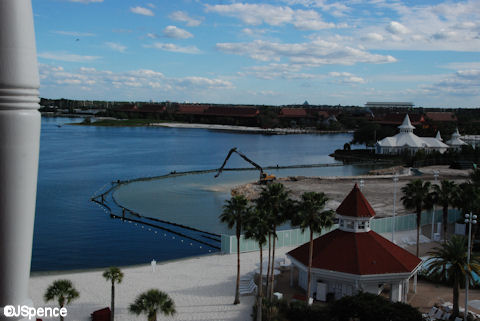 To compensate for this encroachment, engineers increased the size of Bay Lake in an area located between the Contemporary and Wilderness Lodge Resorts. Take a look.
It's All in the Details
As we know, Disney Imagineers are the "Kings of Detailing." Storytelling is everything to them, right down to the tiniest element. But sometimes details pop up in the most unusual spots. Take for instance the construction wall that currently circles the Seven Dwarfs Mine Train Ride found in Fantasyland.
An 8'x4′ piece of plywood is pretty boring. So Disney spruces things up with some simple flourishes suitable to the surroundings. Now instead of calling this wall ugly, we can call it acceptable.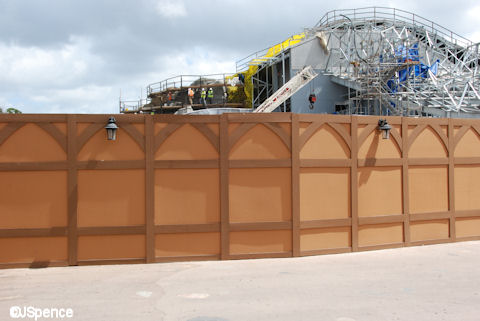 Disney surprised me with the construction of this new attraction. Normally, they don't want the public to see any "behind the scenes" work when building a new ride or attraction. But in this case, they have created a couple of peek holes in the construction wall and given them a "Seven Dwarfs" theme. In the pictures below, we find ourselves at the entrance of a boarded-up mine. Between the slats we get a glimpse of what's taking place on the other side of this fence.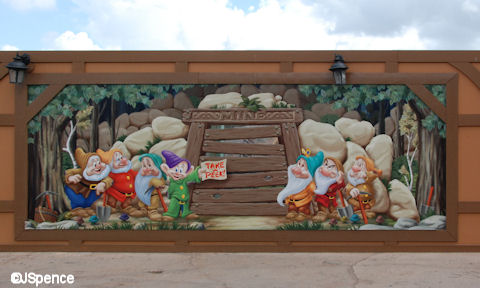 I think what I have to share next shows great creativity on the Imagineers' part.
Three large "billboards" have been placed along the construction wall, each near a Fantasyland attraction.
The billboard near Dumbo features Sneezy about to sneeze. Dopey is aggravating the matter by holding Dumbo's magic feather beneath Sneezy's nose.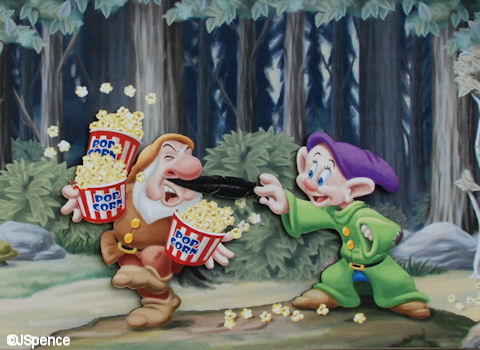 Across from the Mad Tea Party we see Happy and Grumpy painting the roses red.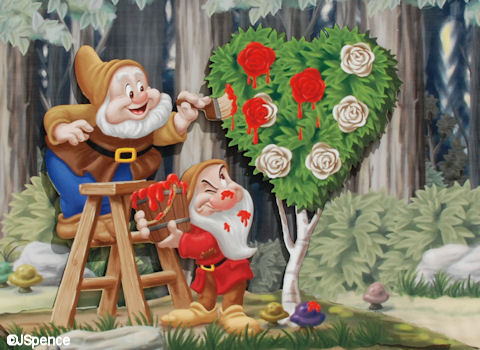 And finally near The Many Adventures of Winnie the Pooh we find Sleepy and Dopey enjoying some hunny.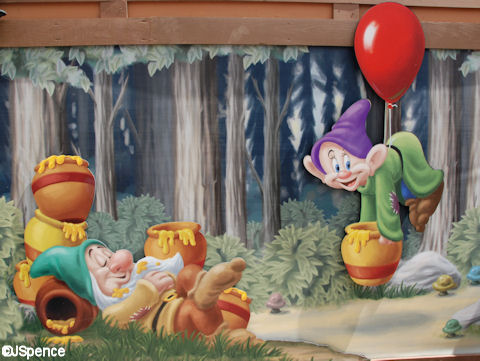 I love the amount of work that Disney went to just to make a temporary wall more attractive. My hat's off to you.
White Powder Alert
The following is not a joke. This is true.
We all love our vacations at Disney World and the other Disney resorts around the world. We treasure our time in the parks and hotels. And when our holiday comes to an end, we desperately wish we could stay a few days longer. The moment we get home, we start planning our next trip to these magical places.
Many of us secretly wish we could live at Walt Disney World if there was just some way to swing it. I know I've fantasized that I discover my parents had purchased land in Central Florida years before Disney began buying property here. And by some quirk of fate, Disney missed this parcel and now I'm the legal owner of the ground beneath Thunder Mountain or Spaceship Earth. This of course would give me great bargaining power. I could leverage this situation to my advantage. I could demand that Disney convert the suite in Cinderella Castle into my own, personal home. Or I could take up permanent residence in a suite at the Grand Floridian. It's a wonderful fantasy, but of course, this isn't going to happen. Sigh.
But wait, there is still the lottery. I could play Power Ball and win $200M. This would allow me to buy my way into permanent residency at WDW. But alas, Disney has this covered. Disney limits the amount of DVC points any one individual can buy. And even if you bought points for all your family members to cover a full year, Disney requires guests change rooms after several weeks. The same is true with a standard hotel room. Disney caps length of stays. They do this because they don't want the ultra-rich to take up permanent residency at one of their resorts. (I'm dismissing Golden Oak in my fantasy because technically, it has been de-annexed from Disney.)
So I guess my dream of living at WDW is never going to happen. But wait, there is another way — and numerous individuals have already tried this – and here's how.
Warning, if you're queasy about the topic of death, stop reading now.
Many people, more than you would think, request that their loved ones bring their cremated ashes to WDW. Some ask to be sprinkled in the flowerbeds of their favorite resort, but a more popular final destination is Bay Lake. Family members rent a pontoon boat, sail to a quiet spot and hold a private memorial. After warm words are spoken, the loved one's remains are sprinkled over the water before a cast member riding in a Boston Whaler gets too near and puts a stop to the proceedings.
Of course, this is illegal. WDW is private property. You can't be depositing your loved one in Reedy Creek without Disney's consent – and they're not going to grant it. If you get caught, you're going to get in trouble.
The Haunted Mansion is a favorite attraction of many. It's a Disney classic. For most of us, it's a "must see" on every vacation. We never tire of the stretch room, the ballroom scene, and the singing busts.
The Haunted Mansion is also a favorite spot for those looking for a place to deposit their loved one's ashes. After all, the attraction is all about death and the afterlife. And if you pay attention, the Ghost Host practically begs you to come and stay here with the following lines:
"There are several prominent ghosts who have retired here from creepy old crypts all over the world. Actually, we have 999 happy haunts here, but there is room for a thousand. Any volunteers?
"White Powder Alert" is the term cast members use when it's discovered that someone has dumped their dear departed Uncle Hezekiah's ashes in the Haunted Mansion graveyard or some other location along the attraction's route. Guests figure there is already so much fake dust in the Haunted Mansion that no one will notice a little extra.
Remember folks, EVERY ride at WDW is monitored with cameras. Cast members are constantly watching you. You can't be misbehaving when riding on a Disney attraction. You especially can't be dumping your loved one over London on the Peter Pan attraction or in the burning of Rome scene in Spaceship Earth.
So what happens when a "White Powder Alert" is called? First, the attraction is evacuated of guests and closed. Then, cast members arrive dressed in protective clothing with vacuum cleaners and unceremoniously suck Uncle Hezekiah's ashes into a bag for later disposal. And even if you were able to conceal your activities from the cameras, all attractions are routinely cleaned. One way or another, Uncle Hezekiah is going to end up in a Hoover and eventually a landfill.
Of course, this is hardly what Uncle Hezekiah had in mind when he asked his family to scatter his ashes in the Haunted Mansion. But this is the reality of the situation. So folks, if it's your dream to spend eternity with Madam Leota and the gang, think again. It ain't gonna happen.