I have been on a years-long quest to find the perfect bag to carry at Walt Disney World, and I have carried dozens of styles during the past decade. I love my Disney Dooney & Bourke bags for everyday duty, but they just don't work for me when I'm at a theme park.
Like most women, I am picky about my preferences for a bag. For a day at a Disney park, my bag has to be big enough to fit some essentials from my regular purse — sunglasses, money and credit cards, lip gloss and medicine. In addition, I have to have room for my personal electronics: an iPhone, a rechargeable battery pack that charges my phone and the kids' iPods, and a small point-and-shoot camera. And I'd like to be able to find those things in my bag without it being so jam-packed that I have to dump out the contents to do so.
In addition, when I'm in the theme parks, I don't want to carry my bag in my hands or on my arms, which means it needs to be a backpack or similar to a messenger bag.
Last year, I hit upon the perfect style for my needs from Vera Bradley. The cross-body bag, called the Hipster, is slim yet roomy. Most importantly, it's the right size at 11 inches by 11 inches, and it comes with a 52-inch adjustable strap. Like all her products, the Hipster is machine washable, which is a definite plus after a day of traversing the parks, riding the attractions and enjoying the dining options — from juicy burgers in Tomorrowland to melting Mickey ice-cream bars in Fantasyland.
So, naturally, I was beyond excited to learn this week that Vera Bradley is partnering with Disney to create two colorful patterns inspired by Mickey Mouse and Minnie Mouse: Midnight with Mickey features the characters on a black background, and Just Mousing Around has a bright pink backdrop. The photo of the new patterns released by Disney shows — drumroll please — the Hipster! The Disney Parks Blog says the patterns also will be available on duffel bags, totes, cosmetic bags and more.
The bad part? We have to wait until fall to get our hands on these great new bags. They will be sold at Disney World, Disneyland and online at DisneyStore.com. Prices are expected to be comparable to other Vera Bradley bags of similar styles and regular Disney discounts will apply, according to Merchandise Communications Manager Steven Miller.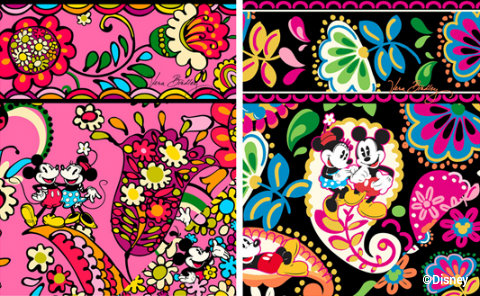 In the meantime, visitors at Epcot can see the new patterns up close at a display in the festival center of the Epcot International Flower and Garden Festival. The center is located between Mission: SPACE and Universe of Energy in Future World, and the festival runs through May 19.
Disney Cruise Line was the first Disney property to add Vera Bradley products to its retail shelves on the Disney Dream and Disney Fantasy. However, those patterns do not feature characters and are not exclusive to the ships, like the Disney Dooneys are.