*** Update – we finished this morning's half marathon in 2:32:58! Faster than we had planned, but we only stopped for one character photo because the lines were so long. We feel good – now we're resting up for tomorrow.
We arrived in Orlando Thursday evening and headed straight to the Expo from the airport. We'd been seeing Tweets and Facebook posts from our teammates all day about the Expo, and how they had been able to register for the new Dumbo Double Dare – the 10K and half marathon race pair at Disneyland over Labor Day weekend. Another chance to earn three medals by running two races! Registration doesn't officially open up until January 22, but we wanted to make sure that we got in. Lots of fellow Team AllEars people will be there, too.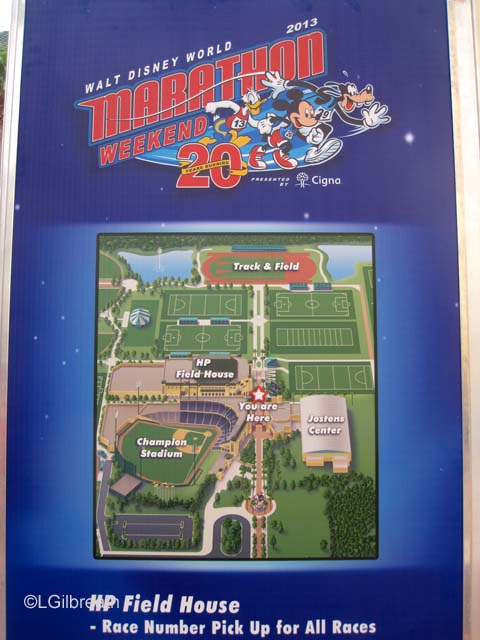 The Expo closed at 7:00, and we arrived on the floor at about 5:50 where we went straight to the runDisney booth to sign up for Dumbo. The line wasn't too long (compared to reports we'd seen earlier in the day), but it still took half an hour.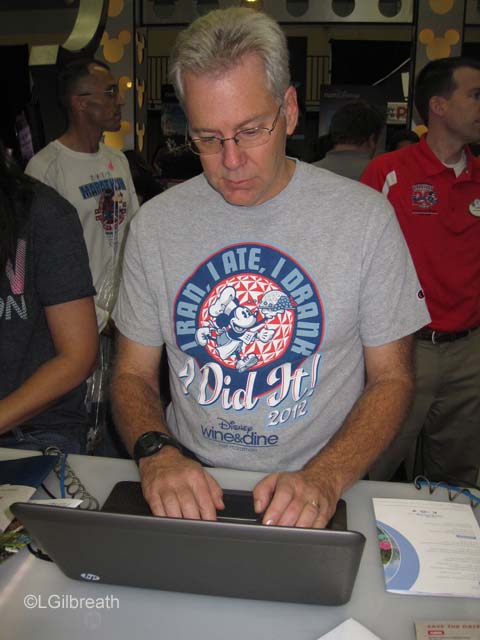 And then we went over to the Field House (different building) to actually pick up our race packet and bib number. No lines there, and lots of very helpful and friendly volunteers. Like last year, those of us doing Goofy only get one bib and not two – which means we have to re-use our kind of icky bib on marathon day, too. I don't really understand that…it would still be easy to give Goofy runners distinct (but separate) half marathon and full marathon bibs. Lee suggested it's because of the RFID timing chip on the back.
Then we went back over to the Expo to pick up our goodie bags, containing our three shirts and some other things. In this photo is the race program, a "20" button, and a set of 2013 Walt Disney World MARATHON shoelaces. For some reason I received three shoelaces rather than two. 🙂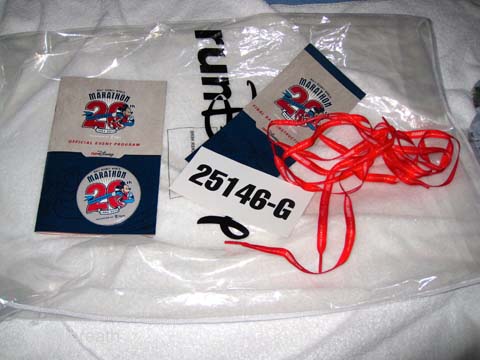 The shirts are the usual long-sleeve Champion tech shirts. Lee thinks the fabric is a lighter weight this year, but it feels the same to me. I don't like the sleeves – I have to get an extra-small so that I don't swim in the shirt, but then the sleeves are too tight.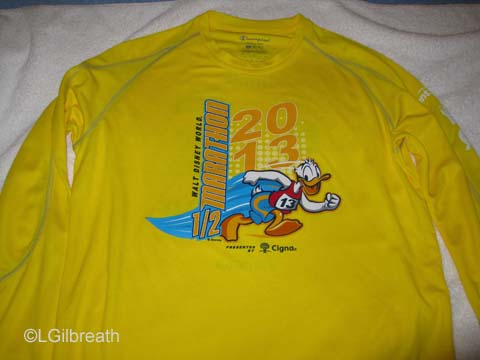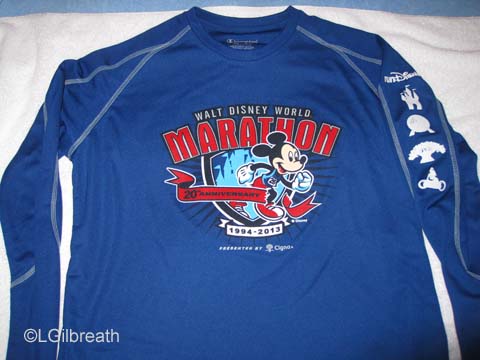 I really wish they would offer a choice of unisex or women's style shirts like they do for the Princess and Tinker Bell (and other races, too).
We had about 10 minutes to shop in the "official merchandise" section. I was disappointed that there wasn't much of a selection of Goofy shirts – I would've liked a short-sleeve cotton t-shirt, but they were almost all tech shirts – and the one cotton shirt only had XLs left. They did have a women's short sleeve version of the "I did it" shirt in cotton, but it was *pink*. No way. The unisex version was a long-sleeve cotton shirt, so we both got that and I'll cut the sleeves down. 🙂
So in an hour and 10 minutes we registered with two more races, picked up all of our registration stuff and did some shopping. Not bad. 🙂
Today (Friday) we went back to the Expo, since we didn't really get a chance to look around last night. We drove over from Animal Kingdom about 12:30 – lots of traffic, and we were parked out in the overflow lot that's across Victory Way! We don't mind walking, so it wasn't that bad, but we definitely arrived at a very busy time of day.
Outside the entrance they had some photo backdrops set up – one for Goofy, one for the half marathon, and one for the 5K.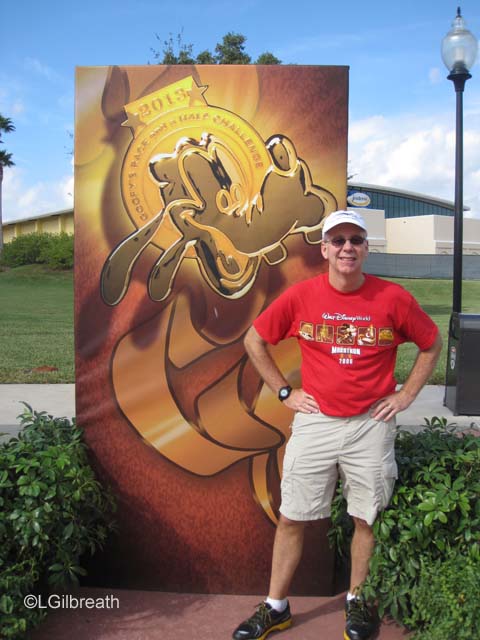 And near the Field House (packet pick-up) was one for the marathon.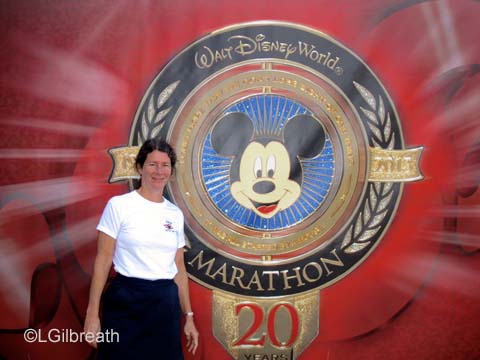 The Mickey Mile kids' race was finishing up as we stood in line to get *in* to the Expo.
It is unseasonably warm in Florida, and Disney posted these signs and warnings in a lot of places. It's expected to be 62-63 at the start of the races, and probably in the high 70s, maybe 80s, by the end of the marathon. It's pretty humid, also. So definitely not optimal running conditions, especially since most of us have been training in much cooler weather. So the idea is to run slower and hydrate – but not over-hydrate.
Given the line to get in, it's not surprising that the Expo was quite crowded – it was tough to move around in places.
We went back to the merchandise area, and I was surprised at how much was GONE compared to last night. Very little Goofy merchandise at all, and they were out of some sizes in the women's "I Did It" shirts. There was still another day and a half left of the Expo!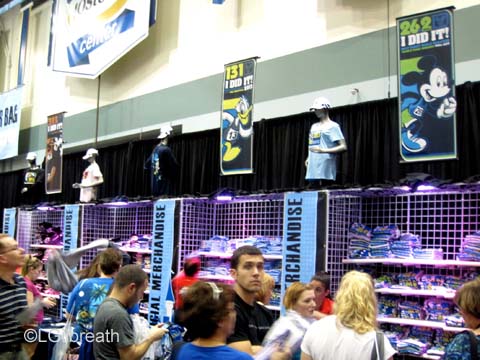 We made our way around the Expo floor – there were some things we would have looked at a little more closely if it hadn't been so crowded. But Cigna was doing something cool – they took our photo against a green screen and this was the result: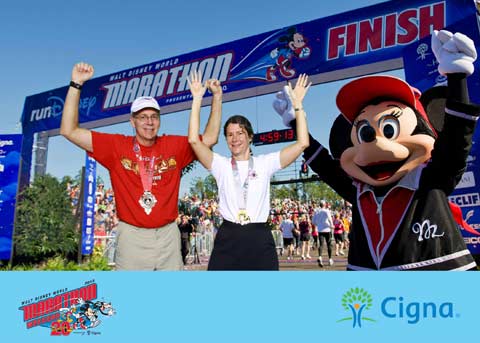 They had various props we could use – like the Mickey and Goofy medals we are wearing, as well as a tiara and ear hats. Fun.
Lots of traffic getting away from Wide World of Sports – it took a while. We won't see it again until Sunday, when the marathon course takes us all around the complex!
We tried to take it somewhat easy the rest of the day…it'll be a short night since we'll get up about 2:30 in the morning. By the time most of you read this we'll probably be done with the half marathon! I'll post a follow-up with our time. You can also follow me on twitter: @AllEarsLaura.
Do you have any questions about Marathon Weekend? Use the "Comment" or "Feedback" links below and I'll do my best to get the answers for you.