It's that time of year again – Walt Disney World Marathon weekend! Lee and I are "going Goofy" again, and will be participating in the half marathon on Saturday and the full marathon on Sunday. We've had a good training season, and we're as ready as we're going to be.
This is the 20th Walt Disney World Marathon, so there are some special things this year. And of course, the one that is most appealing to me, all-new bling! It's a striking and rather different Mickey medal this year.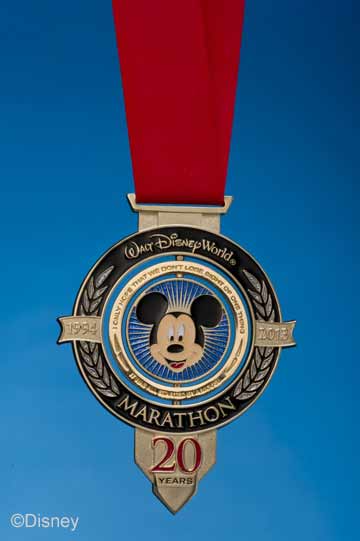 There are two spinning elements in the center. The Mickey head features a more contemporary Mickey on one side, with a black and white pie-eyed Mickey on the other. The ring around it also spins. On one side it says: "All our dreams can come true if we have the courage to pursue them." And on the other side: "I only hope that we don't lose sight of one thing – it was all started by a mouse."
The marathon course is also slightly different this year – it still starts and finishes at Epcot, but rather than going around Epcot for the first few miles, runners will head directly toward Magic Kingdom. After leaving Magic Kingdom we'll take a lap around the Walt Disney World Speedway. We'll also be running through the ESPN Wide World of Sports Complex, including the stadium there (I wonder if we'll be on the Jumbotron like we are when we run through Angel Stadium during the Disneyland 1/2 marathon?). You can see a map of the marathon course HERE.
There's also going to be some special entertainment at Mile 20, though according to the map the entire mile from 19-20 is the Mile 20 Spectacular. I'm looking forward to that – that's usually the point in the race where things get pretty hard for me, and a little diversion and something to put some energy into me will be appreciated!
Later that day from 4:00 p.m. to 10:30 p.m. is the Downtown Disney Cool Down Party at Downtown Disney Westside. It's open to anyone at no charge and will feature the awards ceremony and entertainment.
It's not just the marathon going on this weekend, though – there's a number of other events, too. Thursday-Saturday is the Health and Fitness Expo at the ESPN Wide World of Sports Complex. That's where all race participants pick up their registration packets and goodie bags. At the Expo you can buy all kinds of running merchandise – including lots of things you never knew you needed! 🙂 There's always a pretty good selection of official runDisney race merchandise as well – we never seem to escape with less than a couple of shirts…
On Friday there's the Family Fun Run 5K at Epcot at 6:30 a.m.. On Thursday afternoon and Friday and Saturday mornings are the Kids Races at ESPN Wide World of Sports. There are events for kids 13 years of age and under, with variable-length "dashes" open to specific age groups (including a Diaper Dash for crawlers!), and the Mickey Mile which is open to all kids.
Saturday morning is the half marathon, starting at 5:30 a.m., which will include somewhere between 27,000 and 30,000 participants.
One of the highlights of the weekend for us will be hanging out with our fellow Team AllEars members. This is an amazing group of people – so inspiring! The Team Meet on Saturday, where we'll all get together, and often meet each other in person for the first time, is a really special experience. That's also when Deb Wills will unveil how much we have raised in the fight against breast cancer. This is last year's team photo (click on the photo to see a larger version):
Read more about Team AllEars.
I'll have more as the weekend progresses – and you can also follow me on twitter: @AllEarsLaura.
Do you have any questions about Marathon Weekend? Use the "Comment" or "Feedback" links below and I'll do my best to get the answers for you.