Earlier in the year, I posted a blog challenging you all to break out from your regular photography routines. A few people took me up on the test and the first set of entries were posted in April. Since then I've only received images from 1 other reader whose work is showcased today. C'mon, grab your cameras and get out there and try shooting in black and white. You can also shoot in color and then convert your photo(s) to black in white with photo editing software. I dare you. No, I double dare you!
Did you miss the initial post? Have a read thru and then follow directions to submit your photos.
Hillary
This picture is one of my favorite pictures of all time. We had booked a room at the Animal Kingdom Lodge for one night in a standard club level room. Magically, we were upgraded to a 1-bedroom suite, and this was the view from our balcony right before we checked out the next morning. It was amazing to watch these majestic giraffes just a short distance away. This picture always takes me away to a peaceful place full of zebra domes.
I decided to see how this photo would look in black and white. I still prefer the color photo due to bright blue and green, however, I really like the black and white photo because it reminds me of photos taken by African explorers in the late 1800s. It makes me imagine that Kidani Village is the palace of a king from a long lost African empire.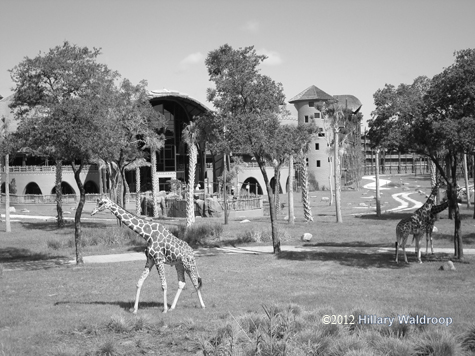 "Like" my Facebook page. It's free of my mother's spies.