On May 10, the Disneyland Resort honored Disney Legend Alice Davis with her own window on Main Street, USA–one of the most important acknowledgements the company gives to individuals who have made significant contributions to the park.
Davis worked in costuming and was originally brought into Disney to create a Briar Rose costume for the live-action reference model Helene Stanley, during the making of Sleeping Beauty. She later went on to research and design costumes for many of Disneyland's seminal attractions such as It's A Small World, and Pirates of the Caribbean, about which she occasionally quips "I went from dressing sweet children to dirty old men."
Davis' window was placed next to that of the late Marc Davis, one of the original "nine old men" of Disney animation, and Alice's husband of 44 years.
The ceremony started off with the Dapper Dans performing several numbers as the audience arrived.
Beneath the concealed window were several displays of Davis' work.
What is evident at a close-up view, is how detailed all the costumes are, and all the work that went into making them look perfect from every angle.
Davis has related that she asked Walt what her budget was for all the Small World costumes–he responded that they didn't think about things like that–that she was just to dress the dolls so that every girl from 10 to 100 years old would want to play with them. Coming from a background where toys were sparse when she was young, she counted this as one of her favorite professional projects.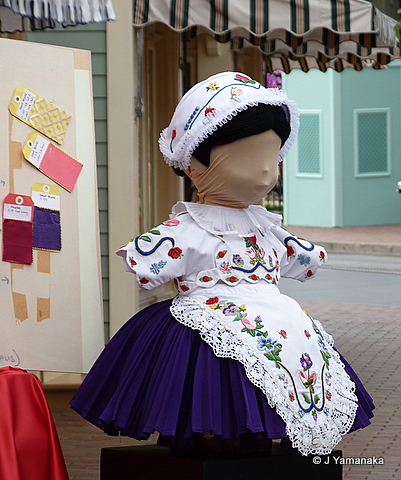 As the program started, both Disneyland Resort president George Kalogridis and Disney Parks and Resorts chairman Tom Staggs said a few words honoring Davis and sharing some of her remarkable accomplishments.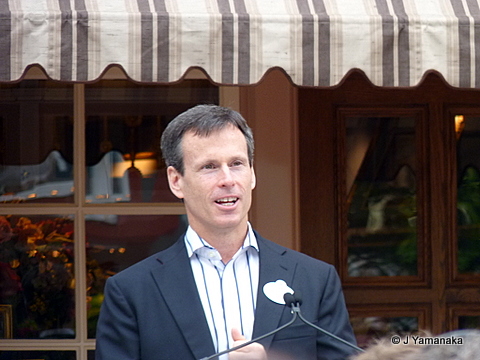 Staggs' talk was quickly derailed however, when a marauding band of pirates broke onto the scene looking for Davis. After having spent half a century in the same clothes, they were looking to see if she could whip them up something "a little more fashionable."
Not getting a favorable response, they settled on serenading her with "Alice Davis, She Put the Pants on Me," sung to the tune of "Yo ho, Yo Ho, A Pirate's Life for Me."
Staggs eventually wrested control back from the pirates, who took a last shot at him by remarking on his suit, to which he responded, "Alice didn't dress me!" "We can tell," they retorted.
Mickey Mouse then came out and they finally uncovered her window with a blast of streamers.
…And Alice and Marc were once again reunited on Main Street.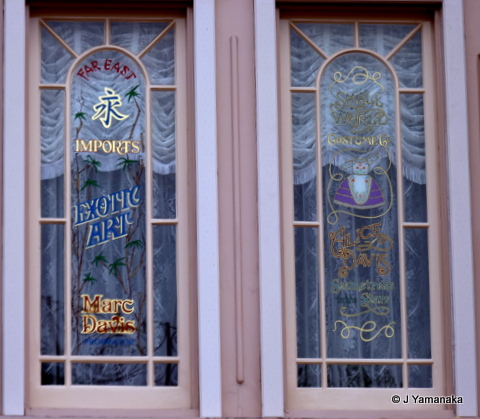 Finally, Davis herself took the podium and said a few words of thanks. She said she would always walk down Main Street, look up at Marc's window, see the blank one next to it, and hope that someday it would be hers. "I was wishing for it, and wishing for it, and today, the Day has Come."
She further noted that she was most proud of all the many friends that she had made and which were present in the audience as they represented real wealth to her. "For years, both Marc and I have had the great pleasure of bringing great fun and joy to people, and that was the Jewelry of our Heart and it will always be."

Kalogridis then presented her with a minature version of the window for her own, and the Dapper Dans returned to sing "When You Wish Upon A Star" to close out the ceremony.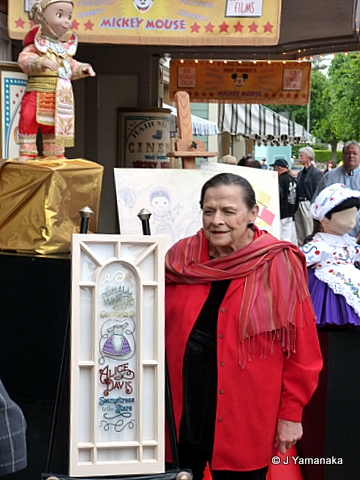 It was a lovely ceremony, and a well-deserved and long-awaited honor to a fabulously accomplished Imagineer. Congratulations Alice!